The Dorchester is deservedly proud of its reputation as a London hotspot for cuisine thanks to three acclaimed in-house restaurants; Alain Ducasse at The Dorchester, China Tang and The Grill, who have recently appointed their youngest ever Head Chef, Tom Booton to bring his flair to the fine dining experience that offers a more relaxed atmosphere with no compromise on the food.
At the age of 26, Booton is an undoubted culinary prodigy, for no-one could question his awesome talent after dining here. Having started learning his craft at just 15, his dedication has landed him a star (and possibly one that will lead to a star of another kind) role in this prestigious restaurant which first opened its doors in 1931 and remains a legend around the world. Having discarded their ornate Scottish-themed interior in recent years, along with carving trolley, Booton's classic techniques marry well with his creative and imaginative style, with a three course lunch menu for £30 which has to be the biggest gourmet bargain in London. Dinner is a three or four course affair and there is an additional vegetarian menu that more than satisfies the growing popularity of plant-based eating.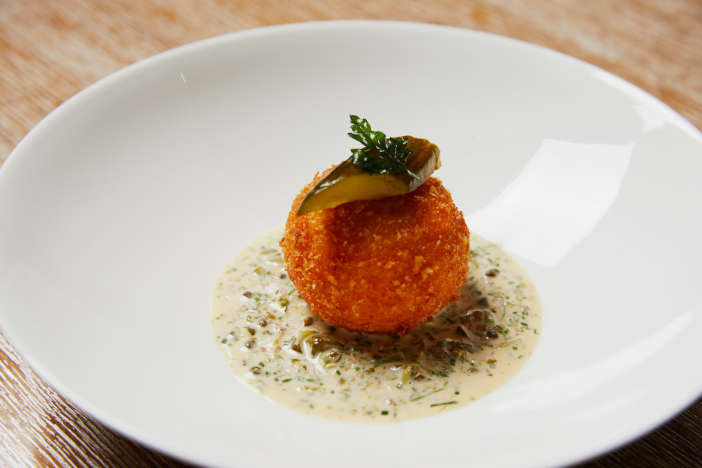 Having spent a considerable time preparing a menu to excite existing customers and entice a new clientele, Booton has updated familiar dishes we all love like an old teddy bear and transformed them into a gleaming red Scalextric sports car. British staples such as a Scotch egg are reborn into something that wouldn't look out of place in a high ticket Paris restaurant, by pairing prawns with a warm tartare sauce, while the cream of mushroom soup I opted for due to expectations of wintery comfort in a bowl gave me a warm glow indeed when it was poured at the table and accompanied with light, round potato dumplings, freshly baked beer bread and herb butter.
Fillet of brill with butter sauce, broccoli and a flourish of finely sliced brazil nuts secured my favourable impression of Booton's finesse, while my companion's decadent lobster Thermidor tart was not only packed with seafood but was topped with an extravagant-looking, juicy and vibrant pink lobster tail. The finale offers diners a chance to hop on over to the 'Pudding Bar'. And desserts are as as tantalising and mouth-watering as the preamble with the 'Double Decker' signature dish inspired by Booton's favourite British chocolate bar and a Banoffe pie with roast banana ice cream hidden beneath heavenly pillows of whipped cream and sprinkles of fine chocolate, garnished before your lustful eyes. One spoonful or three?
Award-winning bartender, Lucia Montanelli, meanwhile offers teetotal diners like myself just as much love and attention as my Bacchanalian counterparts with a perfectly balanced series of mocktails using Aecorn Aperitifs, a sister company of Seedlip, producing grown-up non-alcoholic spirits made with grapes and botanicals with three distinctive flavours; Aromatic, Bitter and Dry. Each pairs extremely well with food, something Montanelli has proven with 'What's New Pussycat?' featuring Aecorn Aromatic with cherry syrup; 'Bitter & Twisted' highlighting Aecorn Bitter with raspberry puree, orange juice, ginger ale and mint, and 'New Kid on the Block' a refreshing spritz of Aecorn Dry, sugar syrup, lime, mint, cucumber and soda.
I for one was toasting the start of The Grill's very own new kid on the block and an experience that offers diners abundant glamour (without the need of starched white tablecloths, food cloches or tartan wallpaper) impeccable service from an always exceptionally trained Dorchester team and well executed food from an enthusiastic, ambitious young chef set to make his mark on the discerning London dining scene.
The Grill at The Dorchester, Park Lane, London W1K 1QA. For more information and reservations please visit the website.