In line with The Dorchester's multi-million makeover including the hotel's iconic Promenade and which is to continue (so a little bird tells me) with a brand new rooftop restaurant, there have been some exciting changes to what has always been known as The Grill. Executive Chef Tom Booton, forging a reputation for unsurpassable British cuisine in the four short years since he took up the helm, now has his name over the door, the first chef to be granted this honour in the restaurant's prestigious 92-year history.
I was relieved to see that 'The Grill by Tom Booton' hasn't meant any major changes aesthetically (aside from a few styling touches) for I'm a big fan of the glamorous dining space which remains a glitteringly gold, jewel-like venue with caramel leather accents, and was one of the first of the hotel's major interior upgrades. The relaunch is all about the changes to the dining concept, now significantly more innovative and in keeping with the trend for less formal dining, with British dishes standing shoulder to shoulder with more far-flung influences which celebrate the UK's love of international cuisines and the fact that London has always been a culinary melting pot and one of the most exciting food destinations in the world.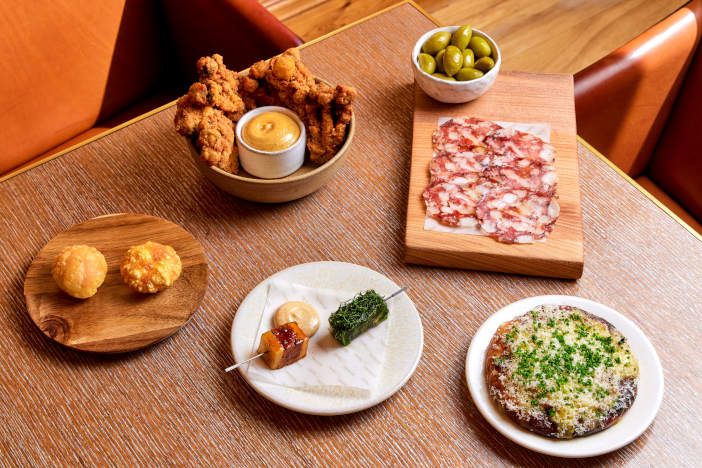 Hailing from Essex, Booton's experience alongside some of the most acclaimed British chefs is clear to see (and taste) in every immaculately crafted dish. His passion for the industry began at the three-AA-rossette restaurant Le Talbooth in his home town of Colchester where he went for work experience at the age of 15, soon deciding to leave school and becoming the protegee of Executive Chef Ian Rhodes. Just five short years later he moved to London and took the bold leap to join Alyn Williams as a commis chef at the Westbury Hotel in Mayfair (now closed), where they had just received its first Michelin star. Later moving to Michelin-starred L'Autre Pied under Andy McFadden, Booton was put through his paces working as part of a much smaller team but worked his way up to achieve sous chef at the age of just twenty-two.
It seemed there was no stopping the ambitious young Booton as he did a brief stint at Pied a Terre before gaining experience at restaurants in Iceland, Denmark and the US before returning to London to spend a year alongside Ollie Dabbous in Fitzrovia before landing his first head chef role back with Alyn Williams at The Westbury where he retained the restaurant's Michelin star for three years. There's no doubt that Booton is determined to achieve Michelin glory at The Grill and nor is there any doubt that he will succeed.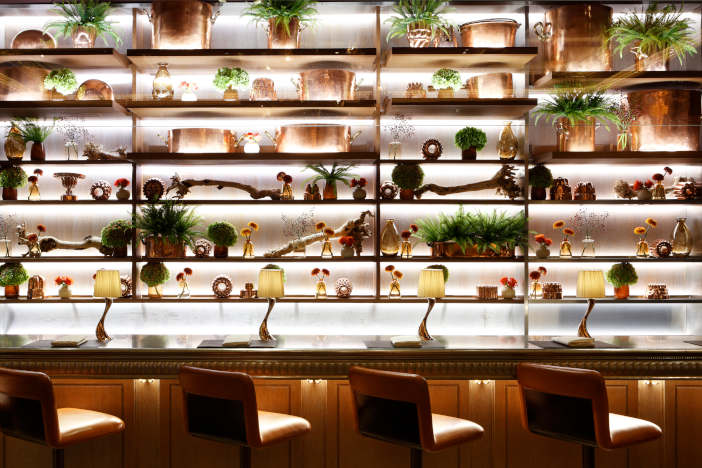 Rather than the traditional à la carte three course format guests now have the option to sample Booton's playful new snacks and small plates, perfect for sharing, with mind blowing flavours which illustrate just how far Booton's signature style has developed as a chef since he was appointed the youngest ever Executive Chef of The Grill in 2019 at the tender age of 26. It's wonderful to see that The Dorchester have not only alighted on a very talented young chef, but are giving him the freedom to showcase his natural creativity and flair. The new menu, doing credit to the restaurant's premium British suppliers, has all the hallmarks of a chef who is cooking the food and ingredients he loves.
Our evening commenced with a selection of 'Snacks' created by Booton himself at the Chef's Counter; fried shimejis with mushroom xo, chicken liver parfait with duck liver snow and chutney served with the suggested Joshua's laminated brioche and Welsh lamb belly skewer with green peppercorn. An eclectic combination when you think of it, but the new Grill experience is like a rollercoaster rather than an elegant horse and carriage ride. Mr Booton's food isn't just good, it's absolutely ripping or what the kids of today might term "insane" or "banging". The grin displayed by charming General Manager Mattia Marcelli whenever he arrived at our table is echoed by the rest of the front of house team, knowing as they do that each morsel they place before you will be a memorable one and will have you stomping your feet as if you'd just seen a megastar opera singer perform your favourite aria.
There was certainly encore after encore, with small plates of fist-pumpingly delicious crispy pig, BBQ coleslaw and an exquisitely presented lobster and cheese tartlet with Isle of Wight tomatoes, courgette and the optional extra of N25 caviar. Why not? The main course intriguingly entitled 'All the Chicken' is Booton's fantasy comfort food and not, under any circumstances, to be missed. This is the dish that sums up The Grill by Tom Booton, combining elegance, skill, and above all, fun. I couldn't help but let out an anticipatory 'Ooh!' as the whole bird arrived at the table majestically, the culinary antithesis of your average weekday chicken dinner and celebrated in style with a golden-skinned, generously-stuffed crown accompanied by succulent BBQ-glazed wings, shortcrust chicken pies packed with meat from the rest of the bird and a gravy as good as any granny ever made to bring the whole spectacle together luxuriantly. Sides of BBQ leek with ricotta, hazelnuts and pistou and The Grill's mashed potato with coastal cheddar and crispy onions sealed the deal but still never outshone the most delicious chicken I have ever tasted.
I had a feeling I'd need to return in the morning for my dessert but somehow I succumbed to the soft serve chocolate ice cream featuring hidden goodies that positively forced me to keep going and find the cookies, marshmallow and fudge! Booton is often described as 'charming' and 'cheeky' and that may be so, but his food is every inch the work of a serious chef who channels his personality into devising dishes that bring tremendous pleasure. Open for breakfast and brunch (for the first time ever), lunch and dinner, I won't be satisfied until someone locks me inside the restaurant with a sleeping bag and a running machine so that I can work off everything from Omelette Arnold Bennett to the much talked about strawberry and white chocolate mille-feuille in between service times. London's newest immersive dining experience perhaps?
The Grill by Tom Booton at The Dorchester, 53 Park Lane, London W1K 1QA. Open for breakfast, lunch and dinner. For more information and reservations please visit the website.