Lashings of gravy and a dollop of nostalgia; NICK HAMMOND fondly remembers a pre-lockdown blowout of effortlessly epicurean proportions – and looks forward to a return visit now we're soon to be allowed back out…
LOCKDOWN No.1 may well be behind us, but I still regard it fondly (kind of).
It's when, among many other things, like mowing lawns and wandering endlessly to the village shop and back just in case it was the last time I was able to do it, I launched a podcast of the same name as my book (Around The World in 80 Cigars for the uninitiated, available across all platforms now) and ate and drank like a stevedore.
And in the latter vein, I spent many an hour daydreaming of a simply glorious day of indulgence with a pal in a little plot of Mayfair that deserves a statue – something bovine, perhaps?
The Guinea Grill, for those of us who know it, is simply an institution. At the front, a London boozer, complete with pies and foaming ales and pictures of the Queen Mum. Out back it becomes a carnivorous speakeasy, with ageing fridges of marbled beef taking the place of radiators filled with hooch.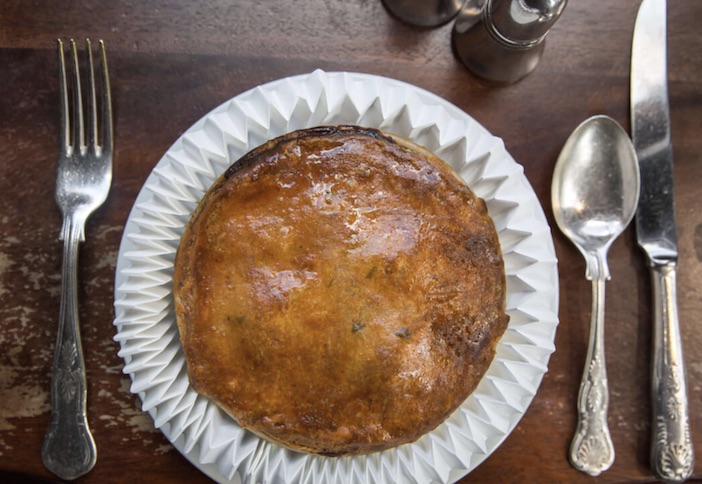 Where to start? Where any gentleman would; with a pint of the aforementioned ale. Followed by another which eventually accompanied us to our table through the 'secret' doors to Heaven. This was swiftly followed by a dozen oysters and some rather fine chilled Manzanilla sherry and the lunchtime batting had been opened with a glorious off drive.
And then the beef. What would Sir's chosen cut be? You can have what you like basically, in a spirit of fun and camaraderie. It feels wonderfully sinful to be back here, sloshing back the good stuff while the sensible citizens of the world are beavering away. More fool them.
Claret is ordered, as is a giant T-bone steak to share, a couple of inches thick, which is seared on charcoal then generously sliced and served back on the platter, which is most helpful, for you simply splash it with sea salt and help yourself from either side of the bony divide; fillet or sirloin? Of such tricky choices, a good life is made. Throw in some obligatory greens (probably drowned in butter, mind) thin chips fried in beef dripping and more Claret and the afternoon is set fair.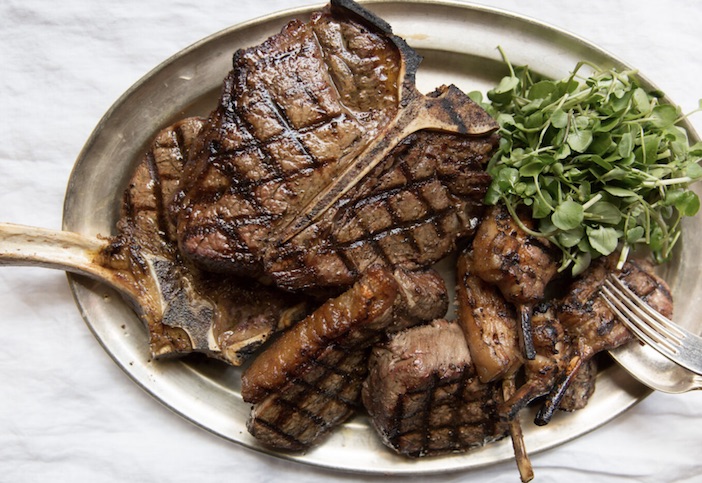 Such a joy to laugh and dine and take one's time over something as simple as roast meat and chips. There's been a pub on this little square of Bruton Place since the 1600s and beef became the central focus during the 1950s when good beef was hard to find – unless you knew someone who knew someone. And ever since then, the Guinea has become that trusted friend to those in the know; the one who's always able to get you what you want; always says the right thing; delivers the best presents.
And so, our lunchtime extravaganza continues as other diners come and go. We move though the beef and into a dessert menu that includes things close to my heart, like Bread and Butter and Sticky Toffee Pudding, not to mention a savoury Welsh Rarebit (I'm never able to eat this savoury course – another good example is Scotch Woodcock – but if you see it on the menu, there's a higher than average chance you're in for a splendid feed, in my humble opinion).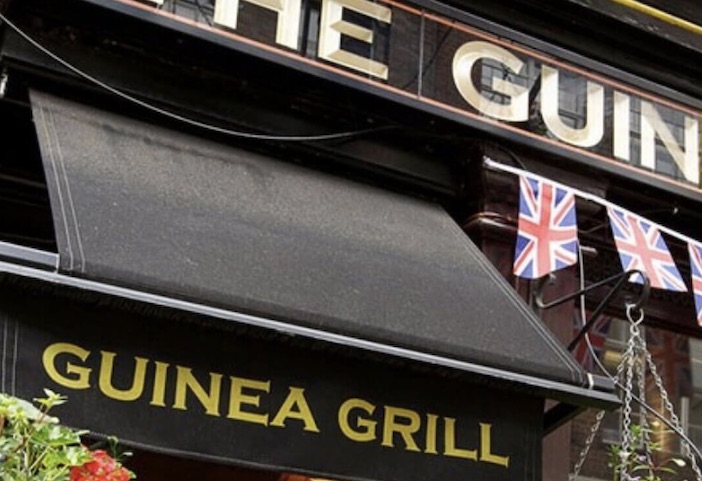 I think we then have some Stilton. I'd normally have Stilton at such a bash. Can't truthfully remember though; I was having such fun and I remember leaving feeling very, very happy. I think that's the highest compliment I could pay the good folks at the Guinea. My pal and I wandered off to find a suitable spot for a post prandial cigar or two and we lovingly recalled our meal over the next several hours. We still do, in fact.
Maybe now you can understand my happy daydreaming about this magical restaurant in a forgotten corner of busy Mayfair. I think of it often, as I do now as we leave another bloody lockdown.
Just think – we used to be able to do things like this at a drop of a hat. How quick one's perspectives change.
If you can get there safely, do it. Give yourself plenty of time and savour every savoury moment. Wonderful.
The Guinea Grill, 30 Bruton Place, Mayfair, London, W1J 6NL. For more details, including menus and bookings, and even private heritage tours of the neighbourhood, please visit www.theguinea.co.uk.