The Hampshire Hog. The name resonates with Englishness. You feel like it should be said by some portly, ancient chap wearing a cravat and a smoking cap as he reminisces about misspent student days in 'The Hog'. This is useful because 'The Hog' is a very English establishment, serving up leg of lamb for dinner, roasts on Sunday and real ales on tap. But it's modern English, it's i-English, it's the great-grandson-of-the-man-in-the-smoking-cap-English, who's travelled the world not because of some colonial war but because he had no idea what he wanted to do for the greater part of his twenties. The result is that The Hampshire Hog is a delicious monument to the eclecticism of modern Britain, in its food, in its drink and in its decor.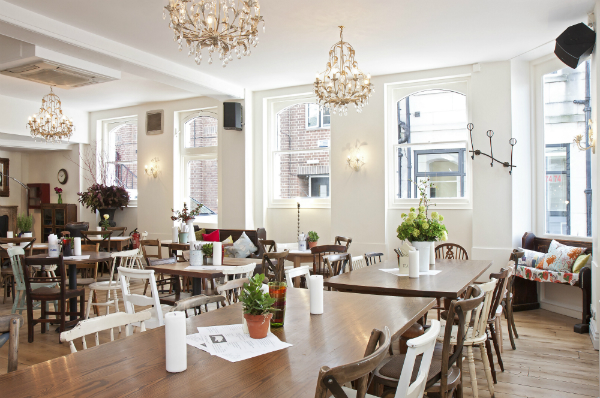 We visited on a Thursday night. At first I was rather worried, I rarely venture out to Hammersmith and so was shocked to find a post-apocalyptic London when I got off the tube. As we walked through Ravenscourt Park towards King Street the only sign of life came from a pair of tennis-playing geriatrics who looked like they were going to keel over at any moment. This was practically bustling when compared with the high street, which was totally deserted.
Given the lack of people in the surrounding area, I understandably didn't have high hopes for the place. Fortunately, I was pleasantly surprised. The pub is open plan; a spotless bar area surrounded by armchairs leads out to the restaurant area described as the "pantry". My companion was enthralled by the decor, describing it as boho-chic, whatever that might be. I think it's basically lots of cool things thrown together, that don't look like they should go together, but they actually do. A rustic-looking kitchen table in one part of the restaurant is surrounded by chairs of different styles and colours, one pale green, one pale blue. Although I think you could call it boho-chic, I think it's really tapping into the over-arching theme of the Hampshire Hog – "modern Englishness". It gives you a traditional pub, somewhere comfortable and reassuring, but with a cool, modern twist.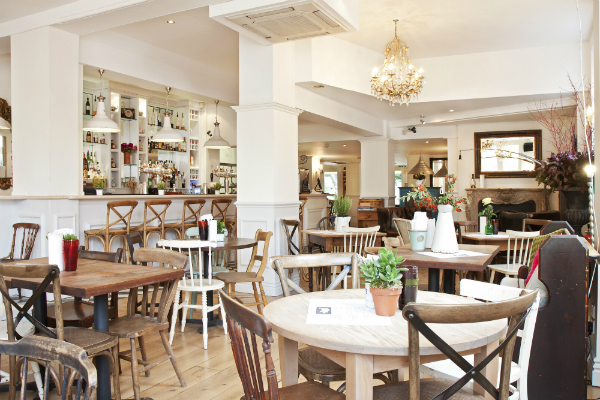 The same goes for its food and drink. We started off with a few cocktails, which were delicious. The cocktail menu is concise and offers a few interesting interpretations on classics. The food menu is set out in a similar fashion. It's upper-tier gastropub fare, with elements of 'fusion'. I went for the warm tempura battered soft shell crab on a soba noodle salad, while my lady friend went for the cherry tomato salad, labna, dukkah and balsamic reduction. The crab and noodle salad was a wash of flavours and contradictions. The crab was delicate and warm while the noodle salad was cold, bold and fresh. My guest's salad was equally eclectic, mixing North African and classic European flavours, adding a bit of heat and flair to a staple of the starter menu.
The wine list is extensive and of high quality, but the restaurant also offers a wine of the week, which we opted for. This week's wine was a rich, structured Montepulciano which went perfectly with my leg of lamb. In keeping with the pub's theme the lamb wasn't your standard British fare, but was presented resting on a substantial Greek salad allowing the feta to melt slightly under the warm, pink meat. My dining partner opted for the parmesan gnocchi with wild mushrooms. Apparently, it was "clearly home-made" and "very buttery", which again I assume is a good thing.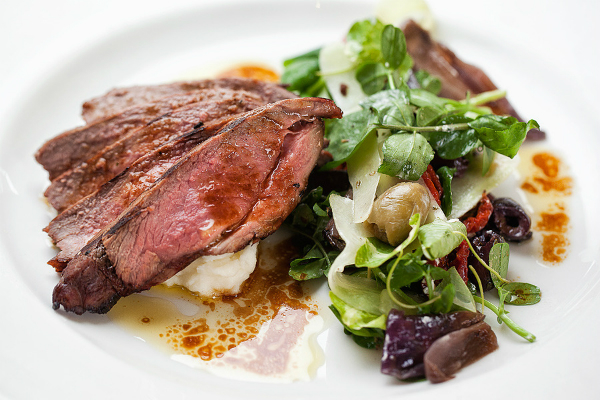 To finish we had the dessert special: a selection of dainty delights, including dark chocolates, shortbreads, amaretto ice cream. Very pleasing.
But why would you venture out to Hammersmith for this place? Looking out into the beer garden at the back, it's patently clear why. It's calm, relaxed and friendly, and with Ravenscourt Park down the road, it's a perfect place to stop off after playing a spot of tennis or whatever people like to do in parks. At the Hampshire Hog you can get a slice of rural quietude and still be in Central London, and I presume this is the motivation for its grandiloquent title. The name, the furniture, the food and the drink; it all comes together to create this elaborate juxtaposition between London sophistication, and Home Counties calm, which all in all, I think is rather nice.
The Hampshire Hog, 227 King Street London, Greater London W6 9JT. Tel: 020 8748 3391. Website.