Perched on Haverstock Hill, halfway between the tie-dyed hustle and bustle of Chalk Farm and Camden Town and the Belsize bubble of posh food outlets and chic cinema, The Hill Bar & Brasserie has the unfortunate status of being on the busy path one likely travels down to get to somewhere else. I worry that its vulnerable location would make it largely reliant on locals to keep it breaking even, which makes me wary of befriending it in case one day I decide to pay an impromptu visit, only to find it boarded up, some Banksy or other plastered on one side. I've done it myself – driven past that is, not tagged up my nearby underpass – lots of times, thinking I really should check that place out one day.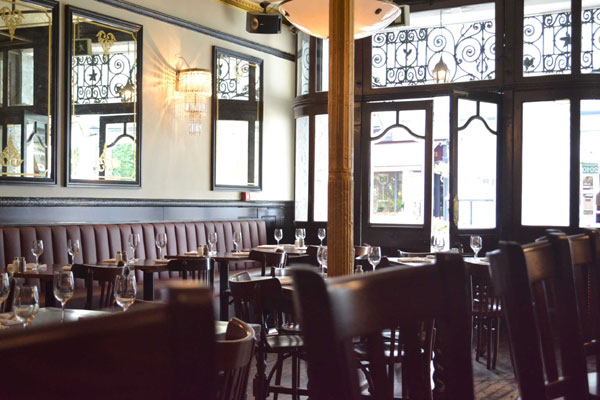 According to some website or other, there are around 12,000 other potential patrons living in Belsize Park alone, so that and the celebrity pull of the likes of the other neighbours, the Martin / Paltrow family, should be enough to keep The Hill going strong. While we're on the subject of stardom, George Michael and Boy George fans will no doubt goose pimple when I tell them the mirrors and art deco chandeliers from their very houses (*scream*) now hang among the décor of The Hill. The photographs of Mohammed Ali, a subtle reference to his one-time training haunt – a gym used by the British Boxing Board of Control during the 60s and 70s which sat behind the pub – are other conversation points to fill a dry chat patch while you're there, where the jazzy beats and food won't suffice.
Ah, the food. The main pull, the reason why you should head there in the first place and head back again hearty appetite in tow. With Canadian Michael Parker at the helm (you may have come across his other place, The Commander Porterhouse & Oyster Bay on Westbourne Grove), the cuisine largely nods to the Pacific Northwest and the tastes and ingredients one might find scavenging around the Rocky Mountains and Pacific Ocean, though largely sourced much closer to home. The newly launched Raw Bar checks some of that criteria with an impressive selection of oysters and sashimi. Canadian lobster tails, Orkney Island langoustines, crab and prawns also sit on the extensive menu, alongside steak boards, burgers and salads. The choice is so good, if you don't manage to hone in on a dish you fancy the sound of, then you're far too fussy to be eating out in the first place.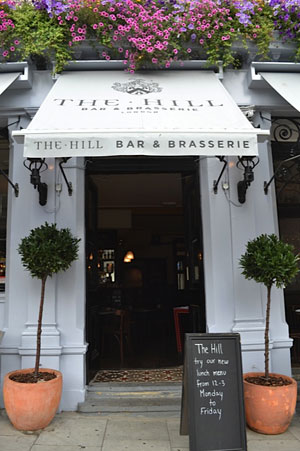 We were tempted by the oysters, but instead chose more adventurous starters of lobster bisque and scallop sashimi (for the man and moi respectively). Despite swaying more towards the realms of tomato soup than bisque, Adam agreed that his first course was a well presented and tasty way to start proceedings. I wouldn't recommend it if your heart is firmly on the creamy fishiness of the real thing though. My sashimi, superbly fresh morsels accompanied by a finely chopped salad of radish, cucumber and coriander, was the sort of dish that feels like it's visibly injecting goodness. Spot on! I went with the 8oz 'Flat Iron' steak to follow, while Adam chose my second choice, the lobster 'Overboard' burger. Oozing with a rich, mayo-heavy sauce, it certainly lived up to its name in some sense, and not a reference to the 1987 Goldie Hawn and Kurt Russell film as I was hoping. The lobster, prawn and crayfish melange was sadly maimed in vain – except for the last few bites towards the middle, which had been saved from saturation. It didn't help that my steak was sublime; a proper melt in the mouth tasty cut of top blade presented brilliantly with a stack of rough battered onion rings, a serrated knife stabbed into the wooden board to hold them up; thyme and rosemary bouquet, adding a subtle herby smoke, generous half of roasted garlic bulb – at its sweet, caramelised best – and a mixed salad. A dish I'd happily part with the requested £16.50 for.
There was no way I was going to let something as trivial as being full put me off trying the salted caramel ice-cream (brought in from Jude's, not homemade, in case you're wondering), although perhaps eating all three heavenly scoops wasn't entirely necessary. The strawberry Eton mess – a dessert that appears to be having a Jubilee-prompted revival at present – had a similar effect on Adam, with lashings of cream and meringue helping to ease away any of the love lost through his slightly disappointing starter and main.
Come 10pm, the 'restaurant' is cleared away to allow for The Hill's transformation into a cocktail bar, serving up sup-worthy mixes: Elderflower Collins, Toddy's Chocolate Orange, Maple Old Fashioned, and the like. I can't give you a first hand account of any of the last three lines as we ate up and left before 9.30pm – it was a Wednesday – and stuck to Rioja Blanco and Malbec respectively while we were there, taking advantage of the great selection by the glass (22 at last count). Bidding a fond farewell for now, with a glance over the shoulder en-route to the car, I decided I'd be recommending this North London gem. Granted it was a bit hit or miss with a couple of the dishes, but where they did good, they did exceedingly good.
The Hill Bar & Brasserie, 94 Haverstock Hill, London NW3 2BD. Tel: 020 7267 0033. Website.