As Saints go, Barnabas is often overlooked by the public at large, especially when compared to dubious storyteller George, old lush Patrick, or notorious salad-dodger, Nicholas. But it is Saint Barney that lends his name to London-based charity, The House of St Barnabas, an equally overlooked yet noble institution dating back to 1846, whose mission has been to deliver refuge to this city's ever-present population of waifs and strays. Throughout this time, the charity's palatial Greek Street premises were used to provide board and lodgings to said unfortunates, but in 2005 the board of trustees, no doubt savvy to grim commercial reality, declared that it was no longer viable to run the generously proportioned slice of central London realty as a hostel.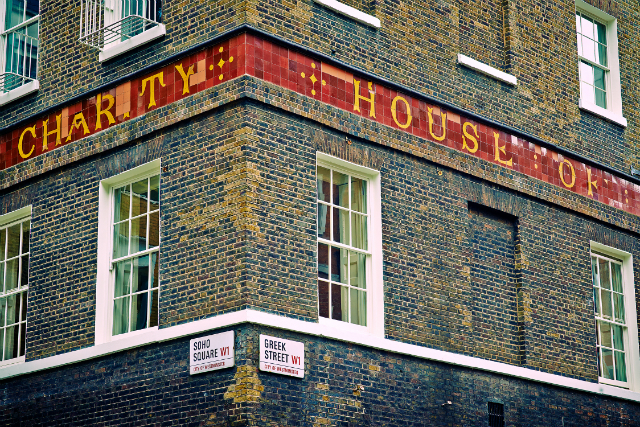 Arise then, The House of St Barnabas, Members Club. Born of the same upright cause, this club embodies a compelling idea – a comfortable, stylish bolt-hole fit to compete with any of the West-End's other such establishments, but run on a not-for-profit basis with the net proceeds from the club's operations feeding back into the charity's Employment Academy, a key aspect of the charity's work. Inclusivity from Exclusivity.
However, I'm not here to sing "Do They Know it's Christmas?" at you like you're some kind of moron with no social understanding. Tonight I am strictly here to see whether the culinary road to hell is paved with good intentions, or whether right makes locally sourced, perfectly seasoned, might.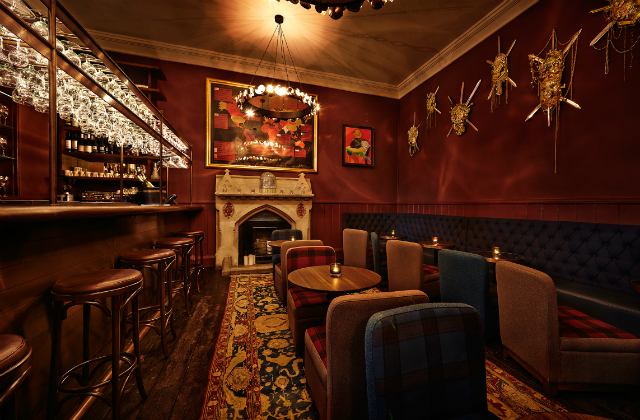 I rendezvous with Foodie Ed who's already sweet-talked his way onto the premises. Tells me he's been trying to blend in. Skulking around the various donated works from the likes of Martin Creed and Tracey Emin that adorn the kinks, corners and crevices of this grand old residence. I find him, however, hovering in the discreet lobby area, trying to look like some louche Bill Nighy type. Our jackets are taken by two beaming hostesses who suggests we pop to the bar and wet the whistle before venturing to the dining room. Sage advice if ever I heard it.
The bar area, situated just behind the lobby, has the low-lit tranquility of the old-school, conservative, men-only, club saloon; A highland theme; warm reds and earthy browns, ornamental armaments and a gothic stone fireplace. You expect to hear no sound other than the odd rustle of the Daily Telegraph. Look closer however and you see underneath the traditional veneer the progressive innards at work. Subversive artwork, bar tenders that have a whiff of rebellion about them and chairs that appear to have been lifted from 1960's East Germany and reupholstered in Strathclyde. After a moment's deliberation over the boutique cocktail list, we order a sharp lemon number at the recommendation of the barkeep. His favourite, he says. It comes long and steady, Limoncello without the inevitable tears. A good cleanser for what's to come. We spend a few minutes soaking up the relaxed atmosphere, discussing the venue, its roots, and praiseworthy redeployment in its current guise, a pair of Toynbees-a-buzzing.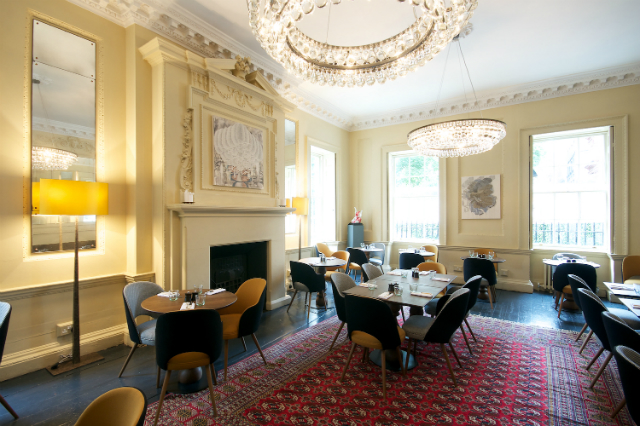 The sight of the bottom of the glass brings on a sure hunger, and gentle aromas wafting in from the neighboring dining room insist that its time to make a move to the front line where the third sector meets the business end of catering.
The restaurant at The House of St Barnabas is a members only affair, but even amongst that discerning crowd, I am informed, booking is advisable. Led by Arun Manickam, former head chef of the Ashmolean Museum in Oxford and Master Chef: The Professionals contestant back in 2010, the restaurant is staffed by other pro chefs and members of the charity's Employment Academy who are being trained up in hospitality skills. The website spiel also tells you what you would expect to hear from this ethically minded outfit: the vittels are local, seasonal and sustainably sourced. At this point, I remark again upon the contrasting décor: 1960's Eastern bloc tables and chairs, bare tabletops, and the sort of glass tumblers and knives and forks readily acquired at your local Wilkos. This all set in a grandiose, high ceilinged, bordered salon with large sash windows looking out upon Soho Square.
Our waiter, a slender and jaunty young chap, shows us to a table by the window and lays before us a glass of the house red and the evening's roster of varied and exciting offerings. To start, you can go tapas-style, or head for the smaller dishes. Although the tapas had some rather tempting delicacies, including aubergine & honey fritters; chorizo with garlic & onions; and Foodie Ed's erstwhile favourite, boquerones on sourdough, we are both willingly seduced by the items available under the smaller dishes heading. For me, char-grilled squid, ginger, chillies, coriander, rocket & parmesan salad. A Thai-Italian cross over that pairs up naturally like Berlusconi in a seedy Bangkok bar. The classic rocket and parmesan salad are given the old, erotic massage by the ginger chilli and coriander. The squid is faultlessly grilled, with the odd spot of charring a mere hint of the flame lashing its has so recently received.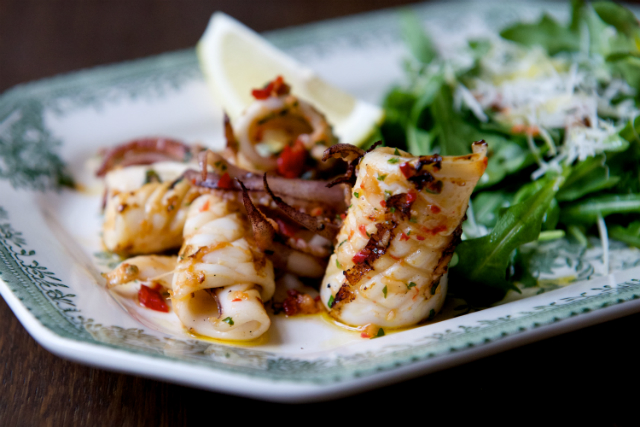 Foodie Ed goes for a plate of Pata Negra ham and gherkins with a magnificent wedge of grilled sourdough. The sod has finished this off before I can request a sample for analysis and reporting unto you, dear reader, I apologise on his behalf. More wine is delivered by the young squire, who assists us with our choices of main course. We have a difficult task on our hands, and a careful and delicate weighing of options ensues: There's a Kerala fish curry, served with a paratha flatbread; there's baked hake with mint yogurt and lemon & cumin Swiss chard; braised lamb on polenta with chanterelle mushrooms. However, this pair of hogs both narrowly land in favour of the suckling pig rubbed with fennel salt, kale and lentils with lemon, garlic and parsley garnish. A hearty dish for those in need of some comfort, on a cold evening in town. We also elect two sides for roles in the proceedings – skin on fries and zucchini fritti – a few fried vegetable lengths to bolster the constitution in the face of winter.
The porkers were served to us on old china plates, sat atop a bed of glistening lentils, like some large medallion on a silk pillow being presented to the new town mayor. I was excited. And I was right to be. The suckling pig had that essential quality that sorts the porcine wheat from the chaff – beautifully unctuous, not a dry strand to be found, encircled in a wafer thin slice of crackling, giving a robust, salty crunch to sweet, oiled flesh within. The lentils were cooked nicely, arriving well within the pulses Goldilocks zone, between grit and mush. The garnish also added a tangy, cheeky smack on the rear to the otherwise gentle dish. The fried goods performed admirably and were demolished with all due haste.
Satisfied as we were at this point, the job was only half done. An inspection of the desserts list had made this perfectly clear. A glass of port, a staple demand when dining in a members' club, is provided while we make our final arrangements. For me there can only be one option. Salted Tuscan chocolate mousse and honeycomb. It's perfectly obvious. Only a lunatic would choose anything else. Fortunately, for the sake of argument, I have one of those with me and he opts for five spice rum & honey panna cotta.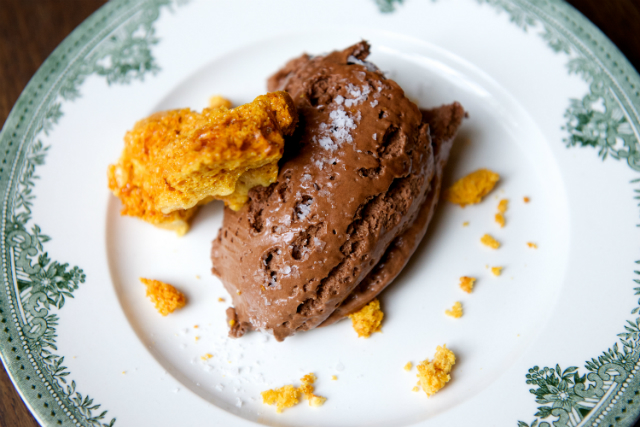 I'm sure I need not go into all the obscene details pertaining to such a sublime chocolate mousse. I'm sure you couldn't care less about the pinpoint balance of rich, smooth sweetness and salt that sends the brain into a mild spasm, relieved and refocused only by the tooth-jamming snap of the honeycomb slabs. The seductive, melting texture is no doubt inconsequential to you. I'm sure all that you want is to experience such pleasure for yourself. And you should. Foodie Ed's panna cotta, if such things turn you on, was also attractive in its way. Delicate and creamy with lively tones brought on by the light dousing of rum and dusting of spices included in the receipt.
 By all accounts charitable enterprises have taken a beating since the onset of the credit crunch. The slashing of government third sector contributions and dwindling private donations have forced charities to reexamine their operations and find new ways of keeping the money coming in. The House of St Barnabas appears to be ahead of the curve in this respect, offering something quite rare. The club as a whole, with its cool, twisted-traditional feel, and the very commendable restaurant in particular bring a whole new aspect and experience to charitable giving. It is no doubt far easier to get the public to reach into their pockets when they are stumping up for membership to a hip Soho hangout and a cracking meal, rather than being accosted by a lively youth with a clipboard on Oxford Street. Bare in mind what some ancient Greek chap said: "The charity that is a trifle to us can be precious to others."
The House of St. Barnabas, 1 Greek St. Soho. W1D 4NQ. For more information about the club and its charitable work, visit the website.