Approaching The Hunter's Moon, I have an eerie feeling I've been here before. I haven't – in real terms, thanks to Covid, it's not been open long – but I'm reminded of many a hazy evening on the Fulham Road in my youth, for its location comes with infamy; it was Cactus Blue, then 86, both stalwarts of the Chelsea scene in their day.
This new incarnation has a far more salubrious appeal, however. There's something distinctly comforting about it. It's not trying to be vogue or chic, but it does that rare thing: it brings the country to the city. Stepping inside the enclave of the bar, all muted tones, oak floor and bespoke furniture, there's an immediate warmth, metaphorical as well as literal, like the feeling you get when you've earned that first pint by a crackling inglenook fire after a wintry country walk. Chelsea I may be in body, but I'm in rural Somerset in spirit as I enter, and I know I'm going to look forward to this.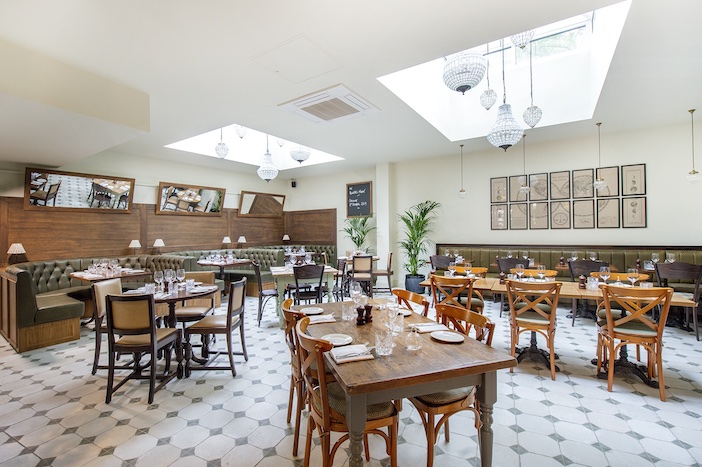 Taking a seat in the dining room at the back, I instinctively order that pint – their own ale, naturally – and rue the decision instantly. Not for the beer, it's splendid, but a pint ahead of a 3-course meal seems less than sensible as I consider the whistle-wetters when handed the menu; my companion ordering a Sipsmith VGS (that's vodka, grapefruit and soda to the uninitiated) seems infinitely more appropriate as an aperitif.
The menu reflects its country pub credentials, there's plenty of wood pigeon and partridge, scallops and liver parfaits. And, in some cases, familiar bistro classics are given an eclectic twist. Confit duck leg comes 'penang' with jasmine rice, kaffir lime and Thai basil – "worth a go," my French-leaning companion considered, reassured by his onion soup starter and nodding sagely as he tried it, though concluding that he might not have it again, "Why gild the lily?" For my part, a generous chunk of roast Cornish cod was window-dressed with a chicken tortellini and roast chicken butter sauce, which was one daring venture that certainly worked. A fine flavour combination, and a fitting follow-up to the wood pigeon salad. Clearly, I was determined to remove myself from the city.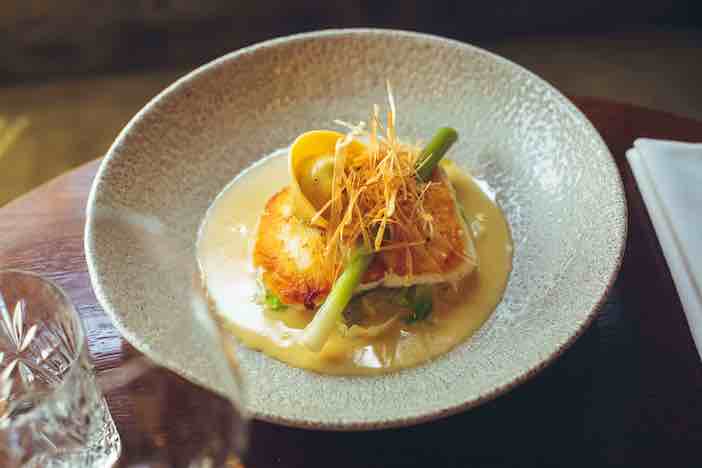 With cod and duck we were torn on the wine, until our host stepped in with a superlative choice; a Grunhauser Mosel Riesling. Its citrus threading nicely alongside the duck and a crispiness serving as a refreshing palate cleanser to the rich chicken-infused fish. There's a sentence I never thought I'd say in a restaurant review. Chicken-infused fish, indeed.
There's little that hasn't been carefully thought through here, from the small bottles of hand sanitiser on the tables to the cinnamon-scented and delightfully nocturnal astronomical scenes in the toilets, all of which adds to the mis-en-scene of the experience. I found I could happily while away the afternoon – and, indeed, did. Cheese was ordered, another pint (this time appreciatively), and the world was put to rights. In as much as it could be from a cosy banquette in Chelsea.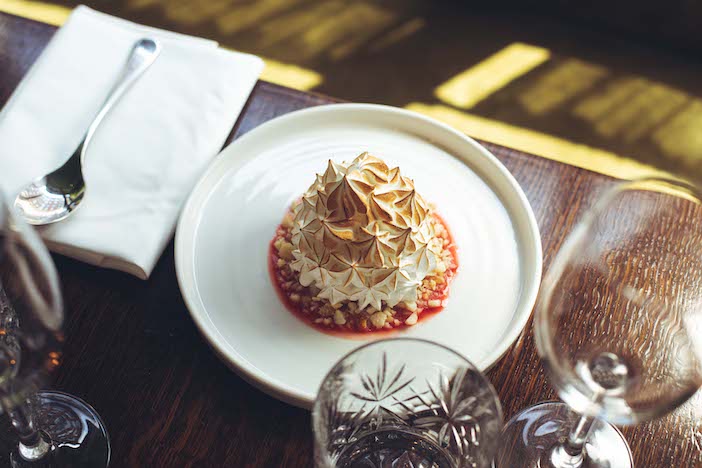 With stints at Chez Bruce and The Glasshouse, chef-patron Oliver Marlowe clearly knows what pleases. This is a meal that satisfies the heart as well as sates the appetite, and delivered with plenty of finesse – just look at that baked Alaska. What's more, while The Hunter's Moon is definitely worth the trip to dine out, and gives us something to look forward to after lockdown, there's an opportunity to dive in, even now. Sure, there's the customary take-away offering – including a full Sunday roast – but they're also transforming into a one-stop lockdown shop and deli.
While many, even every, restaurant pledges their provenance, The Hunter's Moon places theirs front and centre, from Covent Garden Market fruit and veg, to Wright Brothers' fish, Macken Brothers' meat, and cheese from – where else? – La Fromagerie. They're even stocking store cupboard staples, with a range of different rice, pastas and flours (in case we run out?) as well as butter, Clarence Court eggs, and a wide selection of Stokes Sauces.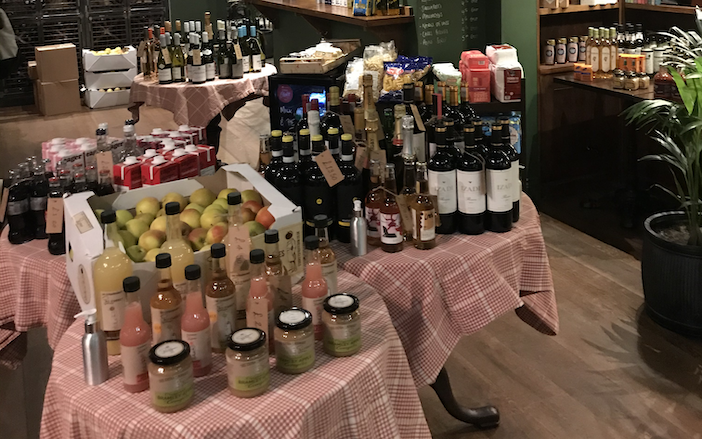 With the Hunter's Moon bearing high in the sky – an autumnal reference, I'm told, signifying the harvest – it's a fitting time to restock, at least until we're able to visit proper.
The Hunter's Moon pub and dining room on Fulham Road is open daily from Friday 6th November from 8am to 6pm, wherein you'll find everything you need – from ready-to-eat dishes through to freshly baked breads, marinated meats and fish, not to mention household sundries from toilet roll to bespoke, British-made Hunter's Moon scented candles. For more information, visit www.huntersmoonlondon.co.uk.