Full disclosure. I am dining with Mr. E. He is a 'something' in the city. He is stupendously wealthy. And he is going to be late. I'm not suggesting that being rich gives him licence to behave as he wants, I'm saying that he has problems that the majority of us cannot comprehend: his Citation X was delayed when taking off from Zurich this afternoon and his S-class hit traffic on the way from Northolt to Bloomsbury. I sympathise. Mr. E's business is arranging financing. I need a new bag. A SS12 piece from Chanel. About £10k should do it. So…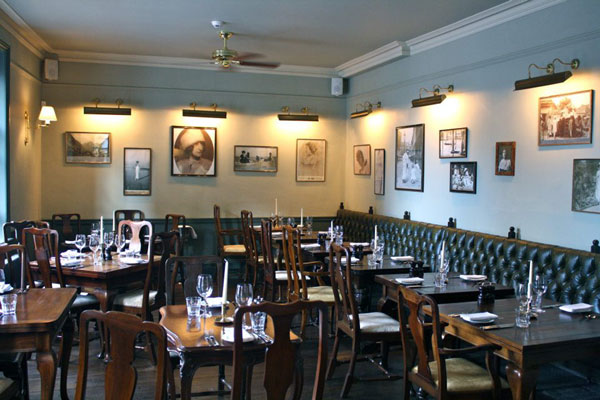 I find myself in Bloomsbury's premier residential street (property prices top out somewhere between £3.75m and £5m) heading towards The Lady Ottoline, a recently restored Victorian pub on the corner. I expect to find it full of Dickensian characters, errant domestic servants, chimney sweeps and miscreants. It's full all right, but full of cheery, well-heeled lawyers in expensive suits. They're drinking halves of beer and wine by the glass. Well – it is Wednesday.
I slip easily through the crowd and up the stairs to the much less crowded dining rooms. The polished wooden floor, dark wood period furniture, linen napkins and tall white candles reinforce the very tasteful 'slipped back a century' feel. An odd note is the piped music. 1930's cabaret jazz. Inoffensive, but peculiar. The walls are covered with pictures of the actual Lady Ottoline Morrell (1873-1938) looking interesting on a beach, on an elephant in India, in a hat made from white feathers, wistful in Venice… She married in 1902. Her nearby house on Bedford Square was maintained as a 'salon' popular with Virginia Woolf and the Bloomsbury group. Weekends were spent on her country estate, Garsington, now a smart venue for opera and picnics.
Very delightful I'm sure; but Lady O was also well known for her open marriage and many lovers from the artistic and intellectual set. Wikipedia lists shagees Bertrand Russell, Augustus John, Roger Fry, and "in later life, a young mason who came to work on her Oxfordshire estate". I ponder what gifts they have bought her and if they also included the receipts. Ah, Mr. E. has arrived.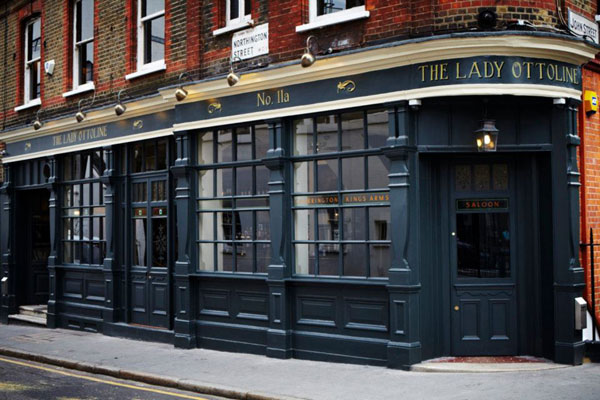 He is unflustered, charming and dressed a bit like John Hamm's character in Mad Men. I note the IWC Portuguese Yacht Club Chrono. Rubber strap! £9.5K. We chat about Zurich, the deal he has just closed, and the reason he likes The Lady Ottoline: Swiss clean and German efficient; financing for the world's largest processor of halite, comfortable good food in an informal, relaxed atmosphere. I feign interest by thinking about Chanel.
A charming waiter arrives to take our order. He waits without attempting to hurry us as we dither, or, as Mr. E. would have it, "we refine our options based on current information". The venison is usually served medium rare. Mr. E. deliberates. "I usually like a bit of blood, but that's when I'm hunting a deal. Where are you on this B?" I squeak, "I'll have the line caught fish with chips". Mr. E. stares at me for fractionally too long. Then he smiles. He thinks having his venison medium would be right. He seizes the wine list. No discussion. Puglian Primitivo. "This is a Wednesday wine. It will work with the venison and your chips". He says "chips" in a rather odd way. "But I'm also having the pear and endive salad. With Cashel blue," I blurt, "and you're having broccoli soup." "I know. We are in a gastropub."
Bread slices and a pot of really tasty butter arrives. Three flavours of bread – white, rosemary and something else I couldn't be bothered to remember. The bread is a little limp, but the excellent butter makes up for it. Over the butter I ask Mr. E. how he arranges financing. The concept is simple – someone needs money for something and they do a deal; but the checks and delivery details are very complicated. The terms of the loan or bond, when it's repayable, what interest is paid, what the risk value is are all complex variables. For example BB, B and CCC grades pay 8.5 – 9%. That sounds like at lot. My manicurist's Santander account only pays 0.5%.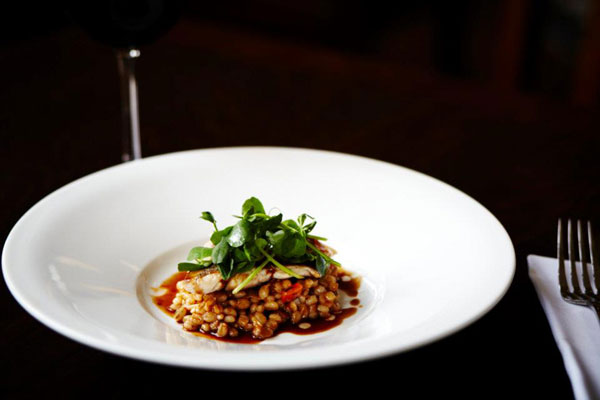 The uncomplex starters arrive. My salad is a gastropub classic – complete with the obligatory walnuts and watercress. Mr. E. is delighted with his soup, remarking on the perfect thickness, good flavor of broccoli; not sulphurous at all. It has a perky green flavour that wasn't salad-y and with a delightful little kick at the end. "They've added something," he declares. We call the waiter over. "What else is in this soup?" he demands. The waiter scurries off and returns moments later. "Nutmeg." Ahhh. I recount one of my food facts; "Nutmeg is psychoactive – it's a hallucinogen." "Raw or prepared? Effective in what quantities?" I have no idea.
Mr. E. wants water. "Still, sparking, or tap?" he's asked. "We'll have the tap." declares Mr. E, "no point wasting money on frivolities." How will he react to my need for a Chanel bag? Self-doubt? No! The bag is an essential.
Things relax a bit with arrival of the mains. My cod is perfect. The meaty texture and flavour of the fish with the golden crunch of proper batter are exactly how they should be. There is a cute smear of mushy peas that seems unnecessary in this quantity. A half lemon is properly wrapped in muslin – who needs pips? And the tartar sauce comes in a nifty little 'kilner-style' jar. Kitcheny witty. The chips are fat, crunchy and taste of potato. Mr. E. was right – it all goes very nicely with the primitivo.
The medium venison haunch is presented in four thick slices, and rests on a thick bed of butternut squash purée, savoy cabbage and cherry tomato jus. We also ordered a side of cauliflower and cheese. Mr. E. is delighted with the venison. At first. But then he begins to struggle. "It's the portion size. There's a bit too much on the plate. The flavours are all good, but in this quantity do I really need cabbage and squash?" I sort of agree with him. Despite that, I persuade him to share the chips, and we both enjoyed the cauliflower. We are now eating not because we are hungry, but because it tastes good and because we want to. We send the plates back 'dog-lick' clean.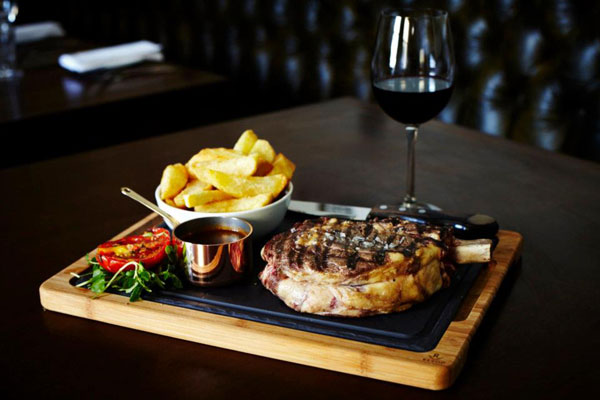 I ask Mr. E. why he chose to dine at here. He could have chosen anywhere, and by 'anywhere' I mean anywhere in all of Europe. His jet has a range of 3,500 miles. He smiles. Perhaps he likes talking about himself as much as I do. But only one of us needs a bag. I listen. "It's good to get back to something real, something tangible; somewhere where I can feel I'm standing, or rather eating, on solid ground. It's not fancy, it hasn't been messed around with by a chef who is showing off; The Lady Ottoline is somewhere to relax and enjoy an uncomplicated meal done really well." I make a careful note. That's half my review done. The Lady Ottoline serves easy-going gastropub food in robust portions. She is charming and politely muscular. In a fight between you and Lady O, she'd win, but only just, and you'd have had a good time tussling.
Do we need desert? There's a difference between need and want. Mr. E. has had his eye on the apple tarte tatin since we arrived. One portion. The vanilla ice cream starts to melt as our spoons duel with politeness and greed. Rich buttery caramel, soft melting apple, and sticky with caramelised sugar on the edges of the pasty. I become blasé.
We discuss the menu and portions sizes of pub vs. gastropub vs. neignbourhood restaurant vs. chichi restaurant. Mr.E. gets his sharp pen out and starts drawing Venn diagrams with percentages. This could be boring. "What do you look for when you're doing a deal?" Mr. E. looks up. "Basically? The quality of the borrower." I tilt my head coquettishly, much like the picture of Lady O that I can see behind Mr. E's head. "Suppose someone wanted, oh I don't know, let's say £10,000 for a vital upgrade investment to their infrastructure…" Mr. E. sniggers. Then laughs. Out loud. It's uncouth to laugh; generally speaking, laughter is for the criminally insane and those with a seven-figure bonus or a reliable plumber. Perhaps it was something I said. "You're talking about yourself, B Aren't you?" How did he know? "Let me explain. The minimum, the absolute minimum we'd do a deal for is around 200 million. The biggest deal I've done was in oh-seven for 5.4 billion. You don't do deals like this and make mistakes. Everything is checked and rechecked by a lot of very clever people. What is it you're after? A bag? No!"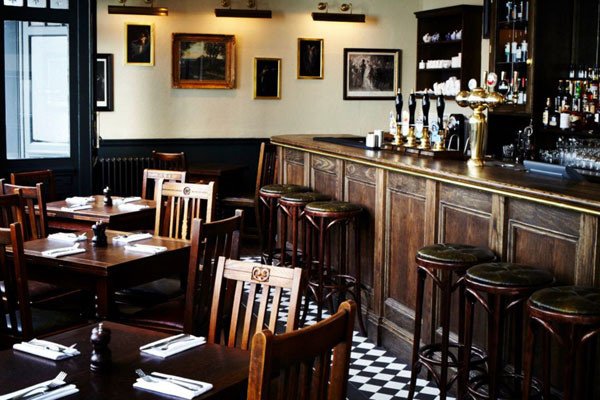 I need a drink. There is a substantial choice of everything you'd expect, plus a whisky list too big to be printed and then…and then…there is 'The Eclectic Collection'. I imagine Lady O pushing a wheeled trolley stacked with all sorts of exotic bottles in her drawing room. The Padrón XO Café (premium tequila and coffee essence) is served in a weighty cut glass tumbler – it instantly transports me to a late summer's evening and the excitement of an illicit teenage visit to a fairground after dark. Thrilling, dangerous and joyous. Little can be said of Mr. E's choice of Cherry Heering. I understood why he chose it – the whiff of respectability and heritage: original cherry brandy made with Danish cherries to a recipe dating from 1818. Aged 3 years before bottling. It was sweet and sticky like a liquid lolly – a bit of a Japanese pop girl. Hah! We are done. In some small petulant sense I have won. Bagless, but a winner nevertheless.
The rear door of Mr. E's Mercedes is held open by TW, his 'do it' guy. I've had run-ins before with TW. I find him particularly unhelpful. Mr. E. slips into the car. "You won't mention me in your review, will you B?" TW gives me a hard stare. I take a step back. "Certainly not. What do you take me for?" And with that, he is gone. Off to Fulham or Chelsea or wherever it is those sort of clever people live.
The Lady Ottoline, 11a Northington Street, London WCIN 2JF. Tel: 020 7831 0008. Website.
[cgview id=116 num=8 size=150×150 showtitle=always lightbox=0]