The gentle lighting paints a languid yellow hue over the crisp, white table cloths; walls are covered in framed pencil sketches of regular patrons and sepia photos of some bygone era, a past that looks familiar but one we never knew. Smartly dressed couples canoodle in quiet corners over whisky cocktails and glistening slabs of corn-fed American beef; somewhere from the ether, music can be heard, soothing but unidentifiable. I could be describing a scene from Mad Men, and indeed two episodes of the US drama series were filmed at this restaurant's original New York outpost, a few blocks from Madison Avenue. But this is London, Belgravia, on the site that formerly housed Drones; four years ago it was commandeered by the Palm steakhouse group, an Italian American institution serving prime USDA beef, Nova Scotia lobsters and shrimps the size of sausages. This is a slice of Mad Men Manhattan for the London smart-set.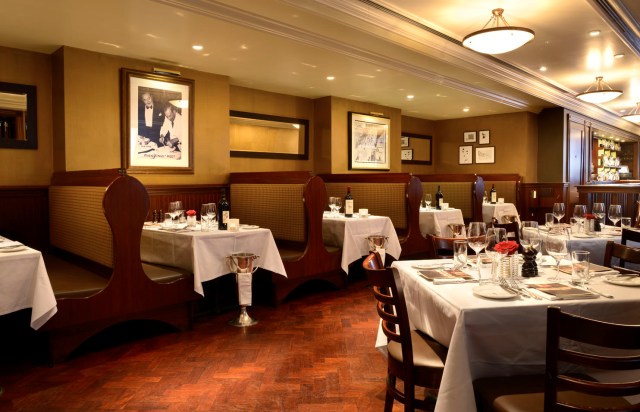 Over the past five years, London's steakhouse scene has become a well bred beast and the spectrum for meat eaters in the capital is now broad and multifaceted. At the rear of the herd one can still find the Angus Steakhouse chains festering in prime positions in the capital's tourist hotspots; a little further up the stomping order you have Sophie's Steakhouses, Black & Blue and the Gaucho Grills; and leading the charge you have Goodman, a favourite haunt of fund managers hoping to increase their cholesterol yields, Hawksmoor, where the staff all seem to have body piercings, tattoos and trendy haircuts, and Cut at 45 Park Lane, where you may spot a few holidaying oligarchs picking over the bones of a leveraged cash cow.
The Palm London falls neatly into line towards the front of the herd, and is perhaps the only steakhouse in this elite that is suitable for a romantic date or a "pre-flight steak 'n' cocktails" with one's business partner, as they did in Mad Men. It's an authentic replication of its New York heritage; in fact it's the only steakhouse in the aforementioned group with origins in the Big Apple, featuring a long, well-stocked bar and four dining areas, including a private room with a huge boardroom-style table for high-powered lunches of the international canine-bearing cognoscenti. Many restaurants try to emulate a New York dining aesthetic, and this is one of the few that actually succeeds.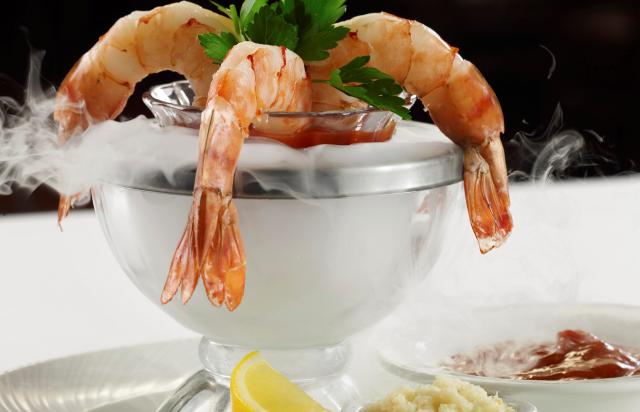 A starter of jumbo shrimp cocktail, featuring four hulking prawns delicately balanced on a metal serving dish above a bed of crushed ice, was accompanied by a fiery horseradish and a tomato chilli cocktail relish that was so delectable I used it as a dip for my bread rolls. It was the best seafood cocktail relish I've had in this country and it triggered flavour memories of my all-time favourite steakfest at New York's Old Homestead back in 1998. That's a long time to wait for an excellent relish.
My 340g New York sirloin (£42) arrived perfectly medium rare with a luscious brandy peppercorn sauce and a side of creamed spinach – one of their signature dishes and undoubtedly the most scrumptious creamed spinach I've had in any restaurant, anywhere, ever – cooked the Italian way with ample lashings of double cream and Parmigiano-Reggiano (the chef has kindly provided us with the full recipe for this exceptional dish). A portion of hand-cut fries helped to soak up the sauce, and the steak itself was plump, charred and sweetly flavoured, so soft and finely textured that one could have mistaken it for a fillet. Her Ladyship's fillet in turn was so astoundingly tender that one could probably spread it on toast.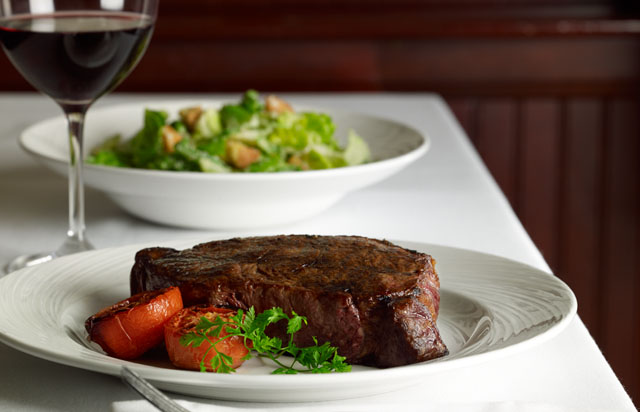 The wine list is well chosen featuring an impressive selection of US bottlings; the entry level pinot noir at £35 – a Robert Mondavi Private Selection 2011 – was delicately fruity with a velvet finish. US beef is milder in flavour to its UK cousins, and a light Californian red like this made an ideal pairing.
A generous slice of New York cheesecake with a raspberry sauce, and a bag of warm doughnuts dusted with cinnamon sugar, accompanied by pouring jugs of more raspberry sauce and a sticky chocolate concoction, made a fitting end to an indulgent meal in true New York fashion.
The fact that the cocktail relish and the creamed spinach stand out in my memory is testament to the restaurant's attention to detail. In a highly competitive industry, it is not enough to offer good meat. It's the side dishes, the service and the atmosphere that really sets one apart from the rest of the herd, and here The Palm is triumphant, taking its New York heritage and formidable US-wide hospitality experience and corralling it for a British market. If Don Draper visited London, The Palm would be a home from home.
The Palm London will be hosting a series of wine tasting dinners in their private dining room, priced at £100 per person including a welcome canapé and drinks reception, followed by a four course dinner with pairings. For more information, click here.