The traditional British public house has always been at the heart of our communities, from quaint village pubs in the countryside with crackling open fires and brass horseshoes hanging from every ancient beam, to shady East End drinking dens replete with slot machines, paisley carpets and lewd graffiti on the toilet walls. While these centres of camaraderie still exist up and down the country, in London and the UK's larger cities they have become diluted by the invasion of the soulless high street gastro pub, which has gone some way to annihilating that neighbourhood spirit, along with pub lock-ins and bar staff knowing their regulars by name.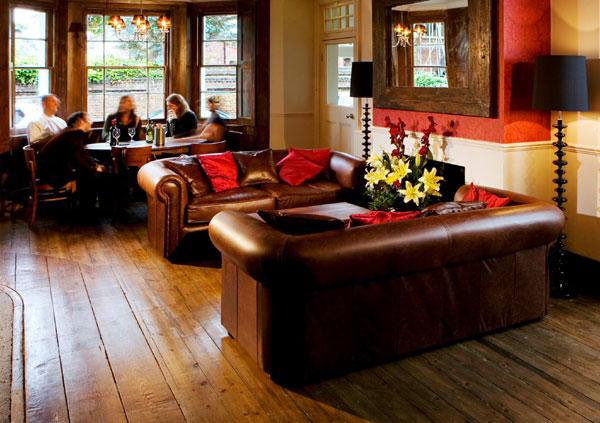 The Victoria in Richmond, however, not only champions everything that is good about an old fashioned neighbourhood drinking hole, but it manages to straddle a number of other hospitality guises in a way that I've never encountered before; it's a local-friendly pub, a restaurant, a café, and a hotel, all rolled into one effortless whole. Purchased by the owners back in 2007, this public house had been serving the residents of East Sheen since the mid-1800s, and restaurateur Greg Bellamy and his television chef business partner, Paul Merrett, were determined to keep it that way.
The interior of the main pub area follows a theme of 'stripped wood and distressed leather', given feminine undertones with tall flower arrangements and patterned wallpaper, while the restaurant is housed in a spacious conservatory and features some al fresco seating for the warmer months, along with a large outdoor charcoal grill for those lazy summer barbecues. At the back of the building and upstairs are seven rooms for those wishing to stay the night, furnished in a modern style and featuring everything you'd expect from a small hotel, from iPod dock to flatscreen TV.
We had arrived early evening before attending a concert at the Hampton Court Palace Festival nearby, the pub being a perfect base camp location for anyone adventuring to Kew Gardens, Twickenham, Wimbledon, Hampton Court and Richmond at large.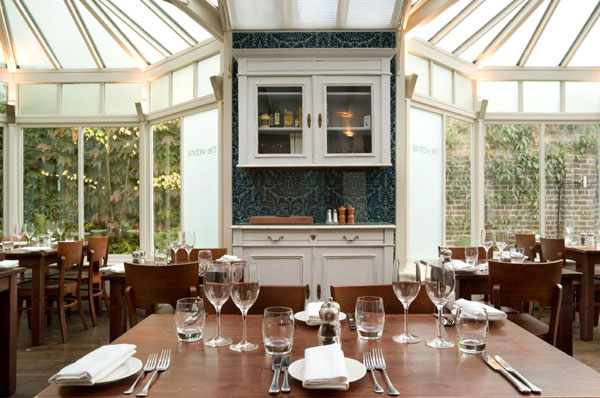 We eagerly tucked into the please-all menu; crispy Cornish squid with red onion, tomato, mint, chilli and lime was a palate priming starter that perfectly accompanied the zingy Mahi Sauvignon Blanc priced at a fair £30 for a bottle of this solid Marlborough tipple. Donning my carnivore's hat for the main course, I plunged my canines into a South Devon rib eye steak, with crusty 'thrice cooked chips' and an unctuous béarnaise sauce. Good, hearty gastro grub. The kitchen team is clearly capable of more complex dishes but sometimes simplicity is the best test of any chef. To complete the Holy Trinity of gastro pub gorging, a chocolate nut brownie with peanut butter ice cream and chocolate sauce left me with a smile on my face, ready to finish off the rest of the plonk before departing for an evening with Caro Emerald at Hampton Court; the perfect start for a night of melodic merriment and a torrential downpour of summer rain.
We returned from the concert later that night to find the pub buzzing with local drinkers and belly-full diners, all relishing in the warm and relaxing atmosphere. The pub-cum-restaurant appeared to be a well oiled operation, the different spaces working in harmony to satisfy the dart-playing beer swiller (not that I could spot a dart board), wine-sipping book reader, and steak-eating chip muncher alike.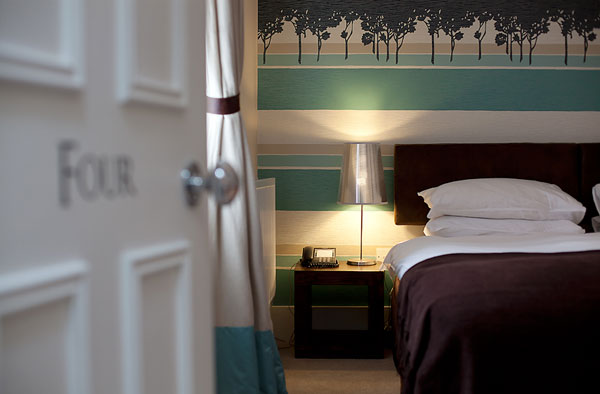 The next morning, after a comfortable night's sleep in our peaceful room, we descended for breakfast to find a large platter of pastries, breads, jams, cereals and fruits laid before us. To our surprise, the pub had turned into a coffee shop, and a number of Richmond locals were installed at various tables, typing away on their laptops (courtesy of the free Wi-Fi) while sipping on cappuccinos and enjoying a croissant or deux. With great quality coffee and offerings such as a Norfolk sweet cured streaky bacon bap on the menu, it's easy to see why someone would want to spend a morning there rather than behind a desk or in a dismal chain coffee shop.
I decided to test the kitchen and my appetite by ordering a full English, and I must say it's one of the best cooked breakfasts I've eaten this year – and I've eaten rather a lot. Fried toast, succulent sausages, gigantic mushrooms, crisply fried bacon, all piled generously onto a large plate the size of a vinyl record, it was no surprise that I found it hard to walk after consuming such a hearty platter of the good stuff.
We left The Victoria with a warm glow around us; the feeling that locals up and down the country must experience when stepping out of their favourite drinking hole into the cool of the night. And no, I hadn't just imbibed a pint of Guinness for breakfast, that warm glow was due to the friendly atmosphere we'd been cosseted in for a day and a night. Soulless gastro pubs take note: The Victoria is what you should be aspiring to emulate. I dare say it's a tall order.
The Victoria, 10 West Temple Sheen, Richmond, London SW14 7RT. Tel: 020 8876 4238. For more information, visit the website.