Theatrical, immersive and decadent – why hot DC comics-inspired restaurant Park Row is an absolute blockbuster. Emma Harrison goes Gotham…
For restaurants to scale to superhero heights, they need to tick all the proverbial boxes when it comes to the food, service, decor and location. For Park Row, they are swiftly climbing the dizzy heights of gastronomical greatness. Its location, which is housed in a Grade II listed Art Deco venue, is second-to-none, smack bang in the middle of Soho, the aim is to provide an all-encompassing, multi-sensory dining experience.
Like the DC comics that have inspired this restaurant, diners are taken on a journey. You arrive in a restaurant lobby that is designed like a rather quaint and genteel library. Lo and behold, the bookcase in front of us is no ordinary bookcase, but a secret door that reveals a spiral staircase which plays a superhero-inspired score, elevated by dry-ice style smoke enveloping you as you descend to five bars and restaurants (each with their own signature style), all impressively squeezed into what can only be described as a cavernous subterranean space (not so different from Batman's cave perhaps) – each with their own selection of signature dishes and drinks.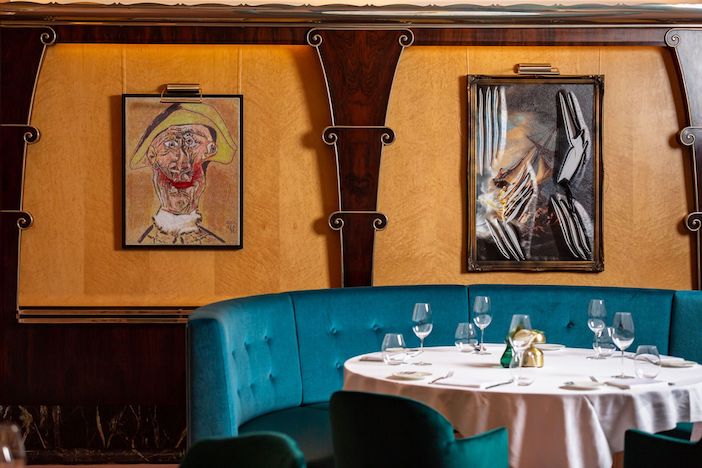 Sleek, sophisticated and full of showmanship, Park Row's aesthetic is far from kitsch and cheesy; the restaurant has a real sense of elegance and glamour to it. If insta-worthy credentials are high up on your list of requirements when dining out in London, then Park Row certainly meets and indeed exceeds this criteria. Think art-deco retro vibes with subtle touches to DC here and there.
The Iceberg Lounge is a triumph and you can't fail to be bowled over by the sleek lines and green-hued bar where you can try a fantastic selection of cocktails, all while watched over by an enigmatic ice-sculpture style penguin surrounded by cascading waves of even more dry ice. A jazz-inspired soundtrack from Scott Bradlee's PostModern Jukebox accompanies us as diners are taken to our seats, just in front of stage where live music was set to be performed later that evening.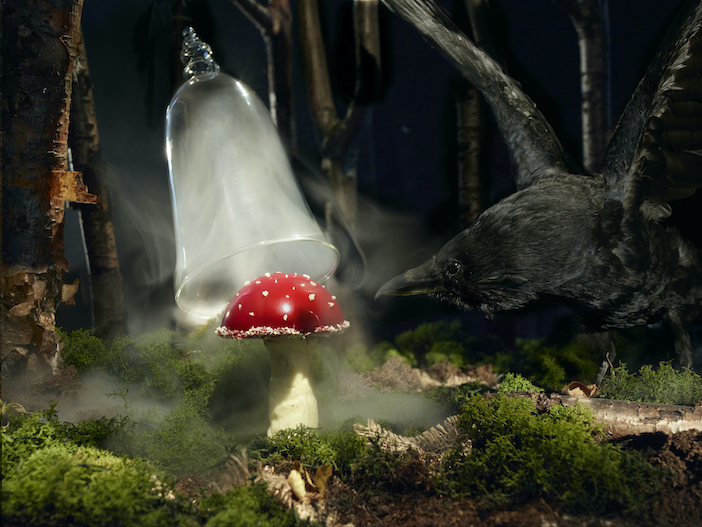 The staff are professional, friendly and rather endearing, and make every effort to make guests' dining experience as easy as possible. Kicking off culinary proceedings was an innovative dish from the Amusement Mile (the Harbourside District of Old Gotham) section of the menu called 'The Joker Edible Helium Balloon' which is served by the staff with a dramatic flourish is a smidge gimmicky and more than a smidge sticky. It probably would have been better served at the end of the meal, but for the wow factor. Did it have any tangible difference to my dining companion's voice? Not really, but where else in Soho can you say 'My partner will have the helium'?
If Park Row is a gastronomic theme park, then the menu is a roller coaster of molecular madness. The salt and vinegar squid with chilli and lime was delicately flavoured and sets the night's dining off superbly. For the main event, we both had the rib eye 'From the Wayne Estate' which was teamed with fries and a béarnaise sauce. The theatrics continued with desert; 'A Kiss From A Rose', the best dish of the night, was a lighter-than-air lychee rose mousse with white chocolate and jasmine yoghurt ice cream. Complete with dark red rose dipped into (even more!) dry ice and petals scattered liberally around the dish.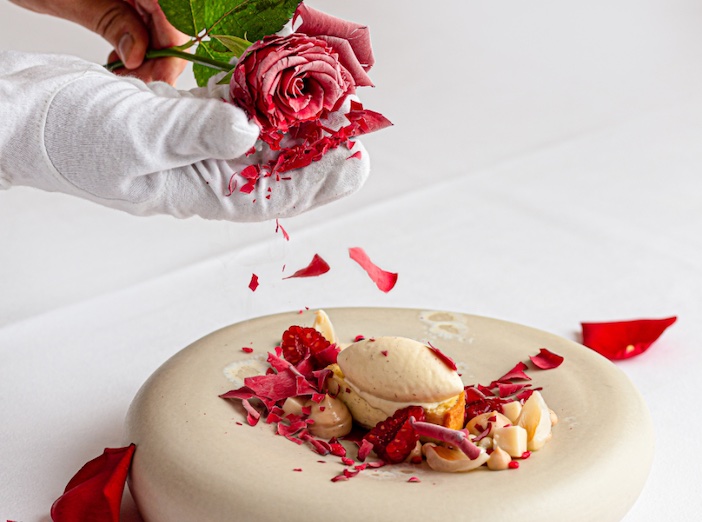 Make sure you have your phone to hand to capture, it's a real crowd pleaser and certainly elevated the entire immersive dining experience to super hero levels. Whether you're a fan of all things Gotham or not, this multisensory culinary extravaganza is most definitely worth exploring. As Batman once said, in one his comic appearances, "Ladies. Gentlemen. You Have Eaten Well!".
Park Row, 77 Brewer Street, London W1F 9ZN. For more information, menus, events, details of 'Master Wayne's Table' and for bookings, please visit www.parkrowlondon.co.uk.