In Italy, a trullo is a 19th century dry stone, conical-roofed dwelling of the Apulia region; traditionally used as outhouses or small abodes for agricultural workers; now smartened up with swimming pools and rented out as luxury holiday homes. The Trullo I know is a restaurant in North London, a two minute walk from Highbury & Islington station, easy to miss if you're not consciously looking for its understated façade. Step inside and it captures you with tantalising smells, tables filled with people deep in happy dining mode, and fine décor: the bare brick walls of its namesake, mingle with wooden floorboards roughened from their black paint origins; hanging lamps, the industrial sort favoured in these sorts of smartly stripped -back establishments, and a mellow moss green and white palette mingling to create an effortless, warm, cosy cool.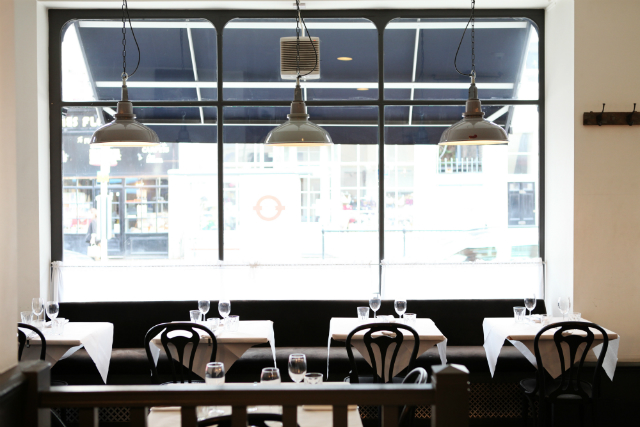 There's home-baked sourdough bread delivered to table on being seated, fresh pasta kneaded and rolled daily, turned in to papperdelle, tagliarini, gnudi and the like, and a small menu of enticing antipasti, mains and sweets; all sounding so equally good, it makes choosing a time-consuming affair, until you remember that you live 10 minutes up the road and could just come back again, and again…
We chose the pig's ear fritti and Yorkshire grouse bruschetta to start. Wise choices indeed. The piggies, piled on the plate like pork scratching twiglets, are crunchy from the deep-fried rice flour coating, and heart-threateningly moreish in their sweet fatty softness. The bruschetta, with rich, tender meat, and a drizzling of peppery Capezzana Estate olive oil, was lovely; the sort of dish I would whip up as a quick lunchtime snack, if I was the sort of person to have some left over slow cooked shredded grouse in my fridge.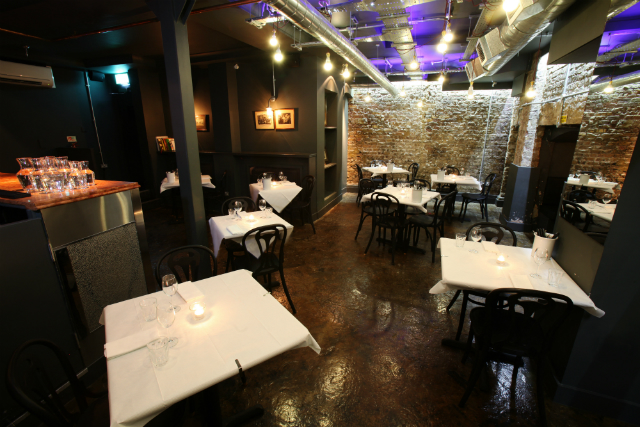 Tantalised by the smoky scents that filled my nostrils and stirred my taste buds before we'd even sat down, I chose the charcoal-grilled whole mackerel with a traditional Tuscan panzanella – delicious. Adam went for my second choice, the Dorset lamb rump, also from the charcoal menu, served with a simple mix of 'coco blanc' beans and salsa. Another one of those beautifully cooked, tender lamb dishes he proclaims to be the best he's had. Ever.
The 'Italian-influenced' food menu, matches the strictly Italian wine menu, a book of bins from all over Italy, mapped by region at an entry level price of £20. We went for a peachy, quince-y and punchy Contesa Pecorino from Abruzzo, somewhere we have fond memories of spending one New Year in a freezing cottage, not dissimilar to a trullo, warmed all week by a constantly fed fire and cheap, smooth Abruzzo red.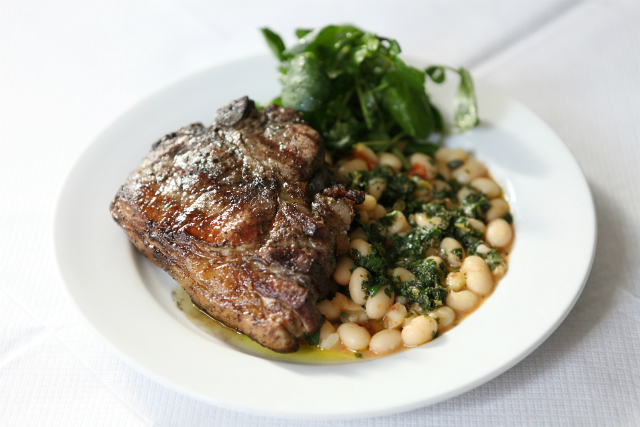 The lights dim gradually through the eve, three or four notches down, bit by bit, until around fig and almond tart time we are illuminated mainly by candlelight, the exact same level my grandmother's kitchen falls under in the light of her grand candelabra. Trullo feels homely in that sense; familiar, welcome.
Upstairs on ground level where we're sitting, looking out onto St Paul's Road, it is cosy. You wouldn't want to share your table with an elbow eater, but for the intimate catch-up dinner I was sharing with my beloved that eve, it was perfect. Close enough to hear each other over the chatter of other diners, clinking cutlery, and buzz of activity from the semi-open kitchen; and steal the odd morsel from each others' plates. Big silver extractor pipes curl out from the kitchen to the outside, wafting 'come hither' scents to passers by. Passers by who haven't much hope in bagging an adhoc table, if what we witnessed on this particular Thursday evening is anything to go by. I once attempted to do the same mid-week, to no avail, ending up in a nearby Japanese instead – nice enough, but not the same if what you're craving is a dish that hugs you in a way only thoughtfully-cooked Italian can. My advice, book ahead, or be tortured by a scene you may not be able to enter if you leave it to the last minute.
Trullo, 300-302 St Paul's Road,  London N1 2LH. Tel: 020 7226 2733.  Website.