When it comes to anniversaries, you might not think a slab of beef would warrant celebrating. But when you take your steak as seriously as the Basque do, you can see why it's cause for raising a glass or two.
Twenty-five years ago, taking cooking skills learned from his grandmother, chef Iñaki López de Viñaspre opened Irati in Barcelona with his brother Mikel. Introducing Basque cookery into Spain's culinary capital could be considered an audacious move, but it worked. Today, the brothers have restaurants in seven cities, bringing Basque cuisine to London with Sagardi. And central to this heritage is beef.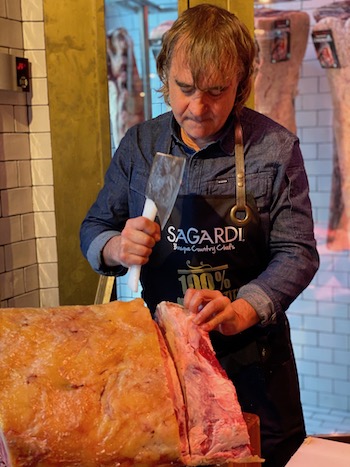 In a centuries old tradition, the Basque have paid homage to the txuletón. It's the cow that's been part of the homestead all its life, and seen through its working years before being put out to pasture. The difference in the Basque Country was that when these animals reached old age and theirproductivity started to wane, after enjoying retirement, only then was the animal slaughtered and, in final homage, the meat grilled and enjoyed as a community, with the loins, the finest cut, being prized above all.
In this tradition, the team behind Sagardi have been running their Txuleton Gastronomic Season for fifteen years across their restaurants, offering fine steak as part of a truly memorable Tolosaldea feast.
The centrepiece of the Tolosaldea menu is the renowned rubia gallega matured beef, carefully selected by Sagardi's butcher Imanol Jaca. Named after the small city where the famous Tolosa black bean is grown, the menu also features great seasonal produce that includes traditional Tolsa bean stew (dressed with black pudding, pickled cabbage and chili), grilled piquillo peppers and then that magnificent aged Basque cow grilled with sea salt over oak charcoal.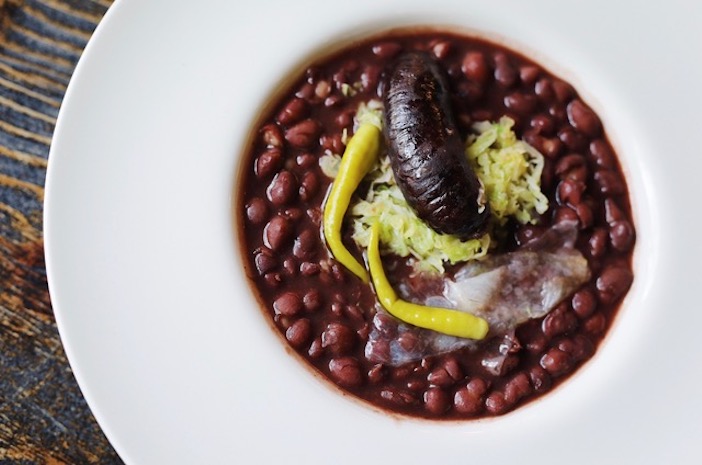 So, what makes Txuleton special? It's the opposite of what you'd expect. It is not hung or dry-aged. "It matures in the cow," Imanol told me. The steak we're enjoying lived to a ripe 18 years old, they're not fast-reared and slaughtered young. "The Basque way is to 'wait and see', and she was an old, fat, happy cow," he says, "fed on turnips, greens and carrots from our own farm, in addition to their natural grazing."
The result is meat the colour of claret, rich with fat, with clean flavours of soil, milk and pastures. "Our culture with these cows is similar to that with tuna in Japan. It isn't a marketing ploy," Imanol says, "we're not talking about breeds, origins or excessively long ageing. When I talk about the Txuleton, I'm talking about my country. The Basque Country."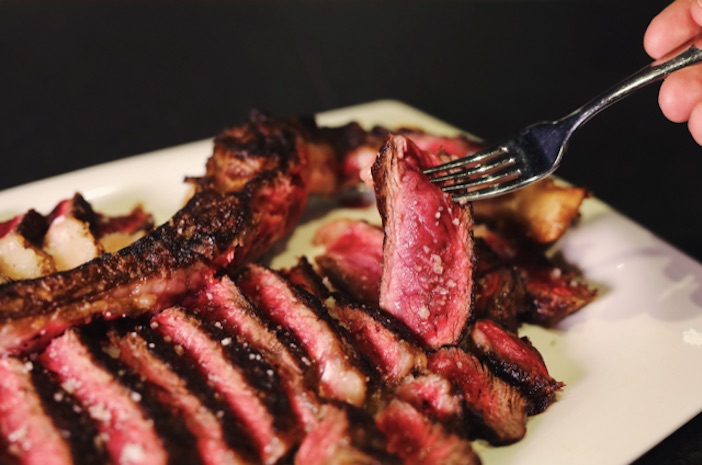 And it pays off. As another steak is slapped on the grill, nothing gives more pleasure than a sliver of fatty Txuleton on a slice of warm, spongey sourdough and a slug of punchy vin rouge. And as we, rightly, rail against mass farming, deforestation, over-populated cattle stocks and poor husbandry, it's reassuring to know there is a way to truly appreciate beef. Marvellous.
The Tolosaldea Menu 2019 is available at both lunch and dinner at Sagardi in until Sunday 8th December, while stocks last. For more information and bookings, visit www.sagardi.co.uk