Viajante, meaning traveller in Portuguese, is an apt name for Portuguese-born Nuno Mendes' Michelin-starred restaurant at the converted Edwardian Town Hall Hotel, which has brought a much-needed dose of glamour to Bethnal Green. A night in its cathedral-like clutches catapults you on a gastronomic journey taking in a kaleidoscope of colours, textures, temperatures and flavours from the safety of your pale blue chair. An El Bulli alumnus, the softly spoken, raven haired, generously inked, contagiously passionate Mendes has been christened the Heston of Hoxton due to his fondness for molecular techniques, which were previously deployed at Bacchus in Shoreditch.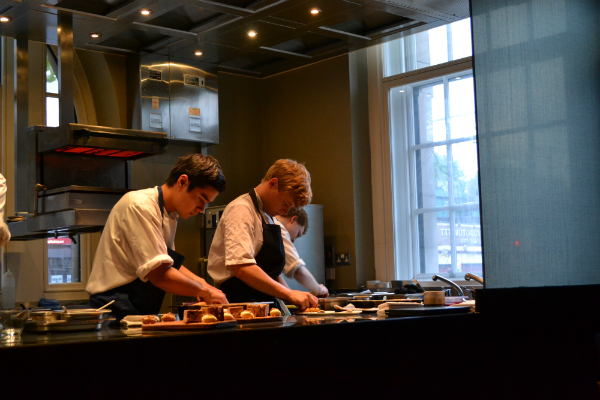 Viajante's tinydining room is dominated by a large open kitchen populated with earnest looking young Turks armed with tweezers and pipettes beavering away silently like worker bees. Mendes keeps to the far right of the kitchen, marker pen in hand, managing the minutiae of this meticulous operation. Bagging a ringside seat to the action, it feels akin to a night at the theatre, minus the interval and curtain call. Interiors are pared down – walls are white and floors wooden – to keep focus firmly fixed on the food, while a blues-heavy soundtrack adds an air of cool to the culinary acrobatics.
The stress of choosing what to order is removed by the lack of a menu – diners simply have to decide how hungry they are, then opt for the six, nine or twelve course tasting menu as appropriate. Control freaks and fussy diners need not apply; the experience befits only those of an open mind and healthy appetite. To Mendes' disadvantage, my dinner booking fortuitously fell on the same day as lunch at the A Taste of Noma pop-up at Claridge's. On arrival at 7pm, I'm already nine courses in. Dinner is going to be something of an endurance test. Hungry for the challenge, I sharpen my knife in preparation.
Act one begins with a refreshing glass of blanc de blancs Champagne from small grower Agrapart & Fils, which showcases Chardonnay's signature elegance and lightness of touch when performing a Champagne solo. With it comes one of the only dishes to endure on Viajante's ever-changing menu: Thai Explosion, composed of a quail egg atop confit chicken, coconut and coriander sandwiched between shards of crispy chicken skin, the fragrant coriander jostling for dominance over the salty skin.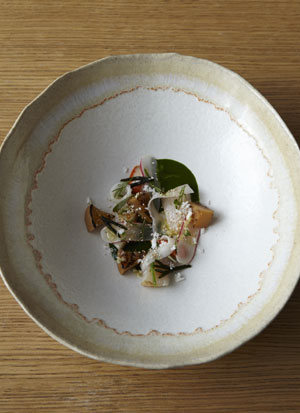 Next is an amuse bouche that looks distinctly like bird seed made from amaranth, an ancient grain used by Aztec warriors for energy, and the increasingly trendy sorrel, served up at lunch by Rene Redzepi at Claridge's – a close friend and confidant of Nuno's. Piled onto a black slate, the popcorn-like amaranth is unashamedly smoky, like biting chunks out of a still-lit bonfire.
The warm-up dishes continue their charge with a cuttlefish and blueberry concoction – two ingredients I'm not likely to see share a plate again. The waiter excitedly informs us that it's a new dish Mendes is trialing. Oddly, the vibrant blueberry pairs well with the grilled fish. Proving that simple flavours are often the best, the standout amuse bouche by a mile is the Gordal olive soup made from a Spanish variety known for its juicy, meaty flavour. Served as chilled as a Bond Martini, the salty and scandalously moreish olive purée is a triumph of style and substance. "Potato with yeast" meanwhile, attacks the taste buds with razor-thin fatty folds of intensely porcine Ibérico pancetta wrapped gossamer-like around a small potato. The accompanying yeast paste recalls unmade bread and Marmite spread.
Fifteen courses in (if you count lunch), my first main arrives: an artfully arranged composition formed of white tubes of kohlrabi – a mild mannered German vegetable with a hint of sweetness and pleasing crunch that straddles the divide between cabbage and turnip, covered in a lime green gooseberry granita and drenched in what looks like milk. It seems more like an edible artwork than a plate of food. Mendes' painterly touch is most exquisitely illustrated in the subsequent dish: squid with pear caramel and swooshes of squid ink reminiscent of both Japanese calligraphy and Spanish Surrealist painter Joan Miró. It's almost too pretty to ruin with a fork, but after a few bites of the delicious, slightly caramelised squid, the ink merges, pushing the Miró-esque work into the realms of abstract expressionism.
A diamond-shaped slice of halibut bears the most striking resemblance to a conventional main course: perfectly cooked, elegantly restrained and enhanced by an umami-rich seafood rice broth. Perhaps tellingly, Mendes' least risky dish also proves the best match of the night for the accompanying wine pairing: a barrel-aged Portuguese white – Nossa Calcario 2010 (meaning "our limestone"), from Bairrada-based Filipa Pato, with petrol aromas, a creamy texture and an almond finish that lingers until dessert.
Howling for meat by this point, Mendes delivers with a salty sliver of charred Ibérico pork loin adorned with green tomatoes and edible flowers. Twenty courses in and almost unable to move from my chair, a cleansing cucumber and milk sorbet revives my flagging palate. So fresh and so clean, it's like a spa treatment for the mouth. Having clocked up seven hours inside Claridge's and Viajante, I'm tempted to slather the remainder over my face, crawl under the table and bed in for the night.
Dinner ends with the enigmatically titled "Milk", which reminds me of Claude Bosi's white asparagus, white chocolate and whey dessert at Hibiscus. Formed of shards, folds and chunks of white running the flavour gamut from cheese to chocolate, the petit fours prove infinitely more delightful, particularly an ice-cold chunk of vanilla and extra virgin olive oil the size of a toffee brought to us by the magician himself on a white stone. We're told to eat it straight away, despite its sub-zero temperature. In the mouth it rewards with a wonderful unctuous texture and rich, creamy flavour perfectly marrying sweet and savoury.
Viajante continues to divide diners. While some find the dishes overly-intellectualised and the environment disconcertingly reverential, others revel in deciphering the thought process behind the flamboyant flavour combinations inspired by Portuguese, Thai, Japanese and South American cuisine, with Mendes' signature freshness, vibrancy and clarity of flavour threaded throughout. His envelope-pushing combinations may not always work, and certainly won't be to everyone's taste, but they're never boring.
Viajante, Town Hall Hotel, Patriot Square, Bethnal Green, London E2 9NF. Tel: 020 7871 0461. Website.