It's a crowded market, isn't it. Landmark events always herald countless promotions, commemorations, limited editions, and whatnot. And never more than royal occasions, particularly those 'once in a lifetime' numbers – of which there've been a fair few of late.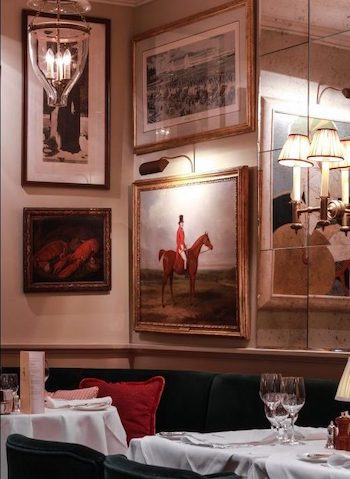 King Charles III's (still sounds weird saying that) coronation on 6th May does, however, feel more like something that should be celebrated in style; our late Queen's jubilee felt like a family occasion, with street parties and the like, and her funeral certainly didn't warrant a fanfare, befitting solemnity. So, how should one mark a coronation? Which of the many menus and institutions should you push the boat out for, and make this one to remember?
That's easy. There is but one word one our lips. A place that practically epitomises all things British, all things traditional, all things…well, royal. Wiltons.
It needs little introduction, save to say that it is, technically, London's oldest restaurant. The original shellfish stall in St James's predates Rules by some 56 years, and received its first royal warrant supplying oysters to Queen Victoria. Last year it celebrated its 280th anniversary. These days, Wiltons is the go-to for that classic white tablecloth, white glove service, brimming with character – and characters, for that matter – and has taken on something of a club-like persona. Booths are ear-marked for regulars, guests are greeted by name, and as you enter, you know you're stepping into history.
So, with a scene set, how does one tackle a menu for a monarch's coronation? Well, you do what you do best. In his twelve years at the helm, head chef Daniel Kent is credited with introducing many a staple beyond its focus on fine seafood, and this menu is, essentially, Wiltons' greatest hits championing these fair isles' finest. And it helps that some dishes have been vetted by the King himself.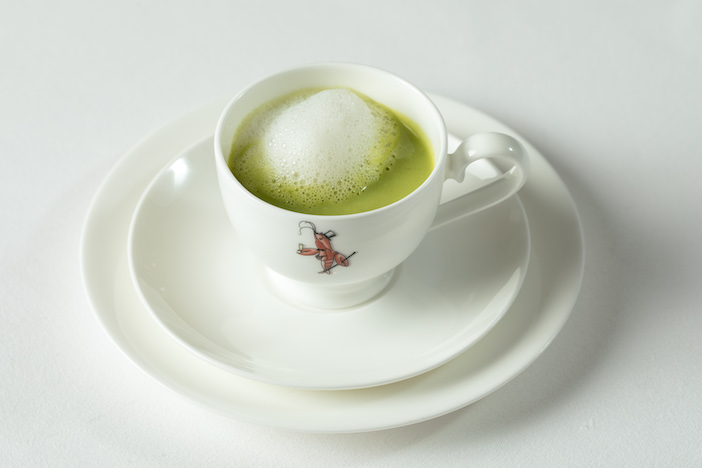 It would be daft to pass up a flute of Boli at the bar, being bubbles by royal appointment, of course, and consider the menu. Seven courses, with a wine flight, stand between me and the memory. In a way, it mirrors the stages of the coronation itself; there's a rhythm to it, a narrative of sorts. There shall be plot spoilers – it's available on the website anyway – because there are some splendid things to talk about. So, get comfortable, and let us begin…
The recognition, if you'll allow the analogy, introduces an asparagus velouté in a teacup. Done poorly, these are glorified stocks; this was the opposite. Concentrated flavours also mark these mini soups, but here the asparagus is delicate, not the overpowering flavour expected. Topped with a morel and truffle cappuccino (in this case a term for foam); again, there's subtlety that points to a tantalising opener, whetting the appetite, with a hint of smokiness from a 'Les Cris' Pouilly-Fumé grounding that truffle. There are murmurs of approval all round.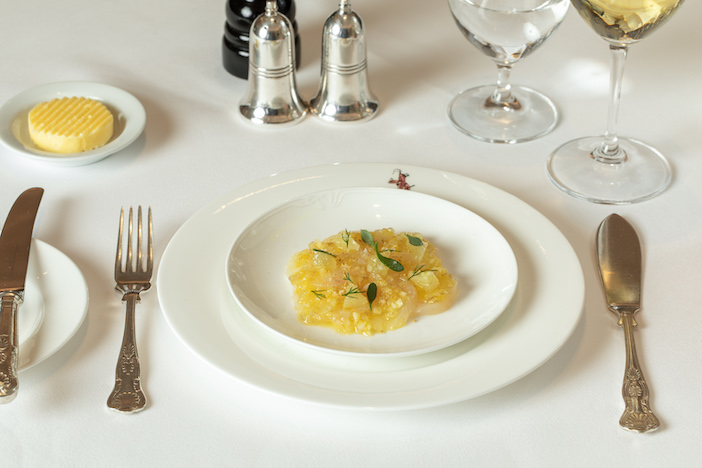 Curing monkfish is rare. While ceviche and gravadlax has been the rage for some time, I've not yet encountered the beast of monkfish among them. This citrus-cured rendition, with its use of ginger and the sharp aniseed of fennel kept back as a finish, punches out of the block, tethered by a minerally Pernand-Verglesses burgundy from Vallet Freres with a lovely, long lemony finish. After that gentle opening, this is getting to business with a firm oath – and we're committed.
Some years ago, I discovered Chêne Bleu, from Vaucluse, and it soon began to make a name for itself among the capital's dining glitterati. Typically pairing with salmon, or paté, the Aliot has got enough beef to eschew a red to go with Kent's morel risotto, and Wiltons' sommelier, Monica Bacchiocchi decided on it for its bold minerality. Caustically acidic, you might not choose it on its own, but it's transformed with the risotto, to cut through the earthiness of the mushroom. And this, in fact, was the dish the King ate on his most recent visit, and declared his favourite – so, you have this by royal appointment, as it were – and rightfully so, since we are at the point of the anointing with this dish.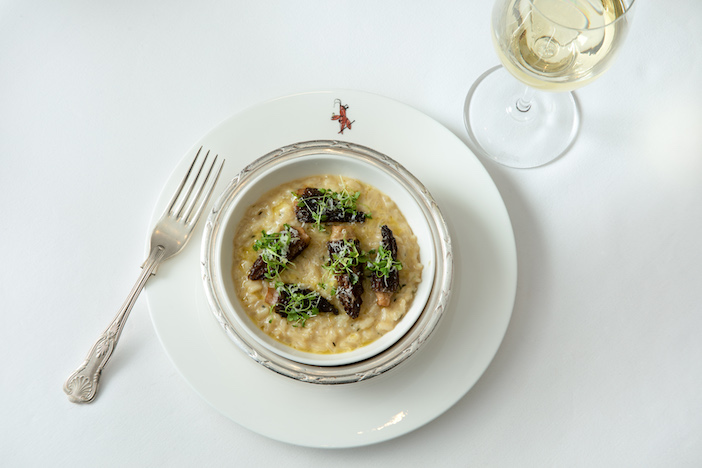 To mark this occasion, I was dining with eight friends, of an eclectic nature, and our host was a friend of chef (she's even cooked for him). We talked about eels, cookery books well-known and new (Cooking by Jeremy Lee given a universal thumbs-up, Cynthia Shanmugalingam's Rambutan being something of a revelation), how to pronounce the word 'won' and, in spite of the old saying about dining conversation taboos, dentistry (my contribution, ill-judged). But all of us were united in a common spirit, privileged to be offered a preview, as if given a seat at the coronation itself.
At the meal's investiture, so to speak, two of our number take a loo break and the Wiltons' team are on it, throwing a polished cloche on their plates. The main, if there is such a thing in a tasting menu, is one of Wiltons' now most well-known; a rack of lamb from the Rhug Estate, with wild garlic and baby onions, naturally. Dressed by a rich reduction, what else but a peppery, red berry Pommard Premier Cru, in this case 'Les Pézerolles' from Domaine de Montille. It is the crowning dish, if you will. We toast the king, and Zadok echoes in my head.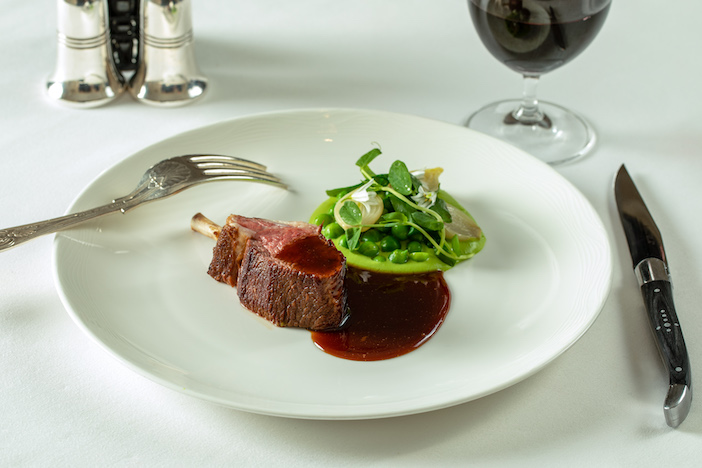 As we near the close, some two hours in, there is a brief interlude for a refreshing strawberry and elderflower sorbet, and a palpable sense of both delight at the pleasure we've had, and regret that it's nearly time, the sense the end is in sight. Not, however, before dessert, and a figurative enthronement. A rhubarb-infused Nyetimber jelly and custard cream shortbreads are a well-judged conclusion to this 'best of British', complemented with that distinctive rust aromatic of Nyetimber's demi-sec itself, and while we pay homage to the new king as petit fours are served, we are also graced by Daniel Kent himself, and dutifully, reverently, and with much applause, we pay our own homage for a very memorable, very notable meal.
The Wiltons Coronation Menu is available for dinner service from 1st-31st May, priced £150 per person. The matching sommelier-selected wine flight is available at £125 per person. For more information, and for bookings, please visit www.wiltons.co.uk.