I think you'll agree there is no better way to spend a Saturday lunchtime than in a comfortable private dining room of a superb Mayfair restaurant, sipping some of the finest wines known to humanity while feasting on lovingly tendered produce from the British Isles. And that, dear reader, is exactly what I jolly well did! I gave up my Saturday to selflessly review this meal so I could tell you all about it, in case you fancy undertaking the same pious activity one weekend: Corrigan's Mayfair are holding monthly wine-pairing banquets, hosted by the erudite Doug Wregg of Les Caves de Pyrene, the independent wine importers who specialise in boutique and natural wines. Doug also runs the very popular Terroir and Brawn restaurants, featuring a fabulous collection of libations and some dashed fine food to match. But this was Richard Corrigan's turn to cook up a feast to pair with Doug's wines, and by Jove what a feast it was!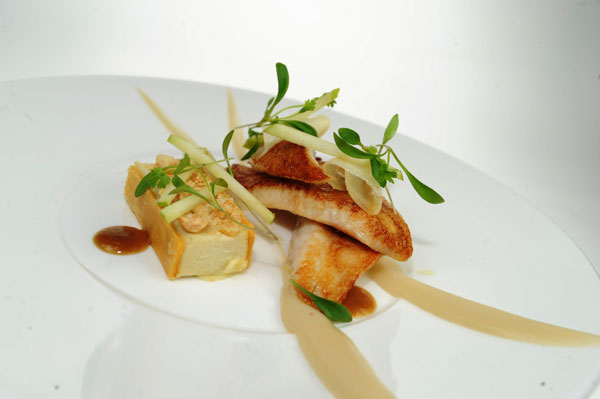 Proceedings began with a glass of Grand Cru Champagne from Paul Dethune, and a selection of delectable canapés, including a favourite of mine at Corrigan's; arancini with an olive in the middle. This paved the way for the impressive first course, lobster ravioli with a shellfish broth, paired with a 2009 Testalonga El Bandito Cortez from Swartland in South Africa, and a 2009 Pyramid Valley Fields of Fire Chardonnay from New Zealand.
The lobster ravioli was one of those dishes that makes you feel happy to be alive, and the wines were mouth-wateringly diverse and all too consumable. Organic, biodynamic and natural wines tend to divide the wine world; their supporters are often regarded as something of a zealous pagan cult (presumably worshipping Dionysus, the Greco-Roman god of wine, theatre and ecstasy – sounds like my kind of chap), but the wines themselves stand up to scrutiny from even the pickiest of connoisseurs. I was indoctrinated after only two glasses. While mass market production wines are often tampered with – tannins, alcohol and flavourings are added to produce a stable and consistent batch – natural wines are just that; made as nature intended with no further modification, and this often produces surprising results. For those who enjoy wines that tease the senses, then biodynamic and natural wines are certainly the way forward.
Red wine braised brill, confit cabbage, celeriac and razor clams were served as a second course, along with a 2010 Villalobos Carignan Reserva from Chile's Colchagua region, and a 2010 Pinot Noir by Louis-Antoine Luyt from Maule, also in Chile. The Carignan Reserva comes from a vineyard that has been given to nature, allowing the vines and other plants to run wild across the land.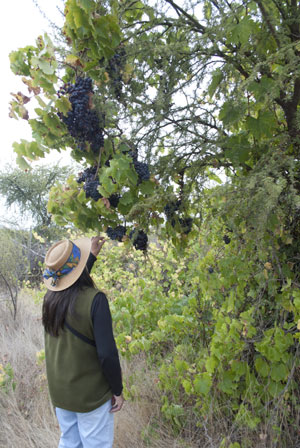 The grapes are harvested with great difficultly, with pickers battling through the undergrowth to select a small crop of juicy fruits, and it makes for a wonderfully intense and interesting tipple; the sort of wine that puts hairs on men's chests and makes women want to shake out their neatly combed manes and ravish said men on a bed of leaves in the middle of a woodland wilderness. Or perhaps that was the wine going to my head. Both wines were exciting and tantalising and proved a balanced match for the magnificent brill, cooked so sensitively that every flake had locked within it a succulent explosion of flavour, as if the fish had been botoxed with its own juices.
With each course, Doug gave us a summary of the wines, how they were produced, the story behind each vintner and some additional tasting notes. My knowledge of wine is that of an amateur connoisseur; in other words, a glutton who enjoys drinking the stuff so long as it tastes good. But hearing about the process behind the production of these wines and the history and enthusiasm of each winemaker, made for fascinating conversation while I glugged down the velvety liquid and chomped to my stomach's content on Corrigan's faultless cooking.
The main course was Goosnargh chicken with wild mushrooms and English leeks, accompanied this time by a 2010 Burnt Cottage Pinot Noir from Central Otago in New Zealand, and the evocatively named 2010 Wildman Pinot Noir from Adelaide Hills in Australia. Wildman is apt branding for this bottling; the wine had a rugged, primeval taste to it, something a wolfman might drink after a thirsty night of howling under a full moon (or perhaps before his howling endeavours, to get him in the mood).
Dessert was a memorable rhubarb crumble soufflé; one of the finest soufflés I've ever had. The sharpness of the rhubarb was a perfect companion to the sweet and puffy cushion, and both were pleasingly matched with an invigorating 2010 Framingham Noble Riesling from Marlborough in New Zealand, providing just the right amount of zing and sugary notes to accompany the super pudding.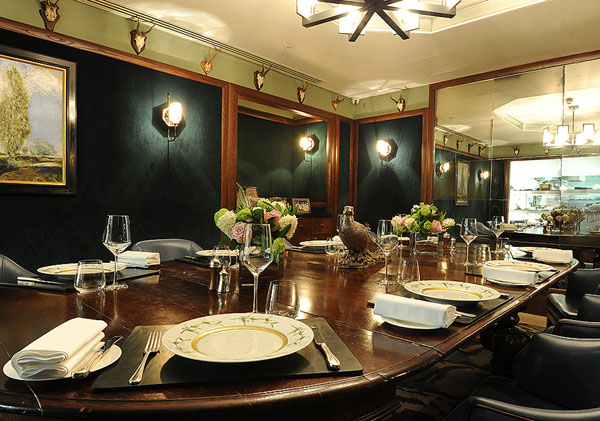 I heaved myself out of my chair at some point in the late afternoon, and walked (okay, staggered) into the bracing air of a chilly February weekend, managing to zig-zag my way home just before the snow hit London. Sitting at my desk and gazing out of the window at the cotton wool covered streets, thoughts of wild vines and gourmet foods danced through my mind, while the icy wind outside my window seemed to carry whispers of Dionysian chants among the snowy whorls of feathery whiteness. I promptly fell asleep in my chair and dreamt about living in a rustic vineyard, spending my days reading romantic French literature to ma chérie as we idled away the time under the baking sun with the sweet aroma of Mediterranean flowers around us. And if that's what fine food and fabulous wine does to a chap, then that alone is reason to make this a regular occurrence. I'm already looking forward to the next feast…and to stocking up my cellar with some of that wolfman brew.
The next wine event at Corrigan's is a dinner taking place on Friday 2nd March, priced at £120 per person. For more information, visit the website, or telephone 020 7499 9943. For more information about Les Caves de Pyrene and to order wines directly from them, visit their website. To explore the world of natural wines, visit the Real Wine Fair on Sunday 20th May, featuring the world's greatest organic, biodynamic and natural wines. We'll be giving tickets away to Arbuturian readers in due course, so watch this space.