My lady likes theatre. A lot. I don't like theatre. A lot. But I make the effort to beetle along to plays and musicals and whatnot, in the hope that I suddenly become cultured in the way of the stage. It's a curious thing, but I never liked puppet shows as a child, so I suppose there's something about the performing arts that naturally grates on me. That said, defeat is not something we Jonesy's take lightly, and I certainly won't let memories of that frightful little Punch chap put a blighter on my cultural endeavours. Absolutely not! As Shakespeare wrote, "Sweet are the uses of adversity, which like the toad, ugly and venomous, wears yet a precious jewel in his head." I have absolutely no idea what that means.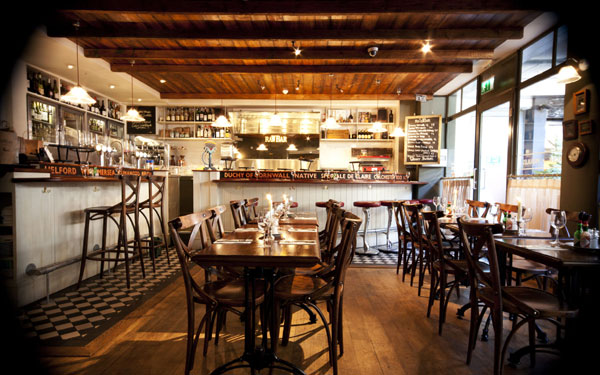 When it comes to matters of the stomach, however, I tend to lead the charge, being rather more in touch with the old tum than is probably healthy, and I pride myself on putting as much thought into finding us the best places to dine as Her Ladyship does in securing tickets to all the best shows. So it was with some trepidation that I escorted the dainty damsel through the mean streets of Soho, towards Wright Brothers, a restaurant I had never dined at before; I was risking considerable tarnish to my reputable restaurant knowledge should the meal fall two sticks short of a tepee. Wright Brothers is a specialist oyster and fish restaurant, so there was the added complication of me perhaps choking to death on a rogue fish bone, or dribbling oyster juice down my shirt, neither of which would impress madame. In fact, now that I think about it, the meal was laced with potential for disaster!
Things got off to a stormy start when we decided to enter the restaurant via the Kingly Court entrance, only to find the glass doors locked and all the diners gawping and laughing at us. Entering through the front door, this time on Kingly Street, I was pleased to find much calmer waters; the lighting was just right – not too bright, not too dark (I look my best in low lighting) – with lots of candles and stripped wood and old pictures and whatnot. Rather romantic, if you catch my drift, and a good soundtrack of vintage jazz playing in the background too. Her Ladyship seemed pleased, as was I. We sailed on…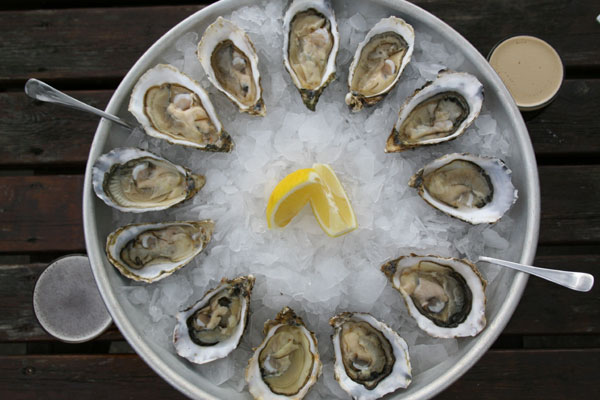 We ordered a bottle of tasty sauvignon, a big glug of which helped to fortify the spirits, and we set about shucking through the menu. It's a simple affair, with a good range of daily specials chalked up on a blackboard. We rowed towards a starter of three 'naked' Cumbrae oysters and three ginger, chilli and soy concoctions. The Cumbraes were delectable, tantamount to standing on a seaside peer and having the refreshing surf sprayed into one's face by a young scoundrel with a water-pistol. The ginger, chilli and soy were splendid companions to the other three molluscs, and I managed to eat all of my oysters without dribbling juice onto my shirt. We both agreed that it's better to chew and actually taste the things than swallow them whole; an act I've never understood.
Our main courses soon emerged; monk fish tail wrapped in pancetta with lentils for me, and sea bream with a fennel dressing for Her Ladyship. The food was presented simply and the ingredients were king, as were the flavours; it's the sort of food you'd expect seafaring types to eat in a cosy beachside cottage after returning from a blustery day on the waves.
At this point I was feeling rather smug with the whole affair, and I was pretty certain that as Her Ladyship's eyes twinkled above the glow of a dancing candle flame upon which I almost set alight to my shirt sleeve, things were in good order.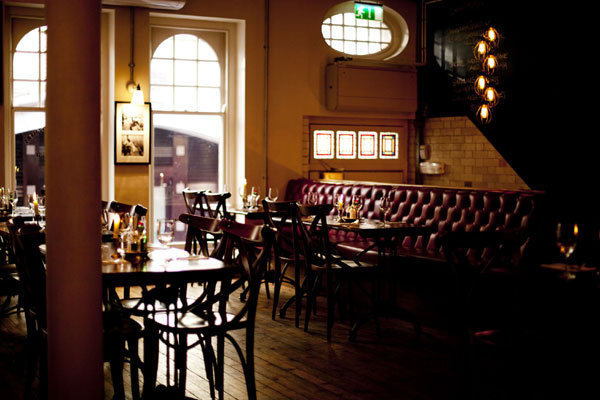 More wine was consumed and my monk fish, cooked so tenderly it almost brought a tear to my eye, disappeared down the old gullet a little faster than is perhaps gentlemanly, but needs must and all that sort of thing. For pudding we shared a decadent chocolate pot with hazelnut praline, and discussed the next stage show we'd be attending. I was in such good spirits that I didn't even flinch when chéri mentioned the dreaded word, 'musical'.
We set sail from the charming restaurant and made our way back onto the mean streets of Soho; Her Ladyship looped her arm around mine, looked me squarely in the eyes, and said in her melodic manner, "Thank you ever so much for a wonderful meal." Hook, line and sinker! Final affirmation that I had chosen a dashed fine venue for the evening's frolics; at that moment, I don't mind admitting, I felt like skipping down the street like a chap in one of those dastardly musicals. The only downside is that it makes my task for finding an equally marvellous venue for our next gastronomic exploration that little bit harder, but I'm always up for a challenge. To misquote that Shakespeare fellow: If food be the music of love, eat on…
Wright Brothers Soho, 13 Kingly Street and G7/G8 Kingly Court, London W1B 5PW. Tel: 020 7434 3611. Website.
[cgview id=116 num=8 size=150×150 showtitle=always lightbox=0]