Many new restaurants often go overboard on interiors in an attempt to create a mis-en-scene for their diners. A figurative declaration of 'here's our theme!' or 'just look at what we spent on design!', but when your location is a Grade II-listed Edwardian fire station – the very same that Churchill issued his 'save it at all costs' order for Westminster Abbey ablaze during the Blitz – you've no need for such frivolities. Such is the setting for Yaatra.
It may be early December, but the music and decor is tasteful; Frank Sinatra croons softly in the background and the only hint of the festivities to come is a token Christmas tree as part of the table dressing. It's pleasantly understated. The emphasis is on showcasing the fabric of the building, with some Indian flourishes; heritage-listed tiles encasing the walls are complimented by textured tapestries and statement bowl chandeliers. Even the fireman's pole has been incorporated into one of the tables. It's different, certainly, and makes for a compelling setting.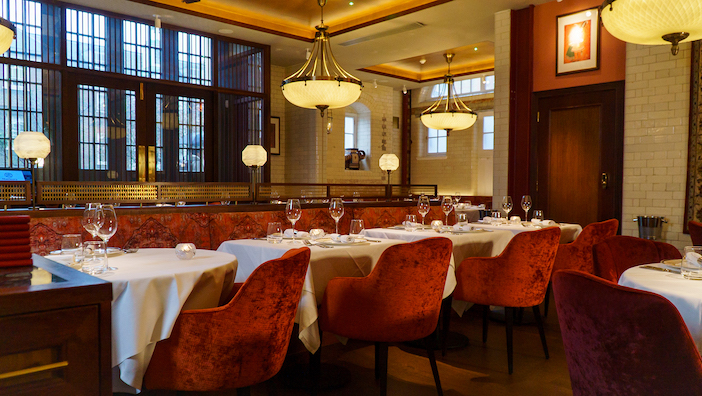 As Larman and I sit, we're already remarking this is going to be a good one. We elect for a livener to whet the appetite, as is customary, and are pleasantly surprised by the inventiveness at the bar. The Szechuan influence on the negroni is tempting, but instead mixologist Nicholas Smith steers me to something altogether different, an Amala gin fizz. The tartness of the Indian gooseberry pairs with the botanicals in the gin, and is infused with fennel to complement the flavour. I nearly scoop away the mighty head of foam until I'm encouraged 'sip through it', giving it a velvety texture. This, alongside a basket of poppadum shards, created with spiced tapioca and puffed rice, is our first introduction to how different this prandial endeavour might be.
Executive Chef Amit Bagyal cut his teeth at Michelin-starred Benares and Kanishka and, now in the driving seat, clearly has a menu to reflect the name – Yaatra meaning 'journey' – and what ensues is a veritable road trip across the sub-continent. A steamed Darjeeling chicken 'momo' dumpling jump-starts our engines with a peppery kick, and it's evident that we're now passengers on what will prove a thrilling ride as we bid the maitre d' that we wish to be at chef's behest.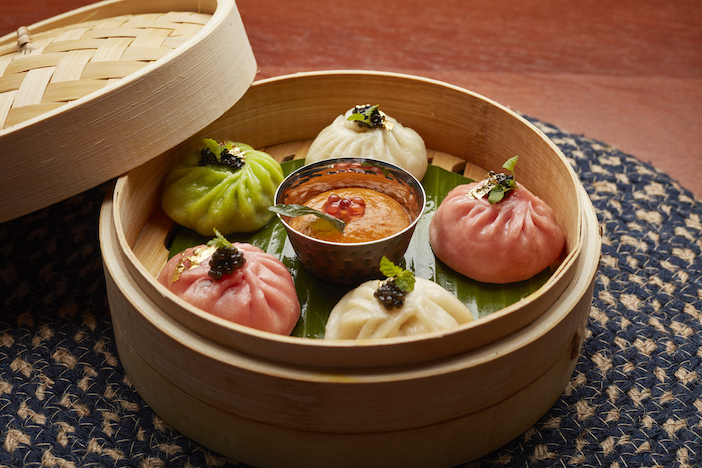 Succulent scallops follow, sweetened with a tamarind glaze, on a bed of ginger-infused crushed peas, alongside Amritsari prawns from the Punjab, with a long fiery finish, all gracefully complemented by a silk-smooth burgundy Chablis. We keep trying to have conversation only to interrupt each other to comment on the food.
When the mains arrive, Bagyal takes us closer to home – his home. We're practically in his mother's kitchen with his goat curry, a version of Osso Bucco, featuring Himalayan hand-crushed spices and ginger root in a caramelised onion sauce. The 'venison', as it's referred to, is roe deer tenderloin with Rajasthani laal maans, roasted beetroot and saffron mashed potato. To call the Calcutta prawn a prawn is to call a shire horse a pony, if you'll forgive the lazy metaphor. It's the size of a lobster, presented virtually intact, with a garnish of mango ginger salad. Dahls, rice and condiments complete the picture.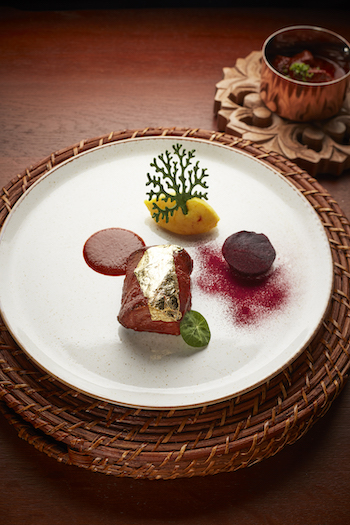 As the table groans under the weight of dishes, Larman takes a strategic approach to tackle them. It wasn't about piling the plate high, the swirling medley of rice and sauces Indian meals often descend into; rather we enjoy them individually, giving each dish their due respect, going back and forth for repeat visits.
The venison is a lovely fillet; bouncy, soft, pink, with which we sip a jammy Malbec. The bone-in goat 'osso bucco' is a visceral, hard-core surprise. It's like doing battle and victory is the reward. I felt like I could have been in the Garhwali mountains, feasting with bandits. Larman gnaws on a bone, discarding it with a flick to his sideplate, before craning over the array to see what to have next. He cleaves the prawn in two, sweeps up some of the mustard sauce, and gives me a satisfied smile.
By the end, as the plates were cleared, we surveyed the scene. We had absolutely decimated the table setting. The cloth looked like a surgeon's apron. "Please, it's not a problem," the maitre d' reassured us, attempting to crumb down. Resigned to defeat, he laid a clean napkin over the battlefield, and prepared us for dessert.
The pairings did not disappoint to the finish; a rose kulfi with saffron falooda, and chocolate and coffee biscuit tart round things off nicely; delicately, gracefully; accompanied respectively by a lychee and rose martini for me, and Larman's customary espresso martini. "One of the best I've had, old boy," he proffers, and leans back on the banquette.
"The meal, or the martini?" I ask. And his smile lengthens into a knowing grin. This is definitely one we shall be returning to.
Yaatra, Old Westminster Fire Station,  4 Greycoat Place, London SW1P 1SB. For more information, including menus and details of private dining, and for bookings, please visit www.yaatrarestaurant.com.