Following the success of their Bristol restaurant of the same name, located in the foodie district of Wapping Wharf since 2017, Bandook Indian Kitchen has opened their second branch in Bath's Milsom Place, the newest offering from the team behind the acclaimed Mint Room, also with locations in Bristol and Bath.
Open seven days a week and serving vibrant Indian cuisine all day from breakfast through to dinner, the colonial-style Bandook Indian Kitchen, with its elegant but informal interiors and atmospheric background music, takes inspiration from the popular Hindustani cafés where the British and Indian army used to eat together during the era of the Raj. Appropriate given I've just been reading Ruth Prawer Jhabvala's Heat and Dust.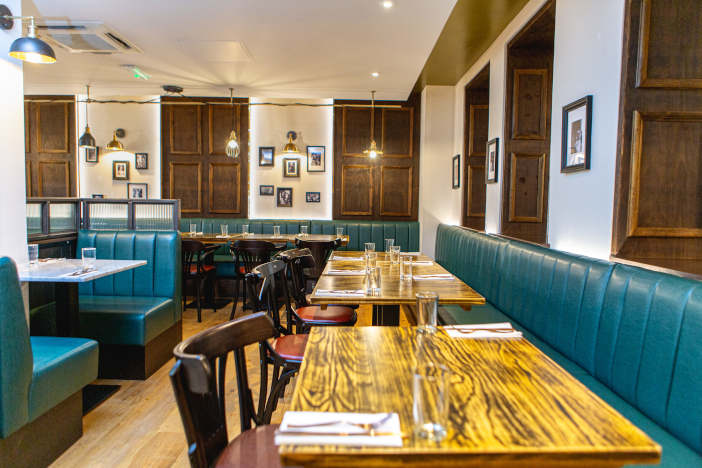 'Bandook', meaning gun or rifle in Hindu/Urdu, was a word widely adopted by the British troops; an age nostalgically referred to throughout the striking interior design, from the clubby green leather banquettes, wood panelling and statement lighting, to details such as black and white photographs and well thumbed vintage books. With restaurants ever more conscious of being Instagram 'worthy' there is even a vintage motorcycle with a photographic Indian street scene backdrop, encouraging diners to take a quick snap.
All dishes, whether small or large, are designed to share and arrive as and when they are ready. The Indian street food style 'chaats' are an essential –  presented as bite-sized morsels to awaken the palate with an explosion of flavour. When I say 'explosion' I don't mean in the chilli-heat sense – Bandook Indian Kitchen's spicing is admirably well-judged and will leave your tastebuds singing rather than screaming.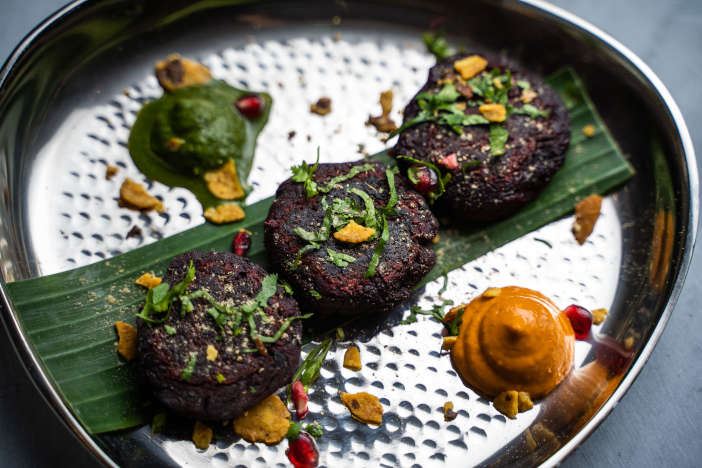 Bandook or bare hands, I would fight anyone for the last avocado papdi chaat; a platter of six crispy, delicate wheat cases topped with avocado, tamarind, yoghurt and pomegranate, so too the amritsari fish; spicy, lightly battered fish 'fingers' paired with a sweet pepper and garlic sauce – about as far removed from their ghastly frozen British counterparts as an Indian summer compared to a 'heatwave' in England. Our trio of small plates was complete with the beetroot galouti; soft beetroot patties with heady notes of shahi cumin and nigella seeds, accompanied by a fresh salsa and a rosemary and coriander chutney. The larger dishes we sampled included the signature 'Grandma's Curry' with chicken, the spiciest dish on the menu (medium to hot), along with the Anglo-Indian balchao king prawn curry with plump freshwater prawns, the perfect marriage with the addictive gunpowder chips and a peshwari naan.
The mocktails are as colourful and exotic as the food, and a good partner to the meal itself (something not always the case with non-alcoholic drinks). We sampled the wonderfully intense passionfruit mojito and the 'Bandook Special' of blueberries, mint, lime, brown sugar and ginger beer, which took us straight to a warmer climate or imagining ourselves enjoying the restaurant's spacious al fresco terrace come the warmer months. This was also the case when it came to the fragrant dessert of pistachio kulfi on a stick, also available in mango, malai or rose.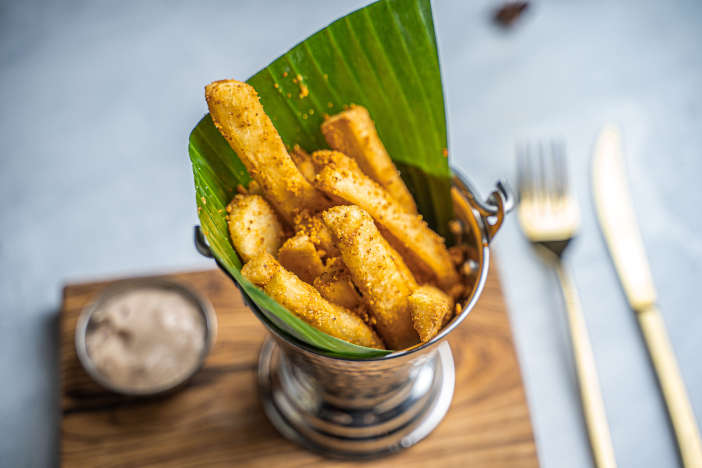 With abundant passion for hugely tempting and flavoursome food and an exceptionally informative and friendly front of house who welcome you as hospitably as any guest in their own home, the protocol is that there is no protocol at Bandook Indian Kitchen. You're just as welcome to perch on the bar and enjoy a quick bite, as a full-on leisurely banquet. It's difficult not to order everything on the menu, so on your first visit (I promise it won't be the last) it's wise to sample at least a dish from each section. This exciting modern Indian food is all about playfulness: not being afraid to eat with your hands or take the last gunpowder chip. Battles have been fought over less I'm sure.
Bandook Indian Kitchen, 3-7 Milsom Place, Bath BA1 1BZ. Open seven days a week. For more information and reservations please visit the website.