Autumn at Belmond Le Manoir aux Quat'Saisons, in Oxfordshire, makes for a glorious time to visit. The herb gardens scent the air with aromas of parsley, sage and mint, the last of the summer flowers – blood-red Dahlias to be exact – are decadently dramatic, and the vegetable gardens have come into their own, bursting with tall verdant chard, crisp lettuce and bulbous squash, in shades of orange, milky-white and the palest peach. What's more, this year, the renowned hotel, with its famous restaurant, is in celebratory mode as it marks 35 years since it wowed its first ever guests back in 1984.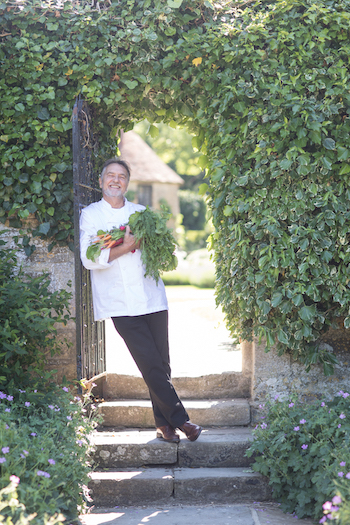 The 15thcentury manor house is, of course, famous for its chef-patron Raymond Blanc OBE's culinary mastery and for being the industry forerunner when it comes to its field-to-fork ethos. It is, in fact, the only hotel restaurant to have achieved and maintained its two Michelin Star status for 35 years and is also the only property outside of London (and three in the country) to sustain five coveted AA Rosettes for that period of time.
"We have a very beautiful house in a lovely part of the countryside," says Raymond. "It is a place with a soul. Each development pays respect to the building's heritage and our house is a place to relax, enjoy and spend special time with family and friends. But most of all to celebrate."
And indeed celebrations have been in the air all year so far, with a line-up of events, which included a star-studded35th anniversary summer garden party on Bastille Day. While last month, the house opened its doors for an intimate French-themed celebration dinner, hosted by Raymond.  Coveted Chefs' Dinners have also been a highlight, and has seen Raymond Blanc work with head chef, Gary Jones and chef patissier Benoit Blin, alongside some of Raymond's protégés, including Michael Caines, Oli Dabbous, Agnar Sverrisson, Clive Fretwell and Robin Gill.
Next up, on 20 November 2019,  the house hosts the  35th Anniversary Music Night with Sheku Kanneh-Mason, the young cellist who played at the wedding of the Duke and Duchess of Sussex last year – sure to be a sell-out.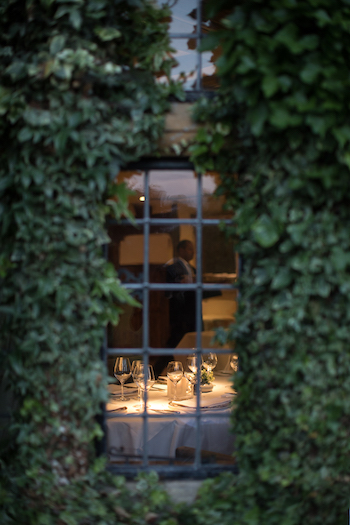 If you can't make it, don't be too disappointed – the country retreat on a normal night doesn't disappoint. Service is warm, wonderfully welcoming and beautifully staged – like a silent ballet being spun around your table. It's the ultimate destination for a special occasion.
"When I set out to create Belmond Le Manoir, I wanted to make it a place where it was class-less not class-led," Raymond says. "Somewhere that was inclusive and not stuffy – in short, a place where my working-class father would feel relaxed and at home."
You can spend your day roaming around the lavish gardens – from the Japanese ornamental pond to the wildflower meadow. The two-acre walled kitchen garden – providing some 90 plus vegetables and 120 different herbs – is, of course, a triumph, while dotted all around are sculptures by Judith Holmes Drewry and Lloyd Le Blanc. Overseen by head gardener Anne-Marie Owens, the hotel has 11 gardens with each offering a different feel and atmosphere.
The 32 rooms also exude this sense of unique personality – with each having its own design ethos inspired by Raymond's travels. The all-white Blanc de Blanc (Raymond's favourite) has a Parisian feel and is quietly glamorous, while Jade channels a South-East Asian aesthetic. For the ultimate experience, the one-bedroom garden suites come with their own terrace or outdoor garden. L'Orangerie, for instance, is inspired by the chic interiors of a traditional French château – a separate sitting room is adorned with potted orange trees, antique tables and a rustic dining table. Creamy stone walls, elegant archways and limed oak floors give a polished-country feel, while the bedroom has a beautifully dressed, oversized bed complete with hidden TV in the ceiling (it comes down to enable you to watch it in bed via a hidden hatch).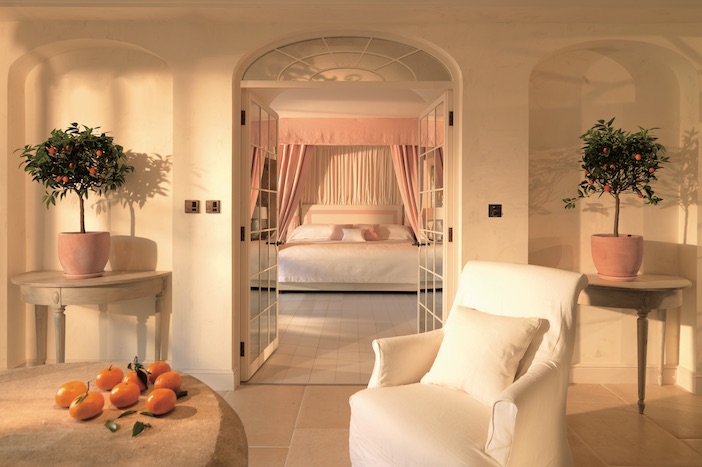 At dinner, the hotel comes into its own – with a multitude of delectable treats. Even ordering from the menu has been elevated into an 'occasion' – you don't just look at your menu at the table, you are made comfortable in the elegant lounge, where you can linger over it with a cocktail and canapés. It feels special before you've even reached the dining room. When you do, there's a series of little treats first – an amuse-bouche that might be a piquant beetroot terrine with a savoury ice cream (stunning!), and the freshest bread that will see you ditch the Atkins diet, and keep you asking for more (who knew that bacon-infused rolls would be so delicious?).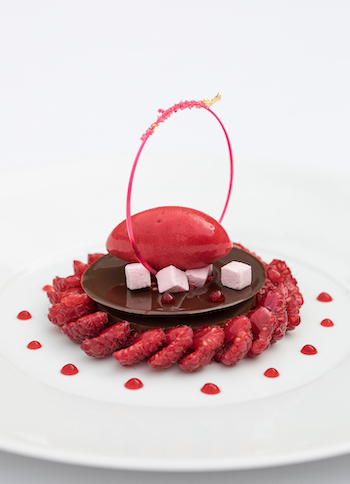 For true gourmands, the seven-course tasting menu is the way to go – plate after plate of beautifully executed dishes. Some of these are also featured on the Spécialités du Moment menu – l'Agnolotti are delicate pasta parcels filled with butternut squash, toasted hazelnuts and blue cheese – bought to life with a pumpkin broth. While Le Turbot puts a braised Cornish turbot as the star of the show – soft and melt-in-your-mouth, uplifted with pickled cockles and a seaweed sabayon. If you thought things couldn't get any better, then finish up with La Framboise – a perfectly-cooked raspberry soufflé with raspberry sorbet and hidden bites of jelly inside. Gloriously decadent.
"Celebrating 35 years makes me so proud to have reached this far!" says Raymond. "I work alongside a very dedicated team – some of whom have been with me for decades – and we have developed as a family together, which has kept us close and committed to reaching for perfection. There has been so many amazing memories – cooking for HRH The Queen Mother, welcoming HRH Prince Charles to our Heritage Garden, maintaining our two Michelin Stars for 35 years… These are just a few highlights with many more, I hope, to come."
For more information and bookings, visit www.belmond.com or call +44 (0)1844 278881.