Bybrook, taking its name from the river which runs through the hotel's grounds, is the one Michelin star restaurant located at The Manor House (a member of Exclusive Collection) in the picturesque Cotswold village of Castle Combe, making it a natural choice for food lovers escaping the city in order to enjoy the delights of this bounteous landscape. The sophisticated and contemporary new dining room is a fitting backdrop for Executive Chef Robert Potter's elegant tasting experience, offering diners the finest British ingredients and produce from the hotel's own kitchen garden.
Transformed in time for spring and summer, even the comfortable green-upholstered armchair-style seats, replacing the former hardback wooden types (distinctly off-putting when embarking on a feast of this kind) reflect the immaculate lawns which Bybrook overlooks, immediately making you enjoy perusing the seasonally-inspired menu. And with seven courses but only one decision to make, whether to opt for the Herdwick lamb or Yorkshire Wagyu beef for main course, you really can sit back, relax and enjoy the canapés; a miniature bric pastry tartlet filled with cod roe mousse and topped with lemon gel, and a beetroot gel 'bubble' concealing a Welsh blue cheese mousse and candied walnut centre.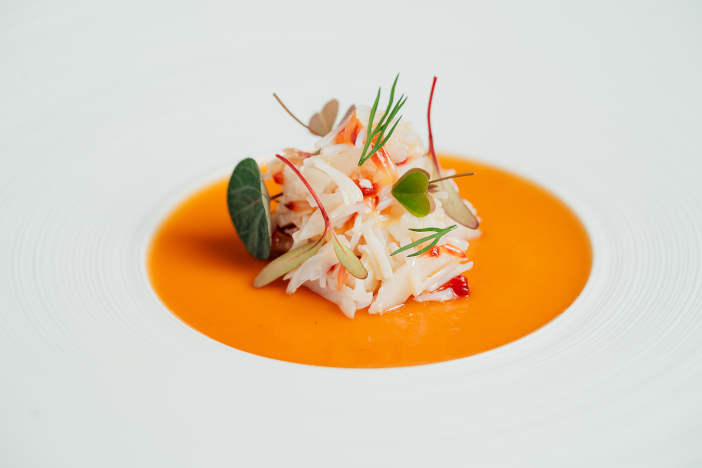 Wild flowers grace all the wooden dining tables, while the Granny Smith green décor with designer flower arrangements lends the once Tudor-esque space a feeling of serenity, something aided by the restaurant's policy not to permit children under the age of 12, thus preventing otherwise romantic occasions being spoiled by younger diners who would prefer to be elsewhere and have to be placated with cartoons on mobile phones. That said, the chilled atmosphere led by the friendly, attentive and knowledgeable front of house never verges on the stuffy.
Potter had acquired an impressive CV when he first joined The Manor House, including working under Executive Chef Hywel Jones at the nearby Lucknam Park and quickly forged a reputation that put the hotel on the fine dining map, attracting well-heeled locals and Cotswold visitors alike. Retaining a Michelin star since 2017, the recently revamped interior and vibrant new menu gives you the sense that Potter is reaching for his second star as opposed to sitting on his culinary laurels.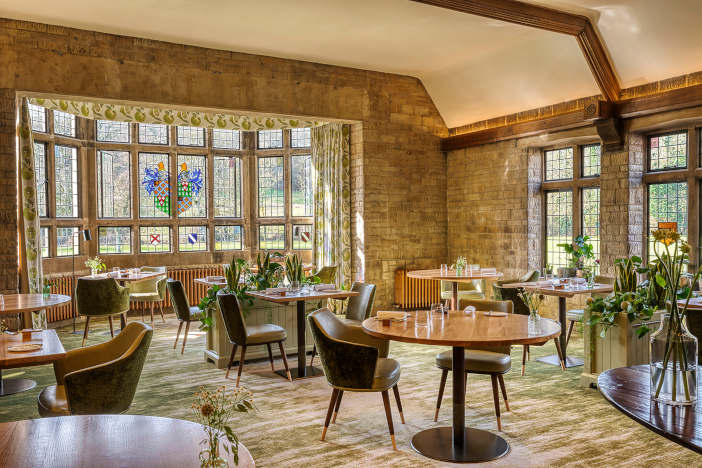 The first fish course of Salcombe Bay crab was a case in point, with a dazzling array of techniques disguised by a clean presentation style; chilled crab meat set in a bowl overlaid with crab gel, served with a ceramic shot-sized vessel of a moreish warm and foamy crab bisque. If that wasn't enough of a homage to my favourite shellfish, an Asian-influenced crab tapioca and seaweed bon bon was accompanied by a delectable crab mayonnaise. An intensely flavoured, highly complex and skilled dish, Potter has a natural gift for partnering textures, ingredients and temperatures to bring joy and surprise in equal measure whilst drawing from a melting pot of classical techniques and international cuisines.
Just when you think you couldn't be any more impressed, along comes Cornish wild turbot with a succulent flesh due to having been prepared in a water bath and finished on the barbecue. Crowned with N25 caviar which acted as seasoning and surrounded by parsley and dill oil, the dish was further elevated with a glossy seaweed butter to create the en-vogue 'split sauce'.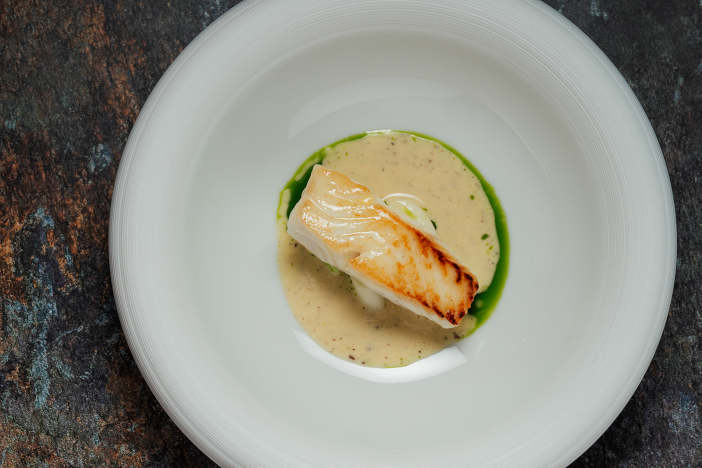 Effortlessly blending the indulgent with the edifying, Bybrook doesn't make you feel overly guilty (with the exception of the unputdownable laminated brioche with cultured butter) as did the decadent, classically French-inspired tasting menus of yesteryear which required men to wear jackets in order to partake. If anything, you'll leave feeling invigorated, with a keener sense of the land you inhabit. The grand finale of Gariguette strawberries, consisting of a berry jelly, sorbet and brandysnap-like tuille with Opaly 33% white chocolate dish containing meadowsweet mousse was the ultimate culinary homage to an English summer.
Bybrook at The Manor House, Castle Combe. The Bybrook menu is seven courses priced at £145 per person. For more information and reservations please visit the website.