Inconspicuously tucked in to a corner of one Watergate Bay's pay and display car parks, Fifteen Cornwall is all wood slated exterior, with steps leading down and down into the restaurant; views of the beach teasing en route. It re-opened in February after a brief closure to overhaul the menu, interior and kitchen, so it seemed only appropriate that the Arb headed down for a look.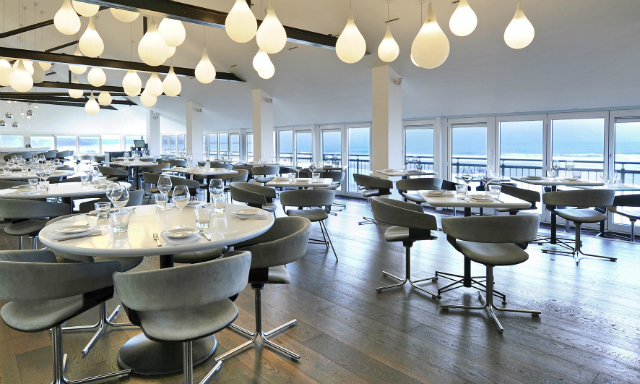 Head Chef Andy Appleton is at the helm and the man responsible for the newly restructured dinner menu – which, alongside the original tasting menu, allows customers to select their choices; something that wasn't possible before. An antipasti menu has also been introduced, served up at a dedicated Antipasti Bar and Tavoli, offering speedier dining options. The kitchen has been decked out with 'the best equipment in the west', such as a Josper oven which charcoal fires up to 400 degrees Celsius. Tableside, that's not something you'd necessarily notice, but if it's the reason why my mackerel was the most delicious piece of fish I've tasted, then it's money well spent. The dishes claim to be 'simple', an oxymoron for sure, for although the ingredients list could well fit on the palm of one hand, the execution looks anything but. Simple to the common-or-garden fellow, or at least just me, is a fish finger sandwich. Or cheese on toast; sun-dried tomatoes lain underneath if I'm feeling fancy. Simple this ain't; mighty delicious and fairly priced it is.
Having never visited Fifteen Cornwall previously, I can't vouch for how much the renovations and 'new look' compare to its old self, but what I can say is that on first impressions it feels like you've walked into a good thing. Thanks largely to the mammoth tree stump of a reception desk, achingly covetable in its beauty. A white hexagonal-tiled bar and partition separates the restaurant from the swarm of activity in the kitchen – the seasoned chefs identifiable by their black hats; the apprentices in white. Light fixtures reminiscent of partially-filled water balloons hang from the ceiling, and a view that makes you want to run outside and straight into the sea winks at you through a wall of windows. It feels fresh. As fresh as the ingredients peppering its dishes and the homemade lemongrass and ginger spritz I order on arrival. A salsa version of La Isla Bonita tinkles away in the background echoing the menu's Mediterranean influences and the bright sun I'm blessed with that day.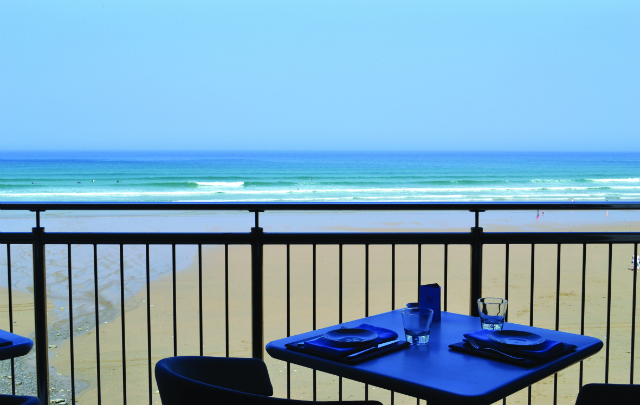 When the sun comes down, the tables are turned – literally – from facing the awesome bay, to the open kitchen, where the chefs and apprentices busy themselves with the preparation of your dinner. But, being lunchtime when I pull up a window-side pew, the focus is quite rightly on the immense stretch of beach: seagulls soaring by at eye level, small people bashing about buckets and spades, kites flying steady and those craggy cliffs known so well to Cornwall, jutting out dramatically.
When the beach wasn't keeping me entertained, the food certainly was. Giant juicy Puglian olives to start, too many for me to finish, wrapped up tightly like a foil croissant and enjoyed on the train journey home when the ill-stocked buffet car offered only partially melted chocolate bars and Oats So Simple.
I followed with the wood-fired whole mackerel, caught by James Eaton in Cape Cornwall, I'm told on enquiring, crisped to perfection on the outside for that lovely chargrilled taste; meaty and succulent within. An accompanying punchy salsa with capers and crunchy bread bits collaborating to create quite possibly the loveliest mackerel I've eaten and laid my eyes on.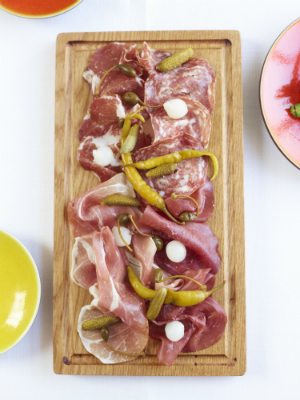 Being so close to the sea I could smell it, I had to follow with fish for main: Brill on a bed of sweet and soft pepperonata, olives and tomatoes. Another fine dish, bringing sunshine in place of the now slightly overcast sky, the beginnings of a storm threatening to come in later that day. Replacing the firmly slurped spritz was water from nearby Trebay Farm. Local, as it should be.
I finished with the apricot and almond tart I'd spied another diner being served, and ordered so as not to miss out. I'd travelled quite far to eat at Fifteen that day, I wasn't going to miss out on dessert, especially one sprinkled with a nutty crumble and a generous dollop of Cornish clotted cream.
The whole experience is heightened by the knowledge that one's gluttony is for the benefit of the people, so pushing the boat out to order pud, even though two more-than-adequately portioned courses have already been scraped clean, feels almost angelic. Another bottle of Shiraz? Why the hell not. It's for charity! All profits from Fifteen go to the Cornwall Foundation of Promise, which plucks young people from disadvantaged and difficult situations and trains them up to become great chefs, giving them a second chance, a sense of purpose, and more importantly a decent job. Which in turn feeds you and I. A delicious, heart-warming circle if ever there was one. For all the frankly unexplainable, annoyance people feel towards Jamie Oliver, there's no denying this particular enterprise of his is brilliant. By far my favourite of all his restaurants and yet another good reason to head down South West more often.
Fifteen Cornwall, On the Beach, Watergate Bay, Cornwall TR8 4AA. Tel: +44 (0)1637 861000. Website.