Although the name of the restaurant puts me in mind of the British Olympic team or the high speed train about to tear through the Chiltern Hills (HS2), the reality is a pleasant surprise. The newly refurbished dining space belonging to the historic Grand Hotel in Brighton is an elegant affair featuring a large central bar lined with glass cabinets displaying the most tantalising locally caught seafood.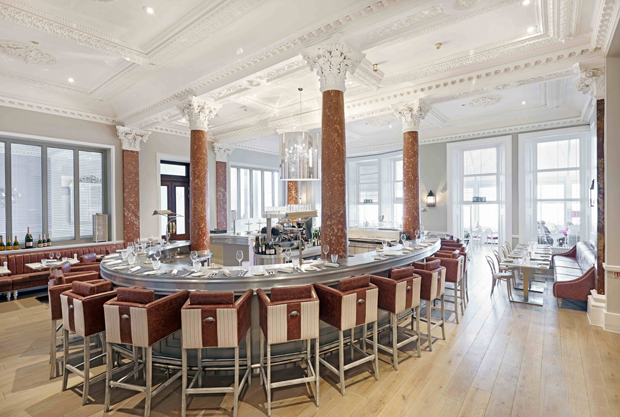 Reminiscent of London's Royal Exchange, the solid zinc bar is as sparkling as the champagne accompanying the oysters, and offers an informal alternative to the romantic terrace with panoramic sea views. It struck me as just the place for a glass of the chilled stuff and some seafood delights, which, in any case, turned out to be far more memorable than any sea view.  My starter of plump tiger prawns was divinely messy and drenched in enough garlic butter to make Dracula pop off for a refreshing swim.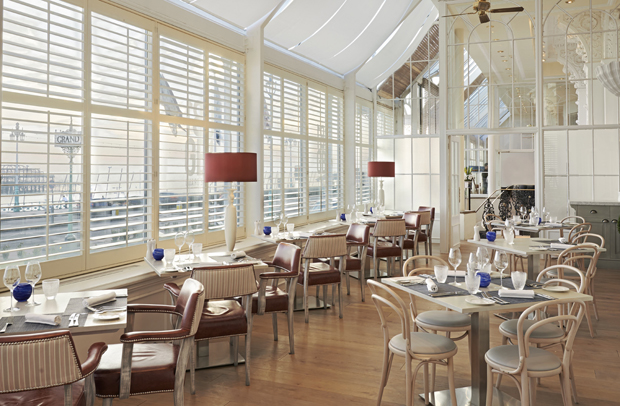 If Lord Byron really did say "A woman should never be seen eating or drinking, unless it be lobster salad and Champagne, the only true feminine and becoming viands," I am all for it, and was easily tempted by the lobster burger, one of the chef's signature dishes. This may not have been what Byron had in mind, but my anticipation was so great when it was presented to me, decorated with a giant lobster claw speared menacingly into the bun lid, that I flung the old knife and fork to one side in favour of a double handed approach. The first bite of succulent lobster, gently minced with bacon and cuddled up in a soft brioche bun was like kissing a pink cherub. With coleslaw and a retro mini frying basket of fries, it was a diner-style dish that lent itself perfectly to bar-top dining.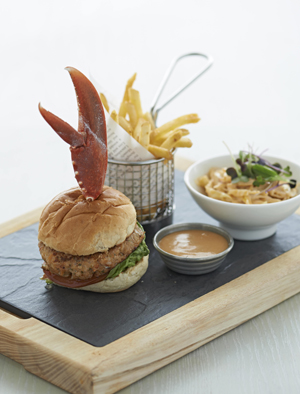 However I might try telling myself that seafood was healthy, this had been a far from virtuous dinner and the calorie-guilt didn't stop there. Accompanied by a chilled glass of Rosa Regale, a sparkling red wine unique to Italy, the Valrhona chocolate fondant with caramelised banana and peanut butter ice cream was too decadent to resist, as evident by only the faintest smudge of chocolate remaining when the waitress later collected my plate. Beaming with a wicked glint in her eye, she declared it her favourite dessert on the menu, and on my instructing her to pass on my approval to chef, going into raptures over the technical genius of the damn thing, she simply smiled and said "he already knows".
Burt Lancaster isn't far off in judging a restaurant on the coffee and bread, and although you might question the amount of skill involved in serving Fruits de Mer, it's the simple things that often get overlooked. Head Chef Alan White doesn't just rely on sourcing the finest ingredients, he succeeds in showcasing his culinary achievements with precision cooking and a joyously honest menu. Without doubt the most glamorous dining experience Brighton has to offer, GB1 is a welcome return to the decadence of the regency age. The champagne and lobster might be on ice, but this restaurant is well and truly revived.
GB1 at the Grand Hotel, 97-99 King's Road, Brighton, BN1 2FW. For more information visit the website.