"'Tis better to have loved and lost, than never to have loved at all'. Really, Tennyson? I'm not so sure. A rare holiday splurge to the Maldives a few years back pretty much ruined beaches for me. Subsequent sand is never as white or soft; the sea as warm or crystal clear. If I'd never have been and fallen in love with its peaceful ideal, I'd never have known what I was missing. I'd have carried on with life, quite content with the average golden sandy, shingle or pebble beaches.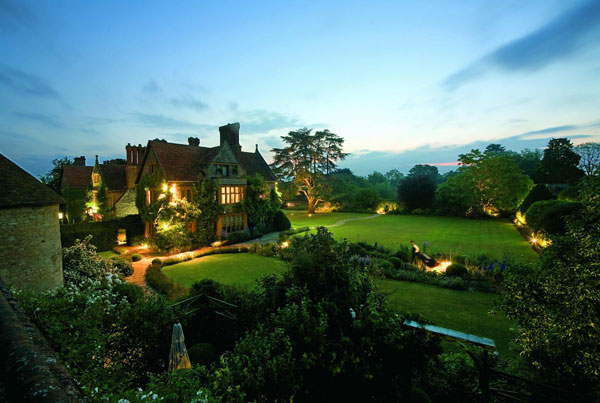 The current object of my destination desires, and one that all future hotels will struggle to live up to, is Le Manoir aux Quat' Saisons, Raymond Blanc's award-winning Oxfordshire hotel and restaurant, a 32–bedroom estate set in an expanse of enviably manicured lawn and gardens, part English manor house, part French hamlet, complete with 15th century dovecote. With such a fantastic reputation – aided by the two Michelin stars it has held since 1985 – there was no doubt that it would be an enjoyable stay, but the heart-wrenching sadness I felt as I closed the door of my Superior Suite behind me on departure day caught me by surprise. In less than 24 hours I'd fallen hook, line and sinker for Le Manoir's dreamlike idyll and the reality that I could never be a regular overnight guest was almost too much to bear. It is a stay I'll look back on forever, eyes simultaneously glazed over in whimsical fashion.
Prior to falling for Le Manoir, Blanc already had a place in my heart, due to his inspiring unconventional journey to chefhood and his brilliant BBC series, Raymond Blanc's Kitchen Secrets. His 'voila' Tourette's, the warm relationship with colleague 'Adem', and his infectious, almost childlike enthusiasm for food are all traits that make me yearn for him to adopt me. If you're reading this Monsieur Blanc, I really would make a wonderful niece. Knowing he is at the helm certainly adds to the experience.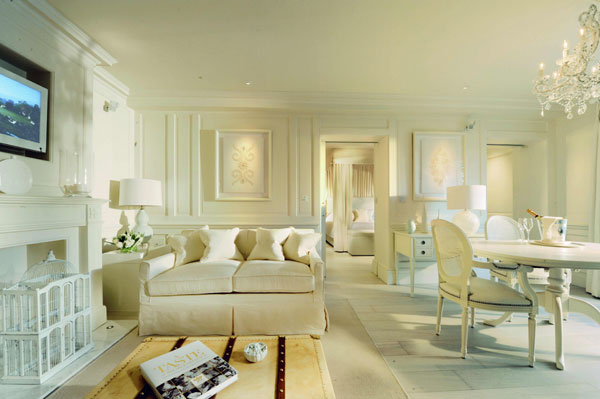 Weeks later, pretty much every element of our stay is vividly conjured without the need to consult notes – which is just as well as I was too busy living the dream to take any – for someone who can't remember what they had for lunch yesterday, that's saying a lot. Even the tiniest details; the bowl of mint green sugared almonds laid out in front of the fire in our room, chosen to match its oriental Jade theme (the Blanc de Blanc suite had white ones, naturally). The sweet, caramel taste of the Madeira wine, a generous complimentary carafe of which is placed in every room; the TV that smoothly descended from the ceiling above the bed, James Bond style; the handmade Marseille soaps with cotton bag provided, so you don't feel like a vagabond for stealing them for home; the tangy sweetness of the rhubarb jelly accompanying the foie gras – course one of our tasting menu; the way the Brie drizzled from my cracker with a dreamy taste that rendered me eyes closed in sheer delight. The rich red of the ladybird I spotted on the wooden humpback bridge at the edge of Le Vallée de Champignons; the warm earthy smell of the poly tunnel, tray after tray of micro herbs growing inside; and the lifelike beauty of the copious bronze sculptures dotted around various corners of the gardens.
I fear you may already have nodded off or taken yourself away to vomit at such persistent gushing, but as with those first weeks of a new love, I just can't help it, there's so much I want to share with you. And I completely get why Tom Cruise felt the need to jump up and down on Oprah's sofa now.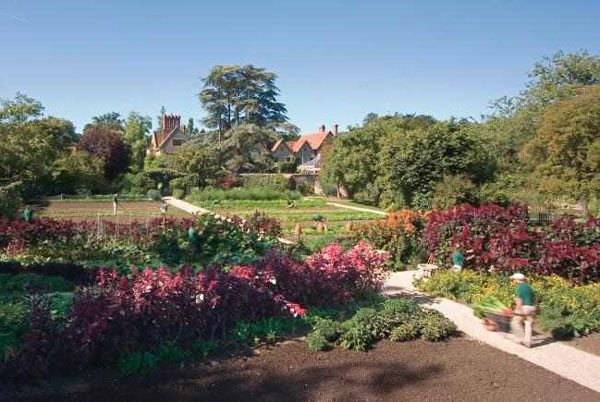 The food, all two Michelin stars of it, is the stuff of memories. Plate after graciously delivered plate of absolute deliciousness, perfectly balanced so instead of feeling bloated and dizzy halfway through, which from lots of important research I've discovered usually happens with tasting menus, we worked our way through every bite of the six plates, right down to the very last petit four. We even managed to fit in a selection from the vast cheese trolley – although this addition was purely out of greed. Bon appétit indeed! The exquisite wines chosen by the sommelier to match the complexities of each dish were all French, with the exception of the nectar sweet Italian Maculan Torcolato 2007 we supped last with our chocolate 'Bounty' dessert. (New World enthusiasts need not worry, as among the 1,000 bins in Le Manoir's cellar, there are plenty of those too.)
After a wonderful, feast-induced sleep and, in all honesty, the most impressive breakfast buffet display I've had the pleasure of navigating, our short stay culminated in a guided tour of the kitchens – something Le Manoir offers to all guests. It was fascinating to see the relatively small space the kitchen staff (around 25 chefs at any one time) work in to deliver every impeccable dish, as well anything else one can expect to eat there: pre-dinner canapés, petit fours, breads, jams, you name it. A map of Great Britain points to the source of every ingredient, revealing that most of the meat, fish and ingredients that aren't grown in the adjacent 2-acres of Soil Association certified organic vegetable, mushroom and herb gardens come from local suppliers who have served the restaurant since it opened almost 30 years ago, with the exception of a few, such as the sea salt which Blanc sources from a supplier in Cornwall, as that is the one he thinks tastes the best.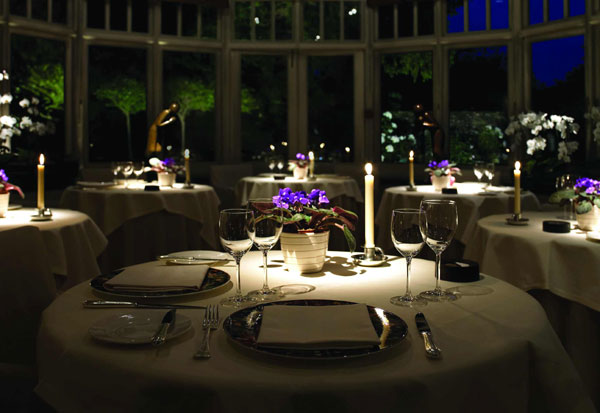 Budgeting is a word that doesn't exist at Le Manoir, every last detail, from the Villeroy & Boch crockery and abundance of Juginder Lamba art, to the throw cushions in the bedrooms, are carefully chosen for quality and aesthetics rather than price, which for a guest lucky enough to experience it all, makes for a very special visit indeed. Quite simply, to the detriment of my bank balance and mental wellbeing, j'adore Le Manoir!