Beaverbrook's new dining experience 'Love is in the Air' might sound naff. A bit of a Valentine's gimmick. But I'm here to tell you it's actually eccentric England at its finest.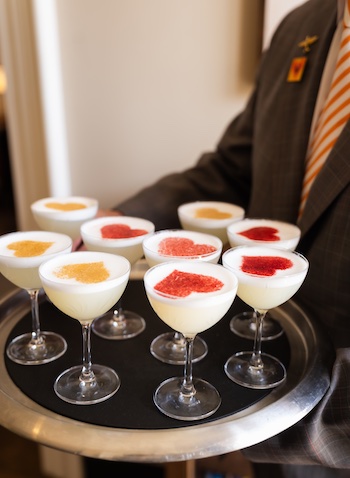 I took the hubby, of course. Who else could I share a love-heart-themed meal with? He won't mind me saying, neither of us are particularly romantic. We don't go in for hearts and flowers or big slushy gestures. The idea of 'date night' makes us both shudder. But having eaten at Beaverbrook's snazzy Japanese grill a few times, we knew we'd be in for a treat so as soon as a day in the joint calendar came up, we said 'to hell with it, hit us with a love bomb,' and zoomed down the A3 in our new SEAT.
Lunch started how all lunches ought to start: cocktails on the terrace. Two lychee martinis arrived on a silver tray, powdery red hearts imprinted on their frothy lids. The gin hit the spot and we were off to a giddy start, tripping over pots of geraniums, on our way to our 'balloon'. Oh, didn't I mention? Lunch is served in a hot air balloon.
Don't worry, the balloons are bolted to the ground. There are only six of them (it's very exclusive, darling) stationed around an ornamental pond in the hotel's Italian gardens. The whole set-up is very jazzy. There's a hatstand from which to borrow a Panama hat. There are weather instruments and waiters in gloves. Phileas Fogg meets Bridgerton.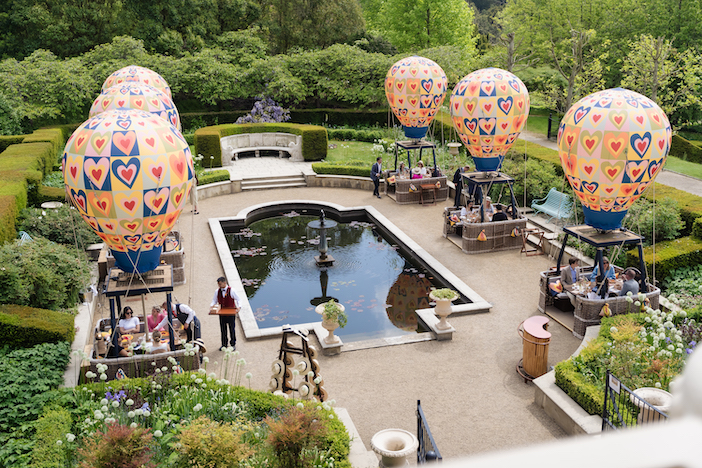 The balloons are designed to accommodate four but we were perfectly cosy à deux. Every so often, something roars above your head. We're informed the balloons require regular bursts of hot gas to keep them inflated.
The first course arrives and we immediately forget about the gassy roars. We unwrap our Japanese sandangasane boxes (Bento boxes wrapped in a cloth) to find three trays. The top one: dry-aged beef tartare with caviar is fresh and cool and oozes umami. The two other trays contain nasturtiums from the grounds and smashed up puffed-rice crackers. It's simple and brilliant. Crackle and spice.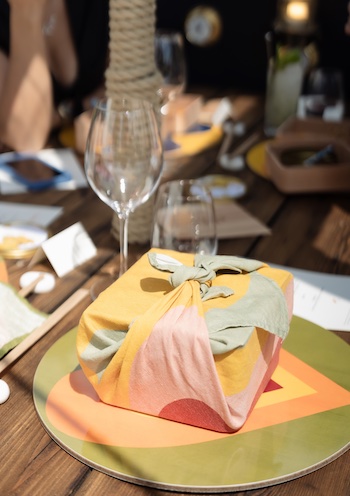 The second course comes the traditional way – on a plate. My hubby has lobster. I have tuna tartare because I can't eat lobster. The cubes of fish are served along with a single oyster leaf, some 'iced' vegetables, samphire and seagrapes, which pop and crunch in delightful fashion; a slick of shiveringly acidic ponzu tomato foam to round things off.
Everything is going swimmingly until our server (the charming Tamarind from South Africa) disappears. Turns out she's hiding behind a box hedge communing with one of those big fancy Green Eggs, the type of BBQ apparatus people like the Beckhams have. Face flushed, she re-emerges with a glowing brick box and places it on the table. She's been busy heating up special heat-retaining coal to a very precise 200 degrees. We get to work using the natty Japanese contraption (also known as a Yakiniku) to sear a variety of meat and fish: Kobe beef, Wagyu, Iberico pork, O-toro tuna and Japanese red bream, sliced raw on a bed of moss along with some mushrooms and courgettes.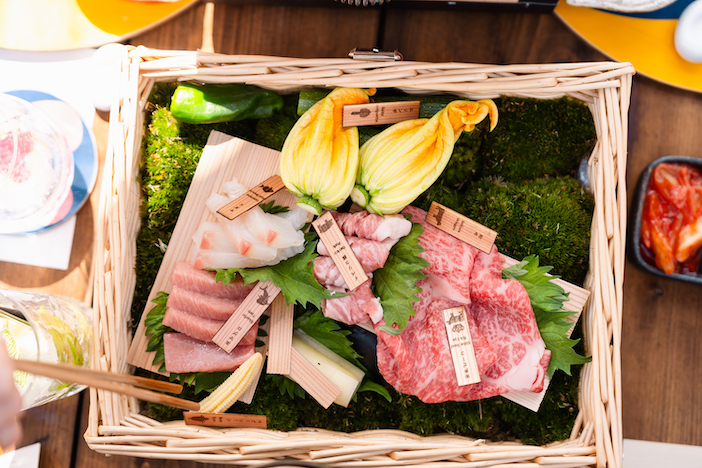 I have never seen my husband so excited. Using chopsticks, he attends to the strips of veined protein with such tenderness, I find myself a bit jealous. A variety of dipping sauces (BBQ and soy), kimchi, wasabi and something that resembles dried fish scales but isn't, add to the joy. It's fun. Interactive. Colourful. And utterly delicious. To soak up the flavours, we each have a bowl of white rice with a slow-cooked egg yolk tucked in the centre. We chat and graze and grill and smile. Every mouthful is sweet, savoury and utterly moreish. The stuffed Wagyu pockets filled with minced meat, leeks and onions braised in Warishita (soy, sake, mirin and sugar) are stand-out.
Once we get the hang of the grill, the sun shines, the rosé flows and, astonishingly, things start to get rather romantic. On the way to the gelato cart, the hubby tells me I might be more beautiful now than the day we met (15 years ago).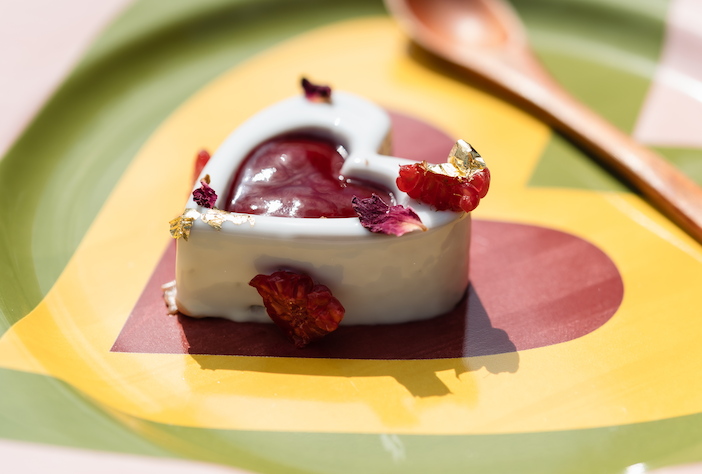 We take our cups of gelato (pistachio praline for him, Sicilian lemon & rosemary sorbet for me) for a stroll around the grounds and admire steep banks of wildflowers so colourful, creative and wild, even the bees look delirious. A Victorian grotto remains just as it was back in the day; a dark, shell-filled mystery of a place, perfect for an illicit kiss.
Back in the Italian gardens, our dessert awaits: heart-shaped raspberry mousses infused with gentle notes of rose. We scrape our plates clean and smile at each other with broad smiles.
Kudos to Chef Wojciech Popow. Not only is he a flavour genius, he knows how to properly entertain. You know what? This man might just hold the key to a truly great 'date night.'
The 'Love is in the Air' dining package is available at Beaverbrook Weds-Sun lunch or dinner until the end of September (£245 per person). For more information, and for bookings, please visit www.beaverbrook.co.uk.
Follow Leo on Twitter @leobear or Instagram @leonorabear