Reserving a table at the Michelin-starred Lympstone Manor, an elegant Grade II listed Georgian mansion within its own estate, for a gourmet lunch by renowned chef/patron Michael Caines MBE, feels like a suitably extravagant way to kick start your birthday celebrations – McLaren-style – Caines' lime green McLaren 600LT Spider cutting a dash in the car park when we arrived. Caines' love of fast cars is well known and he also serves Michelin food to the Williams F1 team over race weekends across the globe. Caines has had the culinary equivalent of a F1 career, since winning the prestigious Chef of the Year at the Catey Awards in 2001 and establishing his reputation as Executive Head Chef of Gidleigh Park in Devon where he achieved a coveted two Michelin stars from 1999-2015 placing him within the top echelons of world class chefs.
Devon born and bred, Caines left Gidleigh Park in 2016 after twenty-one years and went on to create a temple for his love of food and his home county at Lympstone Manor, his first enterprise as chef-proprietor which opened to huge acclaim five years ago. The attention to detail is clear to see from the moment you arrive. Being far more a lover of food than cars, it was thrilling to be back after an achingly long absence, while to be visiting on a glorious spring day – as opposed to one forcing us to huddle by a fire in the lounge (lovely though the interiors are) – made it all the more spectacular. With just 21 rooms, everything about Lympstone Manor shouts exclusivity, while the latest additions including the outdoor heated pool, pool house bar and restaurant humorously named 'Mickey's', along with an ambitious vineyard producing the newly unveiled 'Triassic Pinot Noir', has elevated the property's status even further since we last visited. The vineyard, planted in the strikingly red Devon earth, offers Lympstone's expert wine producers Lyme Bay Winery one of the best soil conditions in the country.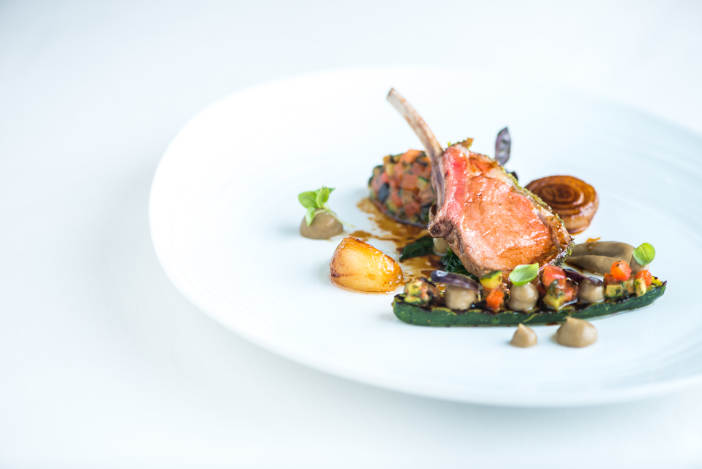 Ironically, as my husband and I are teetotal, we were unable to sample this, but I am assured that you will not be disappointed. Although the alcohol-free drinks selection, absent of alcohol-free wines or sparkling teas, emphasises Lympstone's view of what to imbibe with a fine meal, the Virgin Bellini with sparkling apple juice and peach nonetheless proved a pleasant refreshment to accompany our canapés on the elegant terrace, while the majestic views over the beautiful Exe Estuary with myriad sailing boats offered a dreamy backdrop to culinary proceedings which commenced with caviar-topped melt-in-the-mouth tartlets and the most delectable cheese gougères.
There are three well-appointed dining rooms with views over the estuary, each offering a unique and highly sophisticated dining experience. Powderham is ideal for diners looking for an intimate atmosphere, Mamhead is for private dining and Berryhead is a more spacious environment. I was pleased to be returning to the first – an elegant space named after the historic Powderham Castle located on the far side of the estuary, visible from the manor on a clear day. With exquisite hand-painted floral walls, fresh flowers and comfortable banquette seating allowing you to be seated side by side with your partner, the atmosphere became more romantic when the upbeat lounge music was changed to a more relaxing tempo upon the request of another diner.
The Signature Tasting Menu is an exquisite eight courses celebrating Michael Caines' culinary journey and the finest ingredients to be found in bountiful Devon proved to be even more salivating in life than on paper. The bread basket is generous and as fine an example as you'd see in Paris, but therefore very dangerous before you embark on a gastronomic marathon! The first course of roasted Lyme Bay scallop with celeriac puree, Oscietra caviar, seaweed beurre blanc was a royal fanfare. Never have I experienced a more perfectly cooked, succulent scallop, with all the sweetness of this caramelized plump beauty enhanced by the silky celeriac and gently salty caviar and seaweed. You always know a hit dish when conversation stalls completely as the diners pause to savour each divine bite and look rather forlorn when they open their eyes, look down at their plates and see that there is not a single morsel remaining.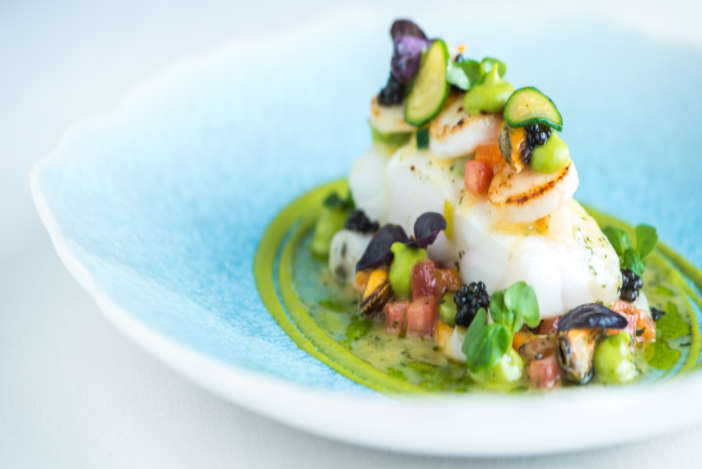 A lovingly prepared Isle of Wight tomato salad followed, spectacularly presented with an accompanying miniature glass teapot of tomato and lemon verbena consommé, vanilla and tomato vinaigrette. And that's the wonderful thing about Caines – he's a master at balancing gentle dishes ahead of the bolder ones to not only take your palate by surprise but ensure that the entire menu is harmonious. An outstanding fish course, which resembled a lobster tail but was in fact a meaty, paprika-rubbed salted Newlyn cod loin, was served with a lemon puree that tasted like sunshine, the sweetest Lyme bay crab, salty samphire and infinitely finely diced chorizo for further meatiness and delicate spicing which put me in mind of holidays on the Spanish coast. Sensational.
The free range poached chicken with Wye Valley asparagus, wild garlic and Madeira jus, however technically perfect the cookery was, unfortunately didn't convince me that poaching rather than roasting chicken was a good idea – albeit I expect it was a great deal healthier! We all have textures that we try to avoid and the slightly springy texture of poached chicken is one of mine. That said, I adored the sumptuous jus and the spears of noble green and white English asparagus, topped with dainty, intense dots of wild garlic puree and can well appreciate that my husband demolished his with relish and a licking of the lips. He's not a fan of caviar so I reckon I have the better deal when it comes to any exchange!
The red meat course was my idea of Mediterranean food heaven – a perfectly pink cutlet of Darts Farm spring lamb served with the most refined ratatouille, boulangère potato, heady smoked aubergine puree and lamb split jus. Split sauces are all the rage with chefs at the moment, and although it makes me smile when a culinary craze takes hold and I see a certain technique on every fine dining menu, I can't help but agree that splitting a jus with a herb oil is a clever way of imparting yet more flavour, whilst making the presentation look incredibly 2022.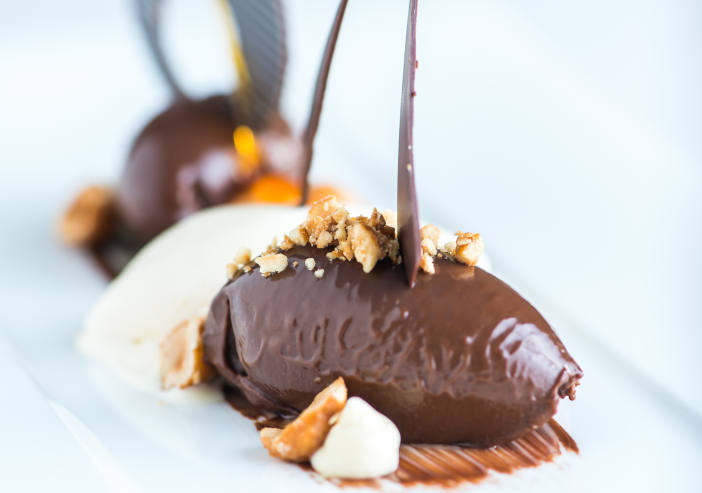 The combination of Beauvale blue cheese, black truffle honey and a quince puree has to be the single most blissful way to experience cheese, especially when served with a selection of homemade crackers, including charcoal and a spiced beetroot. I love the simplicity of a single piece of cheese, surrounded by a drizzle of truffle honey and a dot of sweet, unctuous quince puree. It's the kind of dish I'd order on Death Row, but fortunately I was able to enjoy it in palatial surroundings whilst looking out over the Exe estuary. It was the kind of dish, confident and alluring, that makes you count your blessings and say a prayer before, during and after.
The refreshing apple pre-dessert was like diving head first into a cloud of sweet, fragrant vanilla and finding within a vibrant green apple jelly and apple sorbet. I loved that despite its incredibly 21st century techniques and appearance, it was reminiscent of apple and custard. The team kindly allowed me to switch the 41% Alunga milk chocolate mousse filled with passion fruit, served with a malt ice cream for the summery-sounding soufflé on the a la carte menu (boy do I sound like a difficult customer!). Not only is it my favourite dessert, but it's one that can make or break a restaurant's reputation. Needless to say, Caines' mango and lime soufflé, accompanied by a sexy mango sorbet and an intense sauce poured into its centre, was utterly flawless and bursting with tropical flavour. The magnificence of the soufflé sums up Caines' culinary stature and the height of perfection he has achieved with Lympstone Manor and everything else he has embarked upon. Caines is the McLaren of cuisine, so fasten your seatbelt.
The Lympstone Manor Signature Tasting Menu is priced at £195 per person. For more information and reservations please visit the website.