The most talked-about, raved-about restaurant in Bath, Menu Gordon Jones had a lot to live up to. Even on the night of our booking the praise didn't cease. Just before hopping into a cab from the Royal Crescent Hotel, a lady overheard us talking about the restaurant and she told us that she'd dined there six times, and had recently booked a table three months in advance for her seventh visit. "You're very lucky to have a table there," she enthused jealously, "it's the best restaurant I've ever been to."
Lifestyle and food journalists are a lucky bunch. We dine in the world's finest restaurants and then we write about our experiences (what hardship). The curious downside, if you can call it that, is that our standards and expectations go sky high. We notice the smallest of flaws and we are frequently disappointed by even the most acclaimed chefs. It's not that we're snobs or even cookery experts. We just want to eat food that makes us happy; not because it's expensive or comes with Michelin stars or looks like it should be hung in the Tate Modern, but because it's really, really tasty. So it is always with trepidation that I visit a restaurant which has been so highly praised as Menu Gordon Jones. Would it all be smoke and mirrors?
On arrival, the restaurant was very unassuming, situated in the suburbs of Bath opposite a Co-Op on a rather uneventful main road. It's not the sort of place you expect to discover a temple of fine dining. The restaurant itself is very small with an open kitchen and a dining room decorated in muted tones, with plain wooden tables and functional, comfortable chairs. The room is hot, due to the open kitchen, and rather noisy too; a backdrop of vintage Cold Play was pumping out of the music system at a level slightly too high for my sensitive eardrums, but each to their own.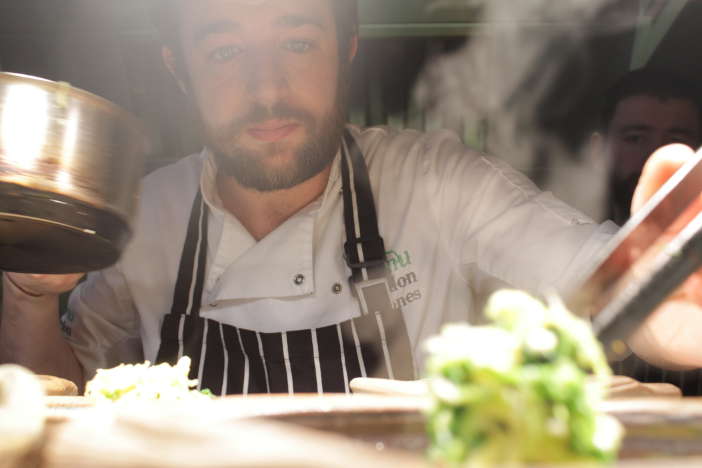 The menu changes frequently, based on the best local, seasonal produce that Chef Patron Gordon Jones can get his hands on. There are no choices, and the excitement comes from not really knowing what's in store. A wine list heavy with organic brands and even a range of beers offers the diner everything they need; an optional wine flight is paired with each menu for the adventurous oenophile wanting a well-chosen selection with their meal.
Proceedings began with a mouth-watering selection of warm breads served in a brown paper bag, with intensely flavoured dipping oils, some light, fluffy hummous, and deep-fried snails; we were encouraged to play around with the different flavour combinations, which introduced an element of fun to the meal. After a few mouthfuls we knew that we were in for something special that night. Perhaps the hype was justified after all…
The first course was a cevice of sea bream with popcorn, crispy potato, baby gem lettuce, coriander, spring onion and a pinch of something hot which I assume was cayenne. The presentation was beautiful, in a natural, unpretentious way, and more importantly, truly delicious to eat. I would never have thought about pairing popcorn with cevice fish, or any type of fish, but it worked splendidly, adding texture and a distinctive toasty flavour contrast to the sharp, cured sea bream.
Next up was devilled lamb's kidneys with asparagus, toasted brioche and parmesan shavings. A deep, savoury and comforting dish with the tangy, metallic tones of the kidneys wonderfully enriched by the parmesan and sweet brioche, all framed by the delicate spicing. It's the sort of dish I could eat everyday.
Then came roast monkfish, served with a fricassee of peas, courgette, raisins, a verdicchio sauce and avocado pesto; the monkfish was a succulent, meaty mouthful, lightened and brightened by the peas and the pesto, a smile-inducing midsummer dish.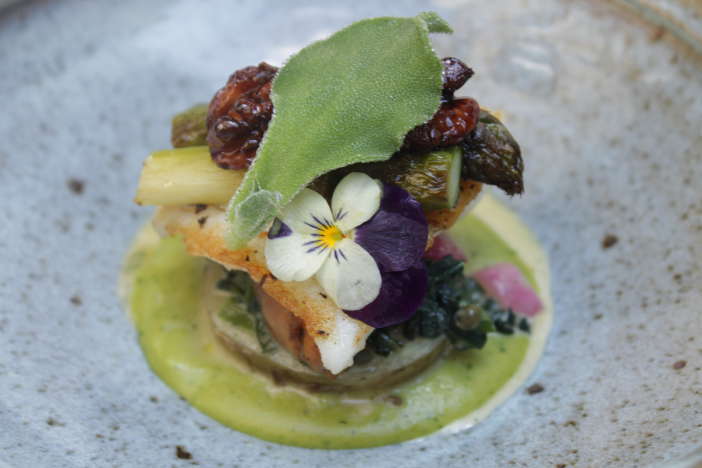 After three courses, we were in no doubt that the restaurant's reputation was well deserved and built on a solid foundation of excellence. This is exceptional cooking; beautifully presented dishes with innovative combinations of ingredients and powerful flavours delivered with refinement. Even in London, arguably the restaurant capital of the world, you would struggle to find food this good.
Chunks of sticky, slow-cooked rose veal that fell apart when prodded were served with a heady sweet and sour consommé, delivered in a bowl with rustic chopsticks to use for this Asian-inspired dish, containing choi sum, deep-fried sweetbreads, pink fur potato, shitake mushrooms and sweede espuma. An intense and reviving dish, and probably my favourite of the evening.
A sweetcorn sorbet with peppered strawberries and wheatgrass water was served as a light and playful palate cleanser before the final dessert; a raspberry parfait with poached peach, mascarpone snow, rice pudding doughnut and chocolate. Sweet and sharp, indulgent but not sickly, and with a wonderful array of textures, this was pudding perfection.
I must doff my hat to Chef Jones and his friendly, knowledgeable team. The restaurant trade is notoriously ruthless; profits are tight, hours are slavishly long, rewards are few and far between. One needs determination, dedication and skill to keep a restaurant afloat. To achieve all of this, and produce food as clever and as tasty as this is commendable; there wasn't a single weak course on the menu. And all of this for a current price of £50 for 6 courses at dinner. An absolute bargain.
If you were to uproot this restaurant and drop it into the heart of central London, it would easily hold its own against all the Michelin-stars and the big ego super-chefs who serve up show-off look-how-clever-I-am food rather than dishes that are meant to make people happy. And Gordon Jones knows how to make his customers very happy indeed (even the spoilt journalists). If you live in Bath and you like good food, you've probably already dined here. If you're visiting Bath, plan your trip well in advance and secure a table as soon as you can. It'll be one of the best meals you ever eat.
Menu Gordon Jones, 2 Wellsway, Bath, BA2 3AQ. Tel: 01225 480871. Website.