The ox is one of those plentiful beasts who just keeps on giving. If we're not using it for ploughing or threshing, then it's pulling carts in India. If you're not in India, then you're probably eating the thing alongside a glass of Châteauneuf-du-Pâpe. Like pigs, chefs give it the full body treatment, from nose-to-tail, top bullock to bottom bollocks, it's used and abused for our dining gratification: ox cheeks, ox tongue, oxtail.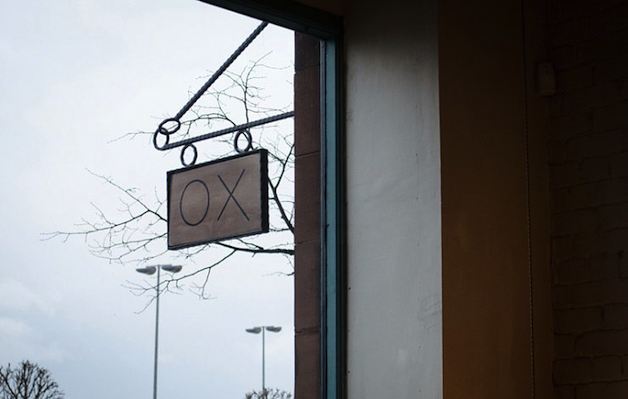 The menu at OX in Belfast was something I'd been looking forward to for weeks, but then I went on a bovine-bender with Belfast's Meat Merchant, Peter Hannan, and in one swift-swoop of 10-ounce T-bone, my lunch at OX didn't feel so exciting.
But I pulled myself together come morning, and trudged along expecting a meat-feast with all the beefy trimmings. Instead I find a menu that reads like a snazzy Scandinavian catalogue, as if they've nicked Rene's shopping list. There wasn't an ox in sight, but the likes of duck and fig, violet potatoes, and black radish with milk curd and bergamot. This is ambitious stuff when the rest of Belfast is turning out award-winning steaks and the sort of seafood that excites even Jay Rayner.
The setup is reminiscent of the simplicity driven Danish and of Christian Puglisi's restaurant, Ralae, in Copenhagen. I learn from local boy and head chef, Stephan Toman, that's he's pally with Puglisi and indeed, inspiration was drawn from the Michelin restaurant after he left one island for another, and travelled to Zealand (not New, but Copenhagen). After witnessing the skinflint success of the kitchen movement there, forgoing supermarkets to pick, pull and plunder ingredients yourself, he was inspired to return home.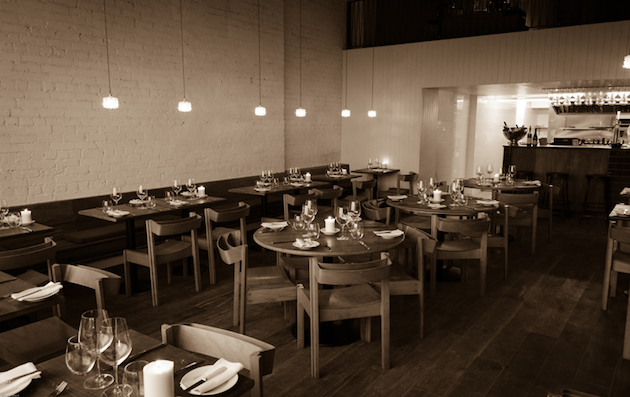 The downstairs dining room is a straightforward design, with exposed brickwork painted white and wooden tables without tablecloths. Upstairs is a reproduction but with better views across the Lagan and towards Harland & Wolff and the city's iconic cranes with names. The tall river-facing windows leak in a redolent light and the area is warmed with natural luminosity.
Like Puglisi, Toman works closely with a sommelier and pairs dishes with wines from "interesting places". There's a Grüner Veltliner 2012 from Austria and a Dr Loosen Pinot Noir 2011; a bottle of Massaya Classic from Bekaa in Lebanon is a standout. Toman opened the restaurant with sommelier and manager Alain Kerloc'h, whom he met while working in Paris at the three-star L'Arpège. Back in Belfast and with all the autochthonous pickings needed to get started, they opened OX, an abbreviated name-play on the location (1 Oxford Street) and not a reveal of the menu.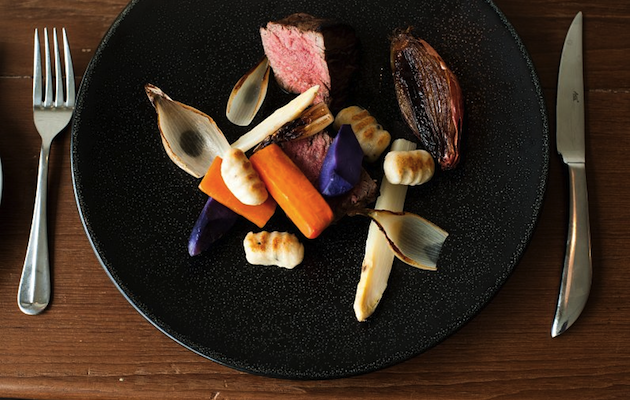 A starter of artichokes, Serrano ham, autumn truffle and tomato is meticulously arranged, and finalised on the plate with all the colour and angles that accentuate the ingredients. Here was a collection of components with real individual wallop: the sweet and nutty texture of artichoke, the saltiness from the Serrano, the earthiness of truffle and the sweetness of tomato. It's more than a sum of its parts; but a delicate assembly of tried-and-tested ingredients that when put together, form something singular and distinctive. The spelt, beetroot & purple sprouting broccoli which followed was just as triumphant. A relation of wheat, spelt is one of those nutritious yet underused ingredients; it requires fewer fertilizers so the organic farming movement are pushing for its use. It should be considered by more chefs and appear on more menus than it does.
A carafe of crisp, Cortese Volpi Almonte, from the Gavi region, accompanies the main, before a dessert of white chocolate cheesecake with poached rhubarb and cherry. Again, the plate is designed to display each ingredient, nothing is piled or shields another and the vibrancy of the cherries (which have been dehydrated) and raspberries, colourfully jumps from the plate. Creamed cheese is whipped with sugar and folded in semi-whipped cream, along with melted white chocolate and gelatine to create an exceptional 'cheesecake' ice-cream; quite possibly the best I've tasted.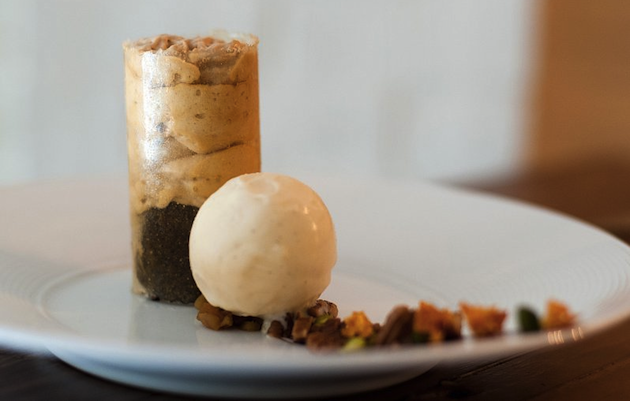 And I suppose you'll be wanting to know the cost of all this locally-sourced, heritage-proud, wonderfully-earthy Irish grub? Starters £3.00, Mains £10.00, Desserts £3.00. The Tasting Menu costs £40 with a wine pairing for an additional £30. Well, maybe I've been in London too long, listening to poncey foodie hearsay and paying over-the-odds for amazingly mundane fodder…but 16 quid for three courses of some of the most cleverly crafted ingredients I've tasted in a long time stupefies me. From the à la carte you've got pickings of venison carpaccio (under a tenner), Rademon estate pigeon and fois gras (£17.00) and rabbit saddle with apricot, pistachio and braised pork cheek (£18.00). This is more than reasonable and has, in-part, helped OX jump the pack to become the best restaurant in Belfast, perhaps even Northern Ireland; definitely among the local oxen.
OX Restaurant, 1 Oxford Street, Belfast (028 9031 4121). For more information, menus and details of their larder, the website.

For a meat fix from Peter Hannan, Belfast's Meat Merchant, visit the website.