Since opening in 2006, Riddle & Finns Champagne and Oyster Bar, tucked away in the maze-like Lanes, has established itself as one of the finest seafood restaurants in Brighton – or indeed anywhere. A dining institution, albeit in its infancy, Riddles is beloved by tourists and locals alike. The bottle-green fronted restaurant entices with its open kitchen and full display of fresh fish, whilst the stark yet cosy interior with white tiled walls and high marble-topped tables and stools promises little by way of comfort, but somehow, with the help of low lighting and candelabras, reveals a surprisingly romantic side, with couples seated side by side holding hands. Whilst the table sharing policy might not be to everyone's taste, it's up to the individual whether to acknowledge their fellow diners, or at least how much to engage them. Riddles remains the perfect venue for a relaxed supper.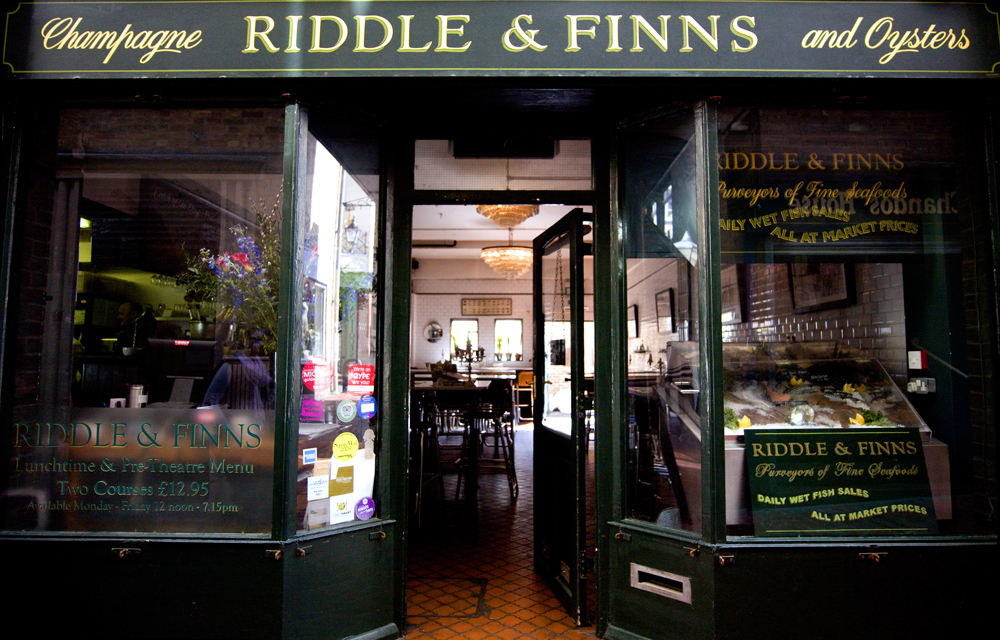 I first discovered R&F quite by chance (as I'm sure most people do) several years ago whilst visiting Brighton with a male friend who, during his university reunion party, attempted to seduce me and failed miserably. Needless to say, I quickly located my coat and feeling rather hungry and indignant, I stalked off  in the direction of The Lanes in search of some serious comfort food – namely a champagne cocktail and lobster thermidor. Several cocktails later I was far less self-conscious about dining alone on a Saturday night and I tucked into my lobster like a pupil of St Trinian's bunking off for an adventure with a bag of humbugs. I headed back to the hotel and packed my suitcase. Since then it's the restaurant I never fail to make a pilgrimage to when I'm in town.
The extensive menu and daily specials makes reaching a decision a timely affair, hence our waitress Eva's promptness in taking our drinks order and bringing us a bread basket, accompanied by butter served in a scallop shell, Tabasco, hot horseradish, and mackerel pate, which we nibbled on whilst thoroughly perusing eye-wateringly delicious fish dishes served with a multitude of highly flavoured sauces inspired by classic French and exotic Asian pairings.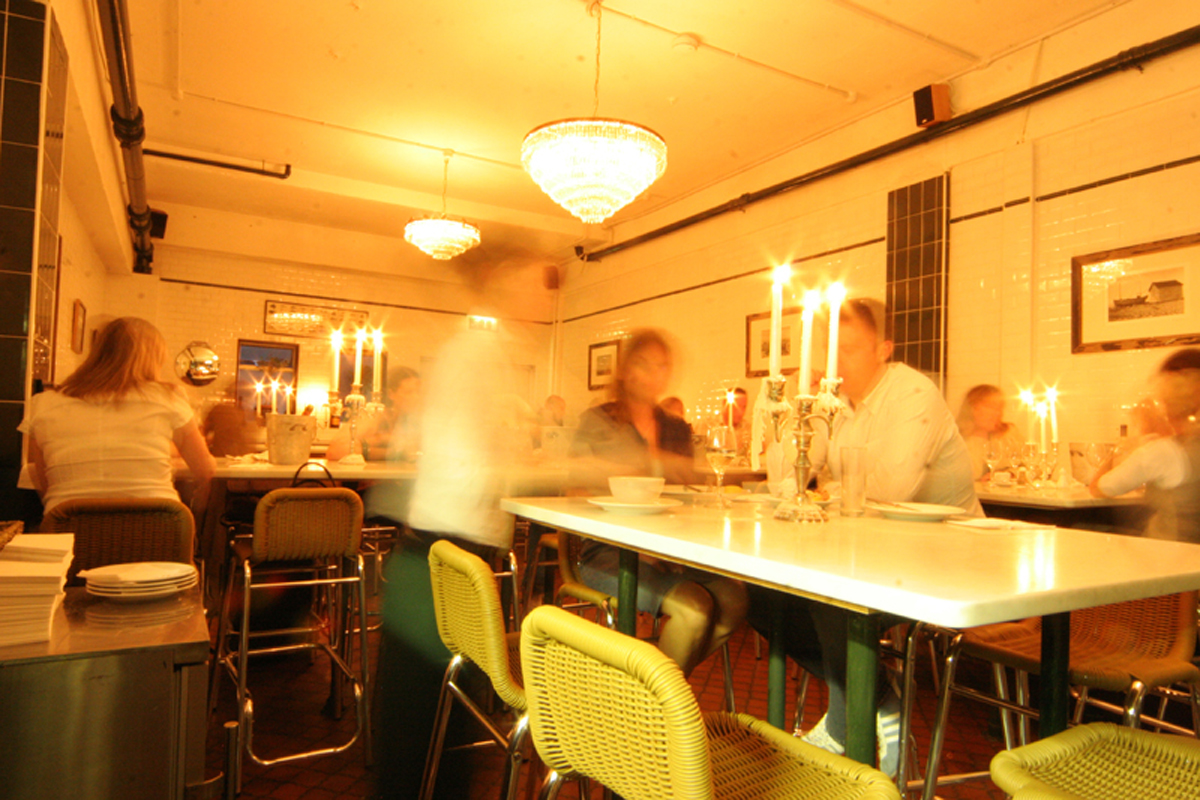 R&F are sought out for their superb oysters, and I was lucky enough to sample half a dozen Jerseys prepared six different ways; straight up with a shallot vinegar, followed by five hot toppings; champagne sauce, Kilpatrick – a sweet, yet fiery BBQ sauce with smokey bacon lardons, Piccalilli – a breadcrumbed, deep fried oyster, served on a bed of julienne pickled vegetables, the classic Rockefeller – a grilled oyster served on a bed of wilted spinach with a Pernod cream sauce, and finally the smoked salmon and sea urchin butter. The Jerseys themselves were just as they should be; sweet, succulent and creamy, and whether you want them dressed to impress or au naturel the quality and freshness of these beauties is rarely surpassed. R&F suggest a foaming tankard of Black Velvet (a cocktail consisting of Guinness and champagne) as being the perfect accompaniment, I just wasn't brave enough to try it. M went for pan-fried Brighton scallops served in a shell with lemon and parsley butter, a simple yet joyous sight.
To follow, I plumped for the whole Malaysian style wok fried crab, recommended by Eva as her favourite dish, beating even the Singapore chilli version which I remember so fondly from a previous occasion.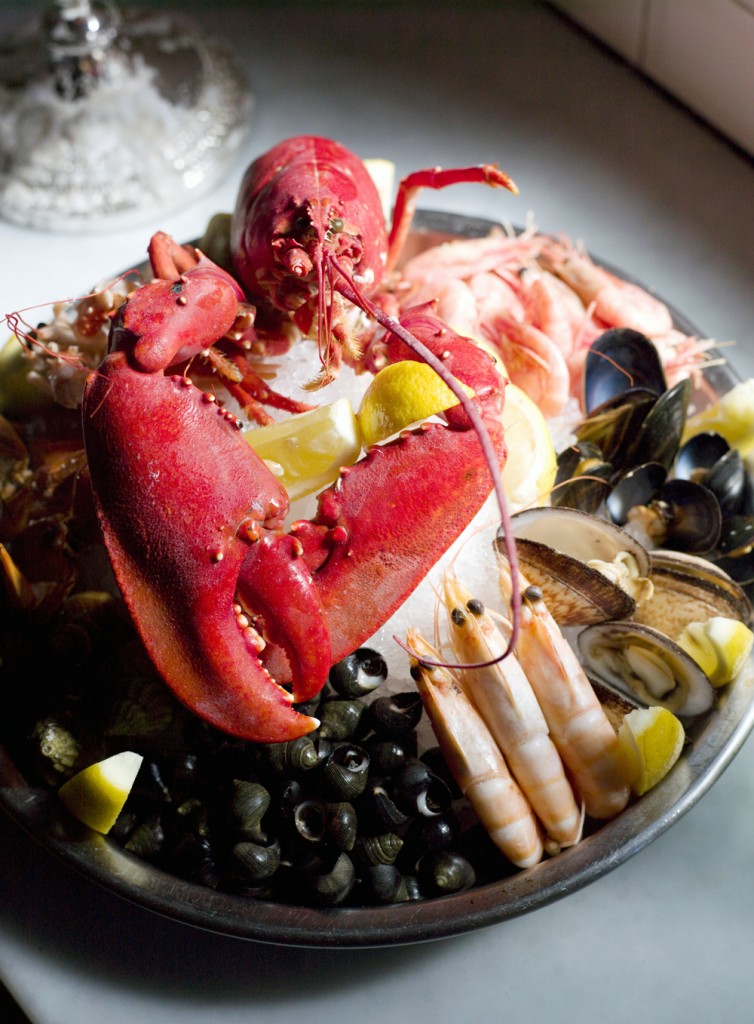 She managed to persuade me by confidently announcing I would 'not be disappointed.' And I wasn't. She was extremely helpful and informative, as I have always found the staff. M exclaimed 'ooh la la' as I lifted the presentation crab shell, revealing an abundance of crab meat sautéed with oriental ingredients and lending the dish a unique and vibrant explosion of flavour. M was meanwhile brought a finger bowl as she prepared her ten large gambas with garlic and chilli, offering me one to try – a firm, juicy, and piquant mouthful.
The Sierra Grande Chilean Sauvignon Blanc, with its tropical notes, complemented everything delightfully well and priced at £15 is excellent value, proving how much Riddle & Finns welcome guests ordering a fish pie or Krug and Osetra caviar alike. With fruit de mer platters fairly priced per head at £35 with crab or £40 with lobster, and a lunch time and early evening set menu, Riddles is a hot spot for Londoners seeking out the finest seafood who don't want to feel as though their wallet has just been clawed at by a Mayfair lobster.
We finished with the decadent chocolate marquise (another of Eva's favourites) served with fresh raspberries and vanilla ice cream. Not too sweet, the richness, along with the sharp edge from the fruit was a good note on which to end a fine dinner. For me, this is what seaside dining is all about. Without a doubt, I'll be back next spring.
Riddle and Finns, 12b Meeting House Lane, Brighton, East Sussex, BN1 1HB. Tel: + 44 (0) 1273 323 008. For more information and menus, visit the website.