How far would you travel for a decent Sunday lunch? One hundred miles is the furthest I've gone. With the plethora of options in my hometown of London, it did seem a little crazy to be setting off one day to Gosport – of all places – for roast dinner alone! But, what London can't offer is lunch served on an island in the middle of the ocean; one named intriguingly as Spitbank Fort; one that looks a bit like a baddies lair from a cronky TV movie. Unless you happen to be flying a light aircraft over and then, with the bright blue hot pool winking at you, one that looks mighty exciting indeed.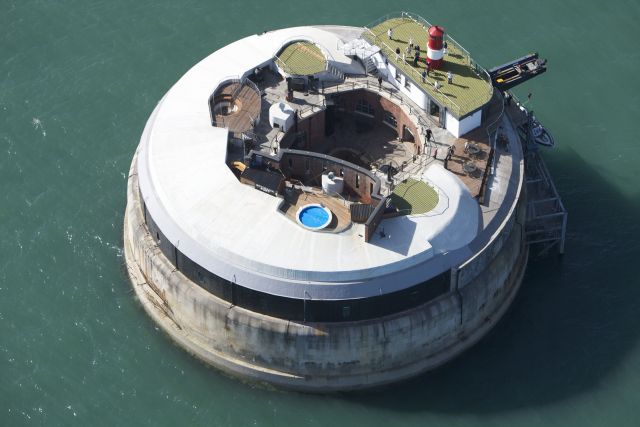 Attention-grabbing words in the brochure, such as 'Laurent Perrier on arrival' and 'accessible only by boat', offered more promise than my packed local gastro-pub. That said, 'Sunday Lunch Experience' conjured up images of a Toby Carvery atop a double-decker bus type affair. It could have gone either way, but it felt worth the drive to find out.
Part of the Clarenco portfolio of 'amazing retreats in spectacular locations', Spitbank is one of three forts based on the Solent. The other two are No Man's Land Fort and Horse Sand. Collectively, they're known as Palmerston's Forts – defences built in the late 19th century under the go-ahead of then Prime Minister Lord Palmerston to protect various locations on the British Isles from attack; namely from the Napoleon III's French Navy as anticipated payback for the Battle of Waterloo. This particular trio were coined 'Palmerston's Follies' due to the fact that by the time they'd been signed off and completed the armoury was dated and any naval threat had passed. Ill-equipped to defend themselves from the air attacks of World War II, all three took bad hits and were finally decommissioned in 1956.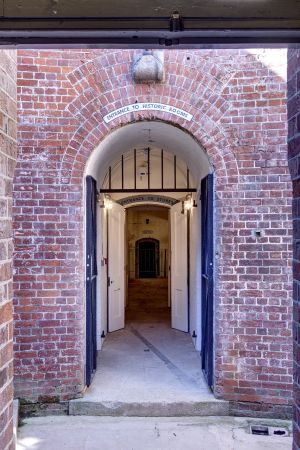 What stands today in Spitbank Fort, after a hefty three-year renovation, is a beautifully crafted building steeped in history and Victorian charm; unassuming to passers-by, but unfolding into a maze of red brick, eight luxury suites, three bars, a restaurant, hot pool, sauna, games rooms and  sundeck. In short, far more than can be fully enjoyed on the Sunday Lunch Experience, but enough to tease you into booking a future overnight stay, or renting out the whole place for a private gathering – as is Spitbank's most popular use.
The soul of the original property is maintained, although with around 30 of us there that Sunday, a world away from what it must have been like swarmed with over 150 men. The Victory Bar, where our welcome champagne was served, is decked out in comfortable leather chairs and dotted with spy glasses and other travellers' curiosities: globes, a telescope, well-thumbed books, and a little drawer opening out to reveal a copy of the First Class dinner menu for the Titanic pasted inside. The former escape holes for cannons, now windows looking out inland to the Spinnaker Tower.
Outside a suntrap courtyard is surrounded by various levels above and below, housing the original gunpowder rooms, shell room-turned-wine cellar, and the aforementioned recreational activities, all open for guests to roam. The piece de résistance, aside from 5ft deep hot pool, is the copper-roofed, red and white Lighthouse offering uninterrupted views of Portsmouth, the Isle of Wight and glistening sea.
With all this distraction, the lunch could quite easily have been rubbish. One of those occasions where all the effort is put into the presentation, crockery and service, and the food itself, is a tasteless puddle of disappointment. Aside from having to share a round table with complete strangers – my pet hate, especially on a Sunday, my day of social rest – it was all rather pleasing. Mackerel plucked from the waters beside the fort, grilled and succulently smoky and sweet with a plucky tomato salsa of sorts, samphire, coriander and fennel. A dish that smacked of summer and as perfect a partner to the Kung-Fu Girl, Washington State Riesling we matched it with, as Ant is to little Dec. Goats cheese and beetroot carpaccio, as earthy and tangy as you'd expect, wiped cleaned with a hunk of crusty bread. We could have done without them altogether though; their presence at the meal was pure gluttony, for the main plates piled high with tender strips of roast sirloin, fondant-soft roasted potatoes, rustic Yorkshires, and the usual other Sunday dinner accompaniments, were hearty enough. Dessert left me pot-bellied and unable to finish off the rest of the wine; a crime, because it was a particularly good £30-odd bottle, left for the waiters to quaff after hours. Starting to feel like a participant in an experiment in human greed, we were led back in to the Victory Bar for coffees.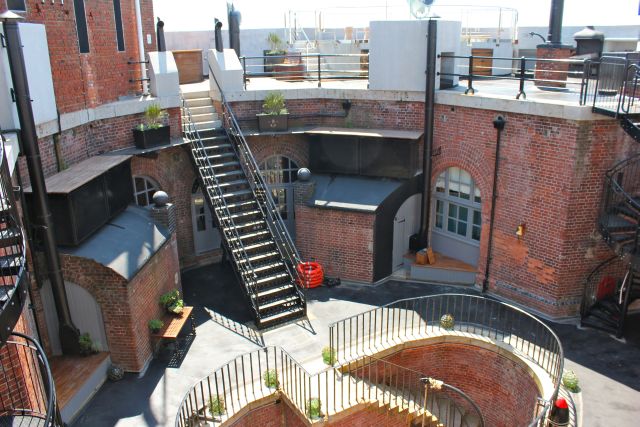 Forgoing that, for fear of combustion, Adam and I had a stab at the rope on a hook game – 1 point to me after the 6th attempt; 0 to him after an embarrassing number of attempts – and spent the short time until the 4pm arrival of our departure boat on a final recce of the downstairs games rooms, wishing we'd booked one of the suites for the night to slope off to for a post-feast nap. Certainly the most unique Sunday lunch I've experienced and well worth the 100 mile drive.
Spitbank Fort, Royal Clarence Marina, Weevil Way, Gosport, PO12 1AX. Tel: 01494 682682 Website.
 Sunday lunches at Spitbank Fort are priced at £95pp, with children's places* available for £75pp. *Children must be aged 12 or over to attend the Spitbank Sunday lunch; £75 rate applies for children 12-16 years of age.