The food at Don Giovanni is classic and contemporary Italian. You feel like you should be sitting by the banks of the Arno. In fact, you're on the banks of the Thames and, while we may not have had much in the way of Tuscan weather lately, this is still such an enchanting spot. The indoor restaurant is in the picturesque old pub, its outside walls painted shades of cream and gold to form a pretty backdrop to the vast terrace and boardwalk that stretch right the way down to the water's edge. On the other side of the river, trees, fields and grazing cows make the perfect setting for the evening sun.
And the river is busy here – in the most relaxing possible way. The restaurant is right next door to the local sailing club in Goring on Thames and when we were there, some very entertaining young sailors were being trained to tack and turn. At the same time families of geese and swans glided past taking their young on their first flotillas. And my favourite moment was when a couple of paddle-boarders dropped their crafts on the deck and took some time off for a pint. (It was just the one. I'm not sure what the rules are about drinking and paddle boards…)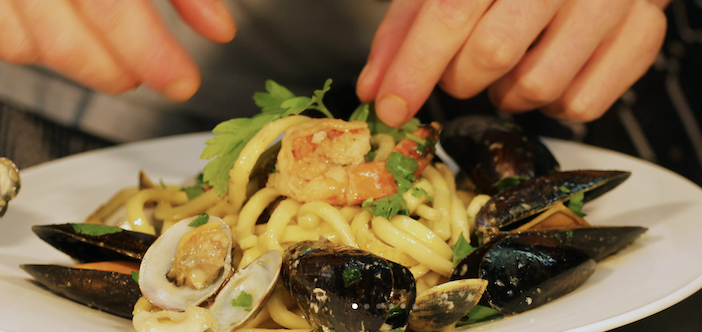 Don Giovanni (together with its sister restaurant Rossini in Wokingham) belongs to the Santelia family (originally from the beautiful Amalfi Coast – and how much we'd all like to visit there again) and the menu and the wine list both reflect the traditions of the region. Antonio Santelia has after 30 years passed the business on to his son Erasmo and the ambience is very much an Italian family affair – relaxed, charming and with the massive added benefit of being in a very romantic spot (it's no surprise they have wedding parties here).
While we read the menu, the Major and I have a glass of (what else?) Prosecco and soak up the warmth of the evening sun. Amuses bouches arrive – little, wonderfully olivey bruschettas. Then the Major has perfect paper thin tuna carpaccio, marinated in olive oil, lemon juice, capers and peppercorns. I opt for the Mediterranean prawns with a hot garlic sauce, finger-licking delicious.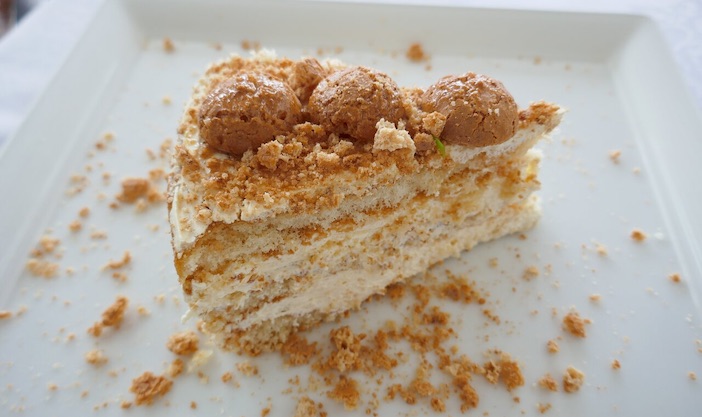 As you might imagine, there's an extensive Italian wine list and it featured one of my favourite Puglian reds, Cantore di Cartelforte Donna Maria Primitivo. This was a perfect match both for my calf's liver with Parma ham (Fegato Pacsana) and the Major's veal (Vitello Funghi e Crema). Both were superb cuts of meat, unusually tender, and served with rich garlicky spinach with more than a hint of chilli, as well as fried courgettes, cut like frites and utterly delicious. We even shared a dessert – the Amaretto Gateau – a rich home-made vanilla sponge cake, soaked in amaretto (and, believe me, one each would have been far too much).
So if you want to escape to a delightful spot for a summer's evening (or lunch), this is an ideal choice – and the food here is Italian at its best. I'm just really glad no paddle-boarding was required later.
Don Giovanni at The Leatherne Bottle, Bridle Way, Goring on Thames RG8 OHS. For more information, including menus, and to make a booking, visit www.leathernebottel.co.uk.
Photos by the author and courtesy of TripAdvisor