It's always a good time to pay a call on The Elder in Bath, but game season is perhaps the most exciting. This seasonality-focussed restaurant, led by acclaimed chef Mike Robinson, prides itself on game cookery, with a nose-to-tail approach I whole-heartedly applaud – offering diners some of the most fantastic wild produce in the South West, from not only field to fork but from the skies and hedgerows too.
The award-winning gentleman's club-inspired interior, with tan leather banquette and antique artworks featuring hunting scenes, fits hand in glove with the menu (something which hasn't happened all that often during my time as a restaurant critic) giving you an immediate sense of confidence about dishes which feature so many processes and technically challenging elements.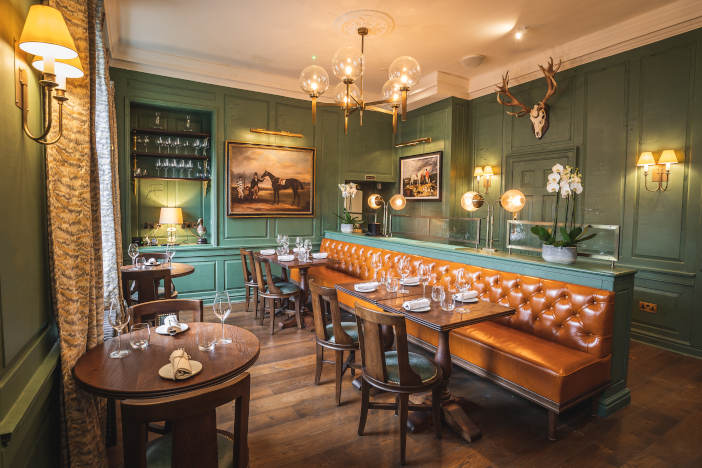 This was confirmed by the thoughtful opener of 'Game Tea' – a consommé of venison and beef stock, accompanied by a homemade granary sharing loaf with Chew Valley Jersey butter. Inspired by the warming Bullshot that is traditionally enjoyed straight from the Thermos during a game shoot – albeit elevated to a new kind of elegance – it prompts a deep 'ahhhhh' in more ways than one. After so many nights cooking at home during the past eighteen months, it's an absolute joy to enjoy food I frankly would never be brave enough to attempt to cook, let alone have the time or inclination to prepare.
I went for the decadent-sounding whipped chicken liver parfait to start, with caramelised balsamic figs, a beautifully toasted granola and dots of date puree, topped with freeze-dried raspberry dust and a crisp oat biscuit disc – a dish which pitched the bar of expectation higher still. The main of venison with blackberries, broccoli and roasted salsify was nothing short of extraordinary and celebrated this noble meat in four irresistible ways – loin, rack and faggot, with an intense jus and unctuous side dish of hunter pie, akin to a cottage pie with a rich ragu of venison and a golden potato topping.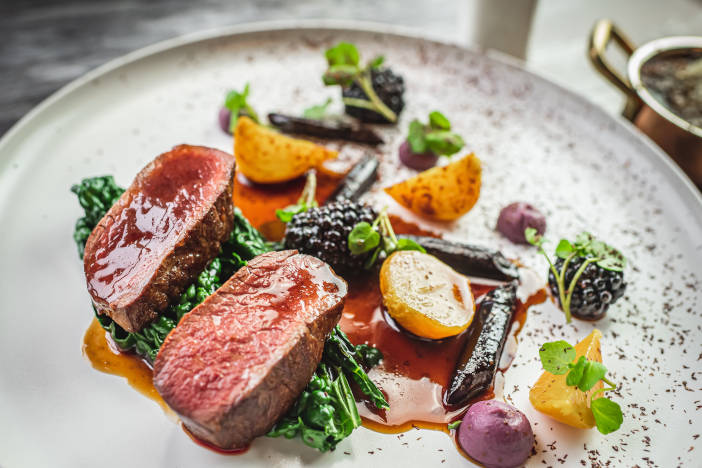 However much I considered it an obscenity to sample a dessert after such a feast, the 'Elder Chocolate Bar' was the all or bust finale that crowned a memorable dinner and took me back to the childish delight of cinema-going without having to make that cruel choice between popcorn, chocolate or ice cream. A perfectly tempered oblong with aerated chocolate, popcorn ice cream and an oozing salted caramel, partnering it with chopped peanuts and caramel popcorn meant that to share this would be to cry like you've just endured a two-hour weepy.
With a concept unlike anything the city has to offer, The Elder's approach to sustainability is bound to strike a chord with the discerning foodie, who will appreciate the ethos and quality they will find here. If I was taking Prince Charles out to lunch in Bath, this is where I would go. Taking its name from the legendary architect John Wood the Elder, who designed the elegant, honey-coloured South Parade terrace where the restaurant and the new Hotel Indigo is situated – the restoration of this Georgian gem, dating from 1700, may have taken four to five years of painstaking restoration, but it's a design and culinary achievement to be proud of.
The Elder restaurant at Hotel Indigo, South Parade, Bath. For more information and reservations please visit the website.
Photography copyright (c) Sarah Farnsworth Photography