As the new series of The Great British Bake Off takes to our screens, Larry takes to a kitchen of his own – well, a little better than his own – with a group of other amateur bakers to learn the hallowed art of breadmaking… 
Was there anything more edifying, more satisfying, more symbolic of man's emergence into civilisation than the creation of bread. No, really. When nomadic hunter-gatherers settled, they grew wheat. And baked. And it's no coincidence that the most anticipated week of Bake Off is bread week. 
That very act that carried the nation through pandemic lockdowns, that had flour mills working overtime, supermarket shelves depleted of yeast for weeks on end, housewives later taking home 10kg sacks of flour and imprisoned students creating surrogate mothers in sourdough. In a time of crisis, we bake bread. It's our first instinct, our therapy, our succour. 
But I'm terrible at it. My attempts in lockdown amounted to an aborted wholemeal and  the Hairy Biker's recipe for a rustic Spanish loaf. "Tap it for that hollow sound," they said, "relish that crust as you crack through it," they said. Really? Mine sounded like paving slab. My crust sagged when I applied the knife, while Instagram was littered with proud sourdoughs and golden focaccia. I gave up.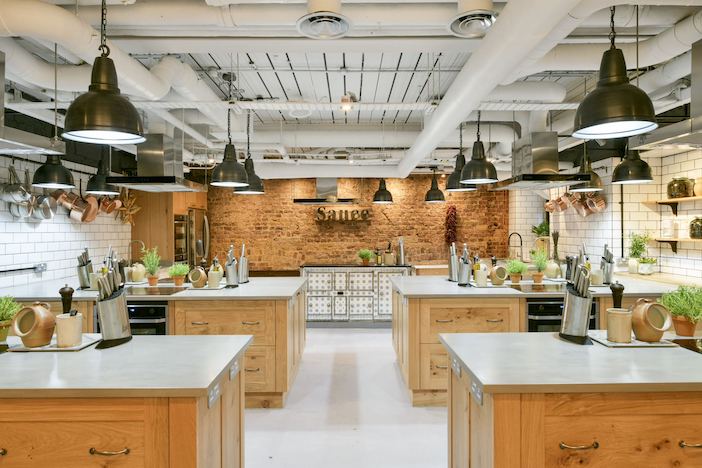 And then came a revelation. An annunciation, if you will. 'You will bake,' it said, 'You can bake.' I saw an ad. For Sauce at The Langham, and a new break-making masterclass as part of their new series of cookery classes. Well, if you're going to learn, go to the top. 
And so, one misty Saturday morning, my daughter waving me off as she wiped the sleep from her eye, I set off for London, and sought my golden crusted fortune. Overcoming the sense of being in the wrong place as I walked through The Langham's grand lobby – "A cookery school? Here?" – I'm directed with a reassuring smile up the thick pile carpeted stairs up to Sauce, the hotel's farmhouse-style cookery school kitchen.  
"You're definitely in the right place," I'm assured as coffee and pastries are served in the dining room opposite, and we wait for the other bakers to arrive. A warm, perfectly executed croissant (not on the baking agenda, thankfully) later and we're being ushered into the kitchen. I say 'kitchen', this is more like a country house showroom. It's spectacular; full of mod-cons and rustic touches, and I'm immediately noting home interior ideas for later.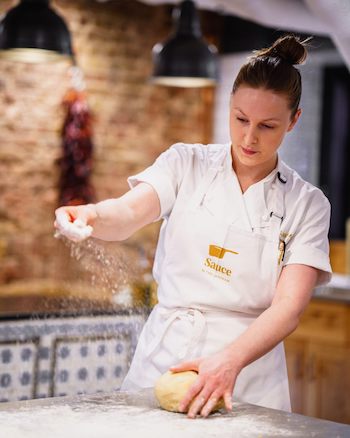 Led by Kitchen Manager, Millie Simpson, who knows our names as we walk in and take to our stations, we're invited to sit round the antique farmhouse stove at the far end and introduced to the morning ahead by bread-baking expert Frances Aizlewood. Frances tells us we have four bakes ahead; a focaccia, a tiger loaf, milk buns and soda bread – each name slightly filling me with dread. 
And we're straight into it. Frances starts with the focaccia, introducing the ingredients (including a poolish, which I initially consider to be a typo) and mixing them before setting the dough aside to start its work. Then we're at our stations, each ingredient already allocated in individual pots, fortunately, as a handy short-cut and we can get to the business end of proceedings.  
Next, we tackle the milk buns, making a roux ahead of an enriched dough, and adding it alongside the other ingredients into a Kenwood that would make my mother bristle with envy. It requires a long mix, until the dough starts to develop a sheen and can be stretched thin, before that, too, is set aside to prove and we turn our talents to the tiger bread.  
Here's where the kneading comes in, and all the while we're offered insights and tips, including a revelation on the importance of salt. As the tiger dough is set aside, we're invited to taste a loaf made earlier omitting the salt. It's warm as it comes out of the oven and while the soft, pillowy texture is there, it's surprisingly bland.  
With all three doughs set aside to prove, we fold our focaccias and set upon what transpires to be the simplest of loaves, the soda bread. Quite literally an all-in-one, wholemeal flour is mixed with buttermilk, bicarb and the all-important salt, given a quick mix and shaped into a loaf. We're given the opportunity to flavour them – I elect for oregano and chili – and it's the first to go in the oven.  
As our focaccias are turned out, we flavour those, too, with various choices of topping, and work on the crust for the tiger bread. Milk buns cut and shaped, we sprinkle them with nigella and sesame, and everything's ready for launch – just as we're ready for lunch.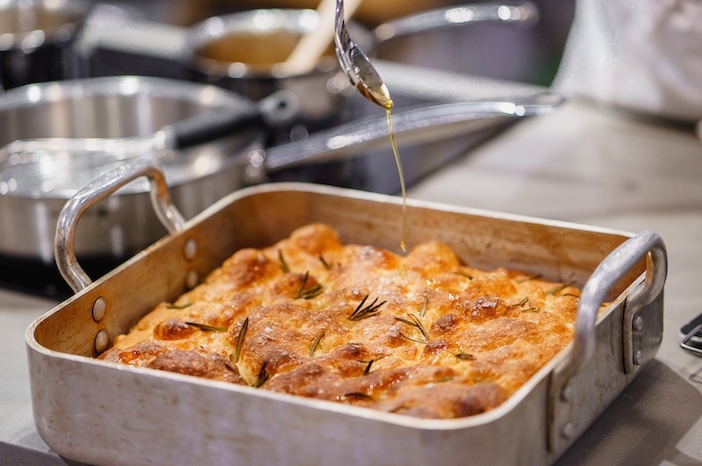 Cookery classes are often well-oiled machines, short-cuts created to cut out any faff, but those at Sauce have the bar raised to a different level. They do things so well here. The prep, the quality of the kit, the setting, there's even service. Frances and Millie's assistant offers us coffee as we cook, and the lunch; well, we're talking one of London's leading hotels, so there's no token buffet, but a stunning spread. It's as if Millie catered for us personally – and she did. I happened to catch them as I came in that morning, making the pissaladiere. Accompanied by a panzanella, charcuterie, salads and pesto-topped roasted new potatoes, and a crisp glass of Sauvignon Blanc, it's a terrific addition to the proceedings, and with the chefs on hand I actually came away with more than just baking tips from the day. 
The class is timed to perfection. Doughs are made, proved, kneaded and baked on a well-rehearsed timetable, so it all fits in neatly into the half-day lesson – including time for that splendid luncheon – and ready for us to collect our efforts as we leave. Our milk buns emerge last, and if I do say so myself, I am utterly chuffed with the result. Millie gives me an encouraging smile, "We could serve those in our restaurant," she says, and I'm beaming with pride.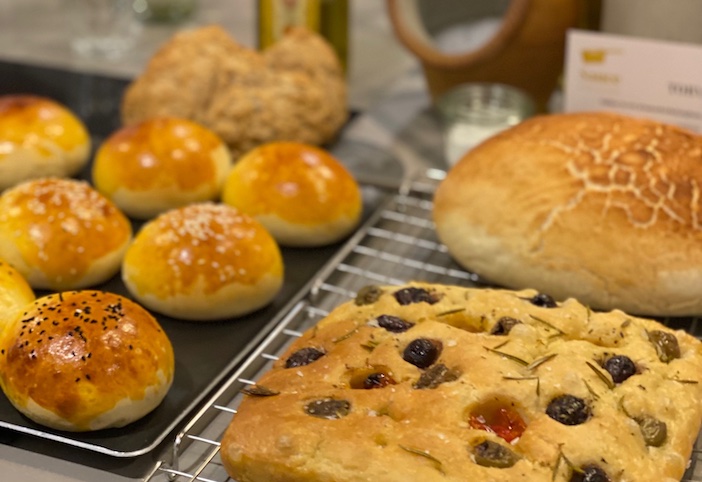 I've not only learned something, conquered fear and apprehension, but as I arrive home, laden with my labours, the expression on Mrs L's face as I turn out the goods onto the kitchen table says it all.  
Yes, I can now bake bread. 
Cookery courses at Sauce are £150 per person, including a welcome tea or coffee, a light lunch and wine. For more information of upcoming classes, including a masterclass with Michel Roux Jnr, and for bookings, please visit www.saucebylangham.com.
Series 13 of The Great British Bake Off starts on Channel 4 at 8pm on Tuesday 13th September 2022. For more information, visit www.thegreatbritishbakeoff.co.uk.