Covid may have foiled the latest adventures of the world's greatest spy, pushing the release date of No Time To Die to next year, but his spirit lives on – quite literally – through autumn, courtesy of No.3 gin. And, as one gentleman hero leaves the stage, so another steps up, this time in the form of famed Martini mixologist, Alessandro Palazzi.
In a venue probably not unfamiliar to 007 himself, from the cosy confines of DUKES bar in a hidden corner of St James's in central London, Alessandro serves his legendary libations to guests – and those in the know – and, over time, his fame has spread. The Vesper Martini, made his way, has entered not just bartending folklore, but has drawn devotees from around the globe. (Needless to say, we're fans at The Arb, and have even captured the man in action in this film, here on Arb-TV.)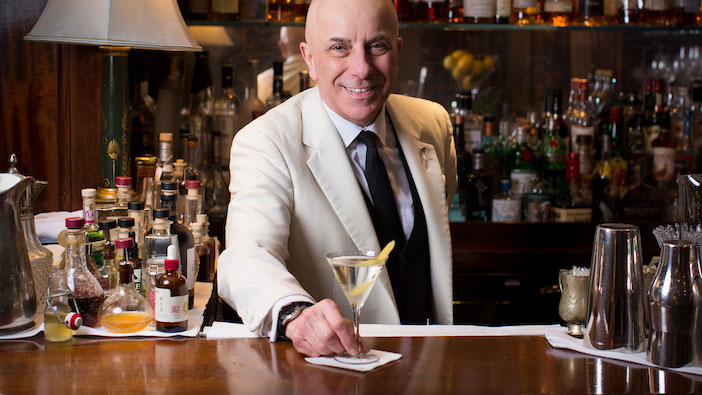 They say you can't bottle genius. Well, frankly, you can. Alessandro's legendary Vesper Martini, has just been released this week in a limited edition. And, boy, would Bond approve.
Available exclusively from Selfridges, the pre-bottled Vesper Martini combines No.3 gin – voted World's Best Gin four times, no less – with the finest vodka and vermouth. It has been crafted to both No.3's and Alessandro's exacting standards, creating a bartender quality cocktail to enjoy at home simply by pouring from the bottle.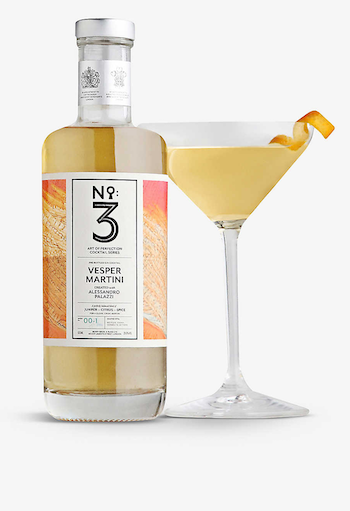 We asked about the inspiration behind the collaboration, and Alessandro explains, "The Vesper Martini is an homage to James Bond – to the first novel, Casino Royale, and to the beautiful spy, Vesper Lynd." We'd expect nothing less from the world famous spy. But what of the pedigree of the drink itself? "It is the most popular Martini at DUKES," Alessandro tells us, "my recreated version uses vodka, English vermouth, and most importantly No.3 Gin – a proper, honest, juniper-led gin, just as it should be." Sounds like there's a secret or two in there still.
But it's not just what's gone inside that makes this special. The Vesper Martini bottle includes beautifully abstract artwork on the label. Creating something befitting a Bond movie's title sequence, artist Justin Zoll scientifically photographed the crystalised cocktail at 40 times magnification to capture each microscopic element that goes into a perfect-tasting Vesper. Indeed, so unique is this imagery, it's being made available to purchase as a standalone limited-edition print, joining the brand's other iconic artwork in what it calls its 'Art of Perfection' collection. Perfection, indeed.
To celebrate the launch, and its exclusivity with Selfridges, No.3 Gin is taking over the terrace of the department store's rooftop restaurant, Alto by San Carlo, until 1st November, and hosting a series of interactive events and masterclasses. "Martini Mondays" will see No.3 Gin collaborate with three of London's best Martini bars, including DUKES, The Gibson and Bar Swift, to bring drinkers unique takes on the iconic Martini over three Mondays in October. What's more, No.3's brand ambassador, Ross Bryant, will lead four intimate – yet socially-distanced – masterclasses in heated huts on selected dates in October, promising guests the chance to discover the history and evolution of the Martini and taste a series of No.3 Gin Martinis and cocktails.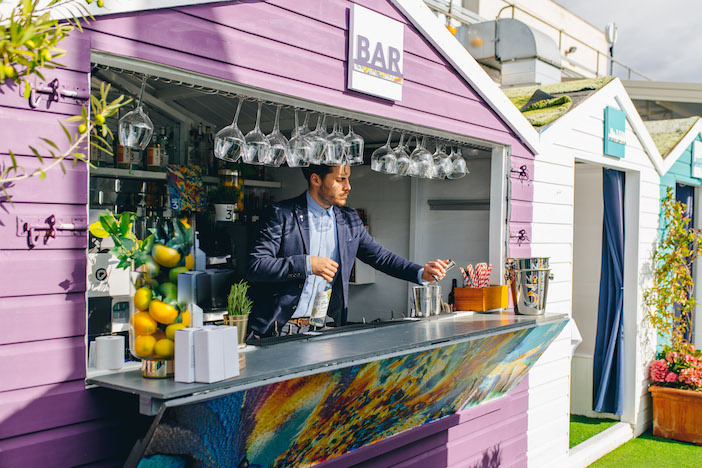 But, to matters. How to enjoy the new Vesper? Shaken? Stirred? For the ultimate drinking experience, chill the bottle in the freezer for two to three hours before pouring into a Martini glass. The more spontaneous among us can simply stir over ice for 007 seconds and strain. Then garnish with a twist of orange. And, thanks to the QR code featured on the bottle, drinkers can glean tips from Ross Bryant and Alessandro himself on how to mix the perfect Vesper Martini at home.
While we may not be able to get our bout of Bond this November, we can still bring a little bit of the 007 magic back home.
The No.3 Vesper Martini comes in a 500ml glass bottle, serving five cocktails, and is available to purchase exclusively via Selfridges and Selfridges.com at £35.95.
"Martini Mondays", in collaboration with DUKES, The Gibson and Bar Swift, will run 12th, 19th and 26th October, respectively, from 5pm.
Martini Masterclasses, led by No.3 Gin Brand Ambassador Ross Bryant, will run on 8th, 15th22nd and 29th October from 6.30-8pm. Tickets are £40 – available via events@selfridges.co.uk – and include 10% off the pre-bottled Vesper Martini, a branded tote bag and No.3 Gin print For more information, visit www.no3gin.com.