Much of the allure of whisky is in the name. Distillers of single malts have some fantastic labels, conjuring up evocative images of Scotland's stirring heritage. As well as any number of Glens, winnies, whenies, laggans and ballies there are the gloriously unpronounceable; Auchentoshan, Ileach, Benriach. Now, I could just be showing my novice's colours here – being a relative newcomer to this magical and mystifying world – but there's one name that leaps out at me and is perhaps the most enigmatic, not to say tongue-tying, of all; Bunnahabhain.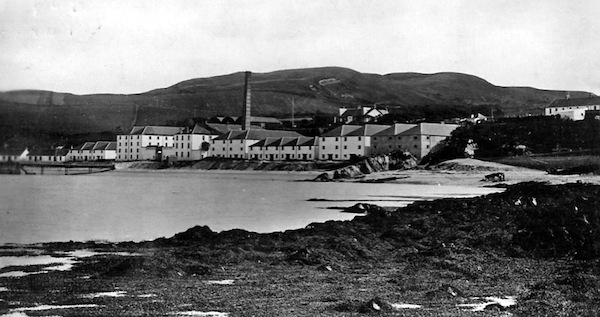 My thoughts exactly. I clawed my memory for pronunciations of other Gaelic names to try to get it. Burn-a-hay-barn. Boon-a-harve-in.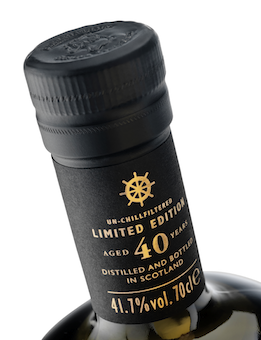 Bunnywasawatchamacallit. I attempted the name on the train as I made my way up to Edinburgh for an overnight sojourn to the launch of one of their newest releases; a signature 40 year old special malt. I should at least know how to pronounce it. To avoid embarrassment I resolved to pass the entire trip without having to utter the very name of the product we were there to appreciate. As a burgeoning single malt aficionado, admittedly, I feel I should have known. I know it, I really do; it's an Islay whisky and Islay are my personal favourites (because of the hint of salinity they get from being coastal – see?), I just haven't cracked how to say it. But this was a 40 year old cask batch that had been tapped, delivering a mere 750 bottles and priced at £2,000 a bottle. Semantics aside, as the countryside of middle England rattled past, I put in my research.
Islay whiskies are known for their smokey peatiness but, unlike its island cousins, Bunnahabhain is, by contrast, a very light Islay malt. What makes this 'gentle' taste of Islay is in its non-peated barley and its water, drawn from the Margadale spring a mile inland, that is collected before it's reached peat. The name means 'mouth of the river' and the distillery sits on the shoreline, once only accessible by boat. If terroir was key to a good whisky, they've clearly gone to great lengths to get the best.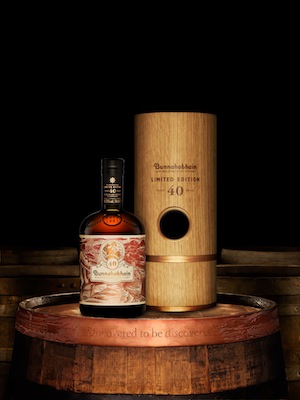 As distillers, they have an exemplary pedigree. Category wins in the World Whisky Awards, most recently by its signature 12-year old, the owners, Burn Stewart, are purists and it's paid off. Their 18 year old recently scooped gold at the IWSC and did so by dismissing the addition of caramel colouring – you mean you didn't know it's added in single malts? – and passing on the chill filtration. It's the alchemy of producing good whisky that has made their chief blender, Ian MacMillan, a master of his art.
"The best place to appreciate whisky is where it's made," Ian says as I arrive at the tasting, late. We may not be in Islay but I can certainly appreciate the sentiment. My journey to the launch was a long one, involving two hour delays on top of a four hour train journey, a taxi through rush hour into the countryside and, with darkness now upon us, as we turn into Jupiter Artland, our destination, the cab driver looks as bemused as I do when we see nothing but fields, the lights of Edinburgh twinkling in the distance. We drive on, following the lane, past lakes shimmering in the full moon, looking in vain for the venue. Something must be homing us, however; we manage three instinctive turns at junctions that eventually lead us to a small barn-like building lit like Christmas inside, where distinguished-looking men in kilts hold court over a small gathering of excited onlookers. I enter, apologise for my tardiness and am offered a glass of whisky. It's the 40 year old. And, boy, was it worth the journey.
From the tulip-shaped tasting glass, my first encounter with this golden honey-coloured elixir was on its nose; sweetness evident already, some nutty notes but gentle, like hazelnuts, and a soft citrus influence behind. Then I tried it. I tasted honey, ginger, rich chocolate and it lasted. It was divine. As I took that first sip, in my head a choir opened with Vivaldi's Gloria. This could not be Islay whisky. But it was.
As we sipped, I ask Ian about the story behind the 40 year old. "The casks were already listed," he told me, "although the origins of them were not known. But I recognised the owners from years previously. J G Turney were Glasgow wine merchants and had a reputation for quality, I knew of their desire to only fill the best casks. They went out of business in the 80s, sadly, and these casks went into storage. Then, in 2004, I came across the whole store of them and it was incredible as I hadn't seen these casks for over twenty years. I remembered the barrels from my very early days in the industry back in the early 70s, and even then I knew one day these would be something special. There were 23 casks in total, all second fill hogsheads and I sampled every one. Some were excellent, some hadn't quite reached their potential, but they were all exceptional." As he talks, Ian breathes life into the barrels themselves, giving them a personality. "They were 32 at the time and my immediate thought was that these were going to reach 40 and get better."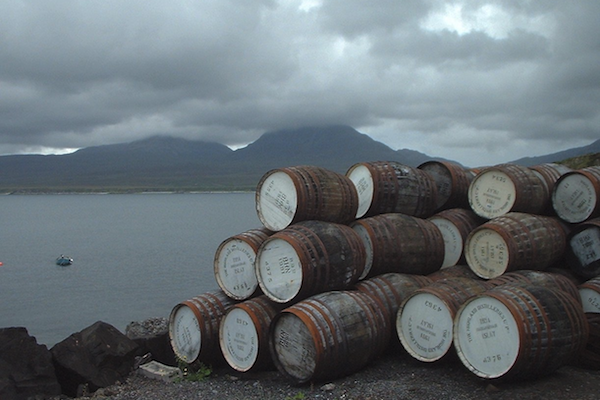 "I graded them initially, then sampled them again two or three times a year, and graded them each time." It's fascinating to hear the process, the alchemy, involved. It's as if he's trapping prey; watching, checking, coaxing it to come to him, waiting for the moment to strike. To make the 40, Ian took the best twelve, with the characteristics he was looking for to compliment each other. "I was looking for a product that really had the wow factor," he gestures to my glass, "even though you've got an empty glass," – I hadn't even noticed I'd finished it – "you can still get the sense of it." It was the first thing I noticed when I walked in, its nose. It's very distinct but, more importantly, it draws you in. "Of all the malts we have, this is the best I've ever tasted," Ian says. Coming from a master distiller, that's saying something. "It has character but, more importantly, it's delicate because it's not over-awed by sherry, which is a failing in many whiskies."
The story of Bunnahabhain is also evident in the label for the 40 year old. To create something particularly distinctive, noted Scots illustrator Iain McIntosh was commissioned to recreate the heritage of the distillery and, unsurprisingly, the result leans heavily on its maritime tradition; from the puffers shipping the malt – the only way to get the malt to the distillery in its day – to the paps on the shoreline and the dolphins in the straight. And in the centre is the mariner, casting his gaze out west, looking for the pier on which to dock, it conjures up images of 'westering home and a song in the air…' and it makes me want to done a mac and sou'wester myself and tackle the high seas. It's the very spirit whisky is made of.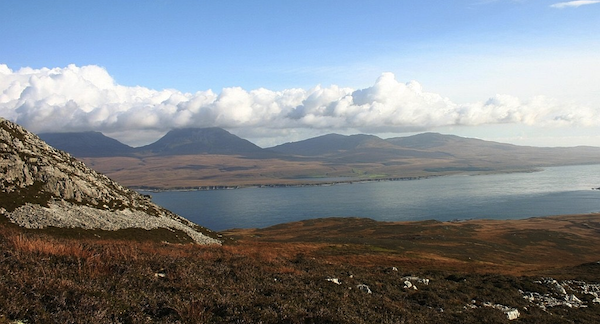 As we are ushered away to a fine dinner with more tastings to come, I have one last question for Ian, "Once you've opened your £2000 bottle of this fabulous stuff, how long does it last? How long can you appreciate it for?" He clasps me on the shoulder and leans in, "We have a saying in Scotland," he whispers, with a conspiratorial air, "once the cork is out, you shouldnae put it back in," and he roars with laughter, "least of all with a Bunnahabhain." So that's it! I've got it now…Bun-a-have-in. You can indeed.
Bunnahabhain 40 Year Old is a one-off release of 750 individually-numbered, hand-signed bottles presented in bespoke packaging, and will be available in a select number of specialist and prestige retailers with an RRP of £1,999.
For more information about Bunnahabhain and the other products on offer, visit their website.