Summer's here, at last. Isn't it? Well, it might have been for a couple of weeks back in June – and while the Aussies may have clutched an Ashes draw for the inclement weather in July, and Europe's had more than its fair share of the seasonal heat, there are still reasons to be cheerful as we settle in for those holiday breaks.
This is unrelated to all things pink that seem to have swept the nation with Barbie fever, but – and we can't help the serendipity – summer is synonymous with that other pink favourite: Rosé. As the mercury creeps (back) into the twenties and the evenings get balmier, isn't one of life's most cherished pleasures about sipping ice-chilled rosé from a condensation-dappled glass over a spot of al fresco dining?
It's with that very image in mind (mine's set on a patio in a south Cornwall chalet overlooking the harbour in St Mawes) that we are recommending a selection of exquisite pink tipples to make this summer a memorable one…
Ssh, it's just a Rumor
First up, a new kid on the block from the established home of rosé, Provence. And ticking all the boxes for everything that's health-conscious today, Rumor is an organic, vegan, pale blush rosé, with zero residual sugar.
Rumor's angle is about authenticity. Hailed as a new generation of rosé, its vineyards have provenance harking back to the Knights Templar. A masterful blend of Grenache, Cinsault, Syrah, Mourvèdre and Vermentino grapes, Rumor is light, delicate, elegant. Garish flamingo pinks are so last year, this one has been kissed with a golden blush.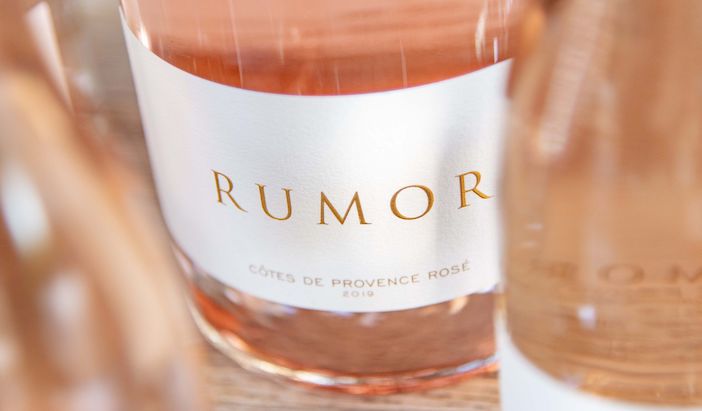 Citrusy on the nose, clean and stony through the palate, it's an utterly drinkable wine, perfect for those sundowners or over classic Provençal cooking, tapas or grilled seafood. And this summer's current vintage is particularly notable, reflecting the past season in Provence, which was marked by an especially hot and dry summer followed by welcomed showers at the beginning of September – a perfect storm, you might say.
Rumor is available in the UK from Selfridges, priced at £24.99. For more information, including international stockists, please visit Rumorrose.com\ @rumorrose.
Going premium…Chateau d'Esclans 2020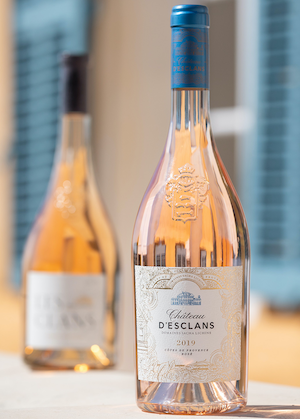 Another hailing from rosé's spiritual home, Château d'Esclans is the estate wine made from Grenache and Rolle (Vermentino) grown solely in the estate's own vineyard. The elder sibling of Whispering Angel, where the latter might have set a precedent for the rosé of choice last year, they've taken it a notch higher this time.
As a refined and elegant wine, the versatility that comes with Chateau d'Esclans makes it a rare gem. The nose is filled with aromas of strawberries, raspberries, and cherries while the palate can enjoy a smooth and creamy texture that is rich and long. Ideally enjoyed as an aperitif wine or summer sip paired best with salads, seafood or a berry desert. As a premium rosé, you should expect a lot from this bottle and it doesn't disappoint.
Chateau d'Esclans is priced at £31.49 and available from The Bottle Club. For more information, visit www.esclans.com.
For something a little different…Terlingham Pinot Noir & Rondo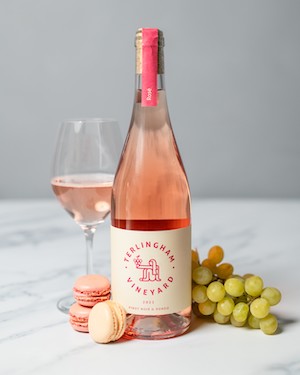 There's a good reason this makes our selection, and it's not simply that it's produced on the same chalk seam as Champagne. Terlingham is a sustainable family-run vineyard on the Kentish coast, following an eco-friendly approach to farming that does not use any artificial chemicals or fertilisers.
Its latest seasonal rosé, Terlingham 2022 Pinot Noir & Rondo, is produced with a unique blend of hand-picked grapes – including the highly regarded Rondo – from which the still wine takes its elegant pink hue.
Light and crisp, Terlingham's rosé has enticing aromas of fresh wild strawberry, pink grapefruit, and a hint of ginger. On the palate, it delivers a delicious red fruit with a lovely long finish. Definitely one for light pasta dishes, salads and seafood it is, quite simply, an idyllic English summer in a bottle.
Terlingham's 2022 Pinot Noir & Rondo Rosé is priced £19.50, available directly from Terlingham Vineyard at www.terlighamvineyard.co.uk.
For something sparkling…Chapel Down Rose Brut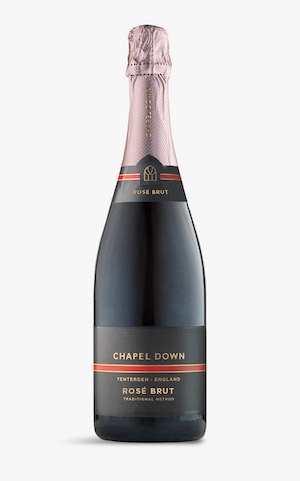 Sticking with the English theme, we're adding the bubbles in the listings with this one. As English wine, particularly sparkling, sets new strides across the globe – often trumping our French cousins in competitions – one vineyard that's part of the vanguard of that movement is another Kent producer, Chapel Down.
And there's a reason it's made headlines, and even onto supermarket shelves, as our ticket into English sparking rose; as a non-vintage it's consistent, and consistent in its quality. Largely Chardonnay and Pinot Noir, Chapel Down's rose petal pink blush offers whisps of lemon sherbet on the nose, with a light mousse-like texture on the palate, and a dash of body with hints of blackcurrant and rosehip.
Definitely one to kick off the evening with as an aperitif, or bring up the rear with dessert, preferably a summer pudding or lemon tart.
Chapel Down Rose Brut is available in all good stockists, including their website at www.chapeldown.com.
Going left field…Maison No.9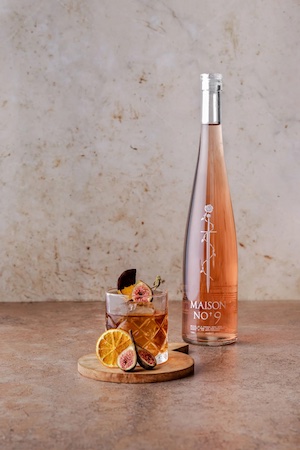 With its visually arresting bottle, this is more than just fancy packaging. When it comes to provenance, Maison No.9 has a unique story. Founded by American rapper and record producer, Post Malone, and friends Dre London and James Morrissey, Maison No.9 was born from a shared affinity for rosé, but then never having found the blend or brand that they could call a favourite. The idea was set in motion to develop their own, bringing together a best-in-class winery with a love of the Mediterranean lifestyle.
Working closely with winemaker Alexis Cornu, winner of fifteen gold medals and seven 90+ point rosé wines, the three founders spent much of 2019 – in-between Post's sold-out tour dates – traveling frequently to the winery, trying many grape varietals and sampling over fifty blends until they developed a new blend of premium rosé that they were happy with.
While it's a terrific drop on its own, it adds an extra dimension to cocktails, such as a signature sangria, Paloma or one of the team's own, The No.9, blended with vodka, lime and watermelon juice.
Maison No.9 is priced at £18.99, available from The Bottle Club.
The Italians have it…Calafuria Rosato 2020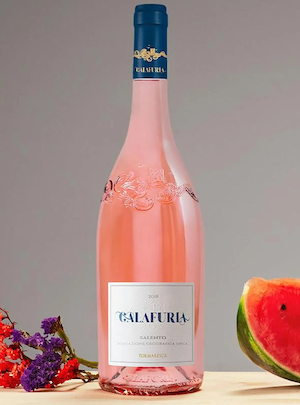 The French may have the monopoly, and the English are making waves, but another well-established rosé producer barely gets a mention on the UK's shores, Italy.
But Italians know it – and do it – so well. You may, of course, be familiar with the typical Rosato, their deep rouge rosé principally produced around Veneto, but the palette of Italian rosé is so much broader.
Take Calafuria, for example. Masseria Maìme is located in one of the most beautiful areas of Brindisi and the estate where this wine is created extends along the coastline tucked among pine forests as far as the eye can see until blending into the sea. Calafuria is named after one of the bays on that Adriatic coastline.
We're winning you over with the romance, aren't we. But what also makes rosato different is its grape varieties, including Negroamaro and Primitivo, the two principals in Calafuria.
A pretty, bright, peach-blossom hue, it's light, floral and fresh. Slight hints of pink grapefruit and pomegranate add depth taking this beyond cheaper rosés, and so much more satisfying as a result. It is, simply, rosé, the Italian way.
For more information, and where to purchase, please visit www.calafuriawine.com.
Move over Barbie, meet…Mollie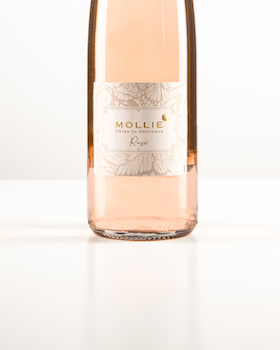 Finally, a new must-have premium rosé has arrived to set summer shimmering all the way to the Med; make way for Mollie.
Born in the heart of Côtes de Provence, Mollie's provenance lies in a blend of Grenache, Syrah, Cinsault and Rolle grape varietals, but more in her production. Mollie's grapes were night harvested, when temperatures were cooler, to preserve crispness and aromas. She's been handled delicately in a pneumatic press, offering a softer pressing action, and a partial cold maceration before fermentation at a low temperature before the wine was clarified and transferred for maturation over a period of five months.
All this results in an incredibly fresh and delicate nose, with notes of ripe red berries, pomegranate, and tangerine. The palate is flavourful and well-balanced, with a very pleasant freshness combined with an oily-fruity length. Mollie's as appetising in her ultra-pale bright pink, as she is paired with Mediterranean dishes such as garlic mushroom pasta, a Greek salad, or calamari.
Mollie is available exclusively from The Bottle Club priced £19.99.
 Header photo by Raissa Lara Lutolf Fasel (courtesy of Unsplash)