It's part of our remit at the Arb to try and do things a little differently, to seek out the lesser known, to find the niche. Sure, we keep it premium (we are discerning cognoscenti, after all), but there is also that flair for adventure, for discovery, for just as easily getting into scrapes as being able to get out of them. Metaphorically, of course. Think John Buchan's gentleman adventurer, Richard Hannay, Lady Hestor Stanhope or Gertrude Bell.
It's a tenuous link but when it came to exploring Dry January – ahem, an oxymoron if ever there was – we applied much the same principles. There's been a surge of non-alcohol drinks and spirits that have come alive in the last few years (our 'sober' Christmas drinks guide is testament to that), with pioneers such as Seedlip going great guns. What began as a means of finding a spirit that you could 'drink when you're not drinking' – no more shall a lime soda or orange juice and lemonade for the designated driver suffice – has turned into a mocktail revolution (Seedlip's 'Nogroni' is almost undiscernible from the real thing), and the bandwagon has just started rolling it seems with various alcohol-free takes on all the classic cocktails, and more to boot. Their new Grove Picante, released in December, rides the wave of the latest cocktail du jour, the picante, created in conjunction with mixologists at the Lockdown Liquor Company – themselves now getting in on the non-alc act it seems.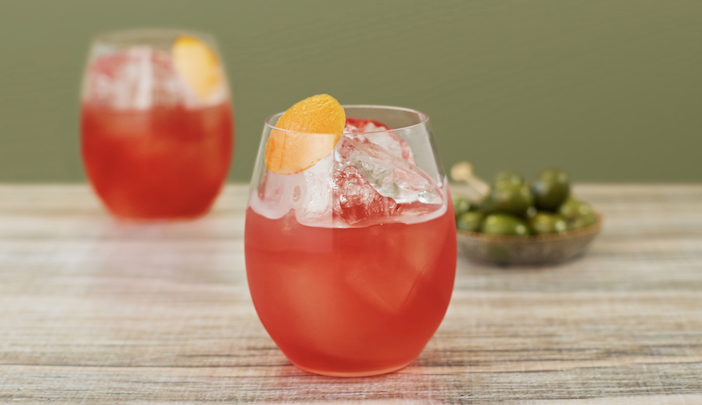 As this new 'gin' revolution gathers momentum, fuelled largely by botanicals (though there are interesting takes on tequila, spritzes and even wine coming into play), enter stage left one we never even considered – yet makes perfect sense, particularly in these challenging and stressful times.
Maria & Craig's is a new non-alcoholic spirit distilled with juniper, sage, camomile and orange blossom – all the hallmarks of a good gin, you may think – but this one is blended with premium broad spectrum CBD. Known to relieve anxiety, as well as bringing other medicinal benefits, CBD (or cannabidiol, to give its full name) is the derivative of hemp, or cannabis – don't be alarmed, it is the non-toxic kind.
But why CBD in a drink? Well, given the considerable anxiety society feels at the moment, it's a nod to why we might have a drink in the first place, only this time we get the benefits of unwinding without alcohol's side effects. In its original form, CBD too, has a distinctively astringent taste, perfectly complimenting the aromas and flavours in a good craft gin, even going so far as to offer a more complex and sophisticated flavour profile.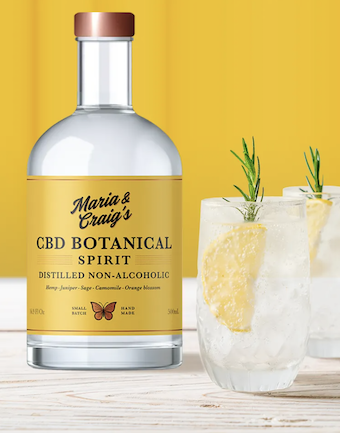 It's no happy accident either; Maria & Craig's distilled non-alcoholic CBD Botanical Spirit (not the catchiest name, admittedly) hails from the husband and wife team who created Ceder's 'Alt-Gin' and Celtic Soul, their distilled non-alcoholic dark spirit. And this provenance, too, comes from experience. The couple met while working on Absolut Vodka in Sweden, so both are well versed in the adult drinks industry. The motivation came in 2016, when Craig joined Maria in not drinking alcohol while she was pregnant with their first child. It was then that they noticed the limiting options available to adults who were not able or wanting to drink alcohol – and they decided to do something about it, creating their first non-alcohol take on gin, Ceder's 'Alt-Gin'. CBD Botanical spirit seems like a natural evolution to that earlier incarnation, establishing, as Maria puts it, "the unique relation between plants, people and experience."
Handcrafted in small batches, beautifully encased in a Don Papa shaped bottle adorned with their butterfly emblem – a visual portrayal of their love for nature and conscious living – Maria and Craig's is best paired with premium tonic and garnished with fresh orange peel, just like a classic G&T, and reminding us of the importance of taking the time to unwind and enjoy the small pleasures life has to offer, whatever it may be throwing at us.
Maria & Craig's premium non-alcoholic CBD Botanical Spirit is available from maria-and-craigs.com, priced at £22.99 for 500ml.
For more information about Seedlip, including their extensive and astonishing variety of cocktails, please visit www.seedlipdrinks.com.