Aah, summer's finally arrived. After a stuttering start with a two-day heat-wave a few weeks ago, we now have sure-fire signs the weather's here to stay. Shorts have come out revealing pasty legs that haven't seen daylight in nine months, it becomes an excuse to wear shades indoors, and everyone starts drinking rosé like it's going out of fashion. More importantly, you know summer's here when Wimbledon starts.
It's lining up to be a good year, too. In the lottery of which seeds will take a tumble in the first round there've been a few surprises, the big guns are all angling to make history, and we're already seeing hissy fits and hijinx on and off the court.
Among the many places you might watch the action, there's one that surely must be up there – quite literally – in stature, appeal and downright dashing sophistication; the terrace on the Selfridges' rooftop.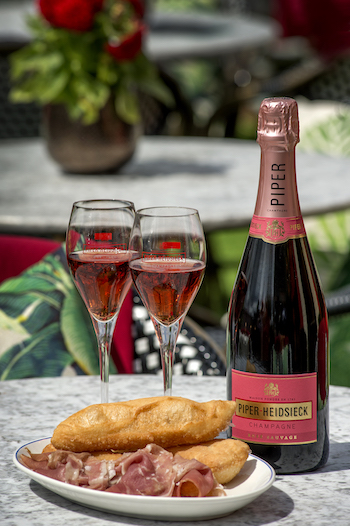 And this year it's been taken over by princely cork-poppers and favourite tipple of Marilyn Monroe, Piper-Heidsieck. Creating an opulent champagne garden, complete with a lush foliage wall and planters bursting with blooms, guests can relax on terrace sofas or in private huts, sip ice cold Piper and take in the latest from SW19 on a dedicated 8ft screen, all to a backdrop of the London skyline.
More importantly, Piper's offering their own take on the vogue for quaffing pink with their Rosé Sauvage. Bolder than their normal bubbles, with intense berry and spice flavours, it's an ideal companion to the exclusive serves, not only from the courts, but from Alto by San Carlo, the store's rooftop Italian restaurant.
And there's more. Once the action's over and the sun's dipped behind the rooftops, Selfridge's are offering an exclusive barbecue set with Piper's new bubbles, for those wishing to continue the experience at home. With a classic barrel construction finished in shimmering chrome, the barbecue grill can also double as a champagne ice bucket, catering for all our al fresco summer needs.
That's definitely game, set and match from Piper-Heidsieck and Selfridges this summer!
Selfridge's Piper-Heidsieck Champagne Garden is open now through to 4th August. Access is available via the dedicated express lift in Selfridges' Fragrance Hall. Piper's BBQ gift set is available from the store, priced at £120.