With foreign travel restrictions a continuing thorn in every vagabond's side, one unexpected boon of recent times is that many of us have managed to explore our native terra a little more intimately than might have been the case otherwise. Back in June, on the sunniest week we appear to have seen for some time, my own adventures took a leafy green view, as I ventured south towards the coast, exploring pretty Sussex on my way.
My first stop was at a tiny winery, owned by a friend who now also runs glamping style staycations on the weekends for thirsty travellers on the 0.7 hectare vineyard site that he tends with his wife. Here they make wine from classic English varieties such as Dornfelder, Bacchus and Ortega, as well as the three grape varieties that go into making Champagne, as the French might tell you. The difference is that this trio – Chardonnay, Pinot Noir and Pinot Meunier, are grown here on the border of our very own East Sussex.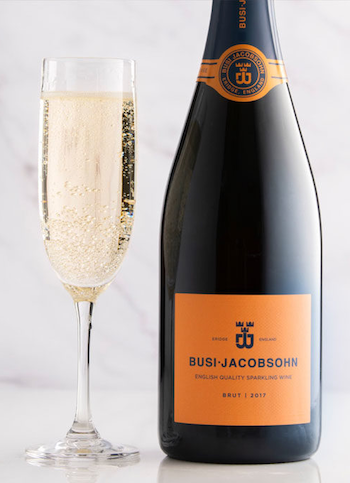 Could Sussex become the focal U.K wine country destination? Already there are multiple brown road signs complete with grape symbols that signal nearby wineries from here. As you turn out of the Downsview gates and onto tractor-heavy country lanes, you'll find no less than eight other wineries in the nearby vicinity, each proffering their wares – some open by appointment only. 'Off the line', run by vinously inspired ladies Kristina Studzinski and Ann-Marie Tynan, and 'Busi Jacobsohn', a winery with Swedish-Italian family roots, are perhaps two of the more well known of these smaller operations. Beyond, more prominent winery names in Sussex as a whole include Ridgeview, set at the foot of the stunning Sussex Downs, and Bolney Wine Estate, while the village of 'Vines Cross' isn't too far away – signalling the fact that this industry is nothing new here, perhaps it now just has a brighter light being shone on it.
From East Sussex my explorations took me towards the coast. To Eastbourne, for the very first time. Eastbourne is said to be the U.K's sunniest spot, and perhaps for such reason its average house price has recently jumped well over the stamp duty bracket last year as many of us look to move outside of our more urban environments to both live, and work. I was meeting a friend to walk the Seven Sisters, a stunning stretch of coastline that takes you from Seaford beach, over the cliffs and through the South Downs National Park, to Meads village in Eastbourne town.
As we journey in a taxi to our starting point, crossing roads that would make any Top Gear fan salivate over imaginary top-down drone shots of our route, our driver tells us that in recent years, one of reasons they've seen a spike in tourism here is because Microsoft Windows 7 was loaded with background landscape wallpaper that depicts the Birling Gap view. We cross it again a few hours later and can see exactly why.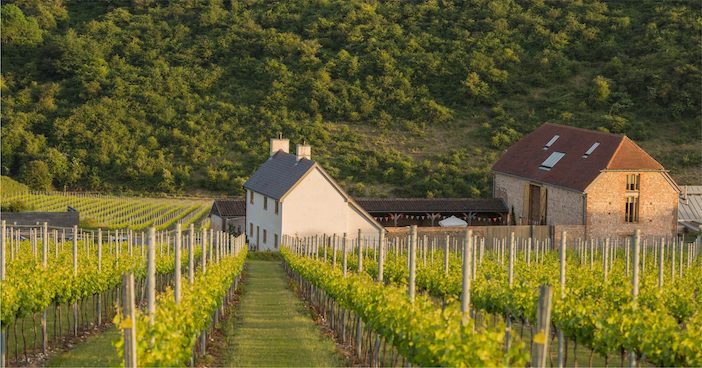 Our starting point however, is not just where actively minded individuals begin their journey on the coast – highly active vines grow here too. Seaford is also home to the Rathfinny Estate – another prestigious Sussex Winery. From being established in 2010, to today, the winery and cellar door has undergone extensive development to make it into the mecca that it has become today. The RIBA-nominated winery is the largest and greenest purpose-built winery in the UK, self-sufficient in both energy and water. It sits on a south-facing slope, perfect for catching the south-coast sunshine that ensures its grapes ripen evenly. The chalk soil – mirroring that of the cliffs, as is also found in Champagne, provides the perfect basis on which such award winning wines can be grown.
Until the end of this month, Londoners can now enjoy a glass (or three) of Sussex sparkling in the city's most colourful of surrounds. Until the 26th August, Rathfinny is taking over the The Refuel Terrace at The Soho Hotel, (following an English Wine Week residency at the Bloomsbury Hotel's Coral Room bar). On trial alongside small plates and an aperitivo style British cocktail list, Rathfinny is offering glasses of their Classic Cuvée, Blanc de Noirs and their Rosé.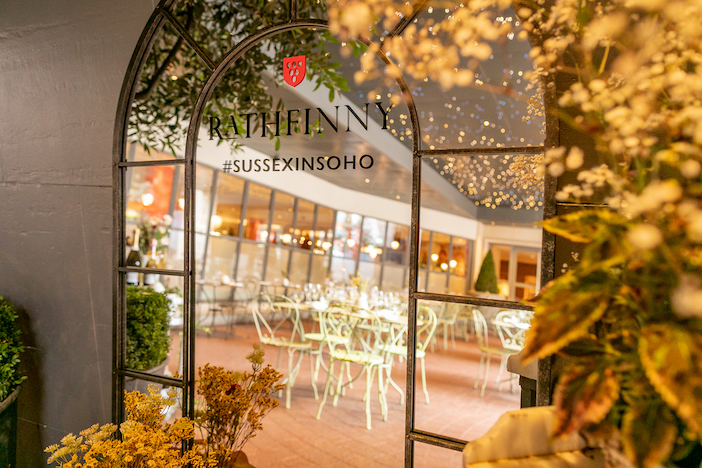 Two tutored tastings and a four course dinner are being hosted on the evenings of the 10th and 18th August, in the company of the owners themselves Mark and Sarah Driver. On these two nights you can sample these delicious wines made by renowned winemaker Jonathan Médard who hails from Champagne's Épernay, and Cameron Roucher from New Zealand, who manages the Estate.
If you can't make the dinners and are simply visiting for the terrace, then I'd recommend sampling the following:
Marinated Nutbornue nursery heirloom cherry tomatoes with whipped goats curd and sourdough crumb – deliciously paired with the long-aged zesty, alive and bright, Rathfinny Classic Cuvée 2017 – heroing the bright fruit flavour of the tomatoes, the creaminess of the cheese, and the toasty elements of the sourdough.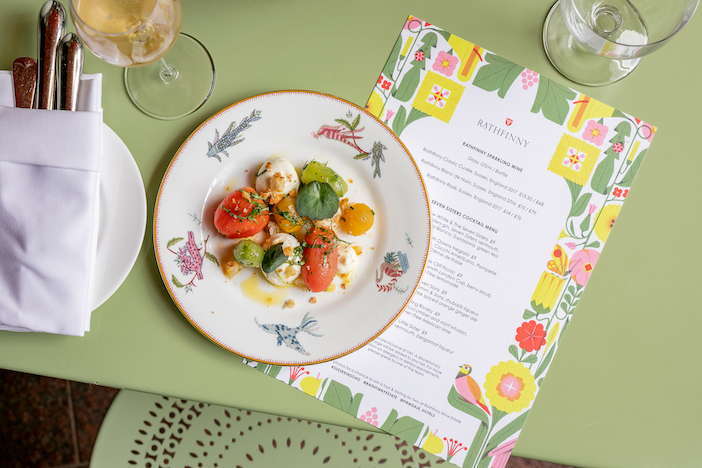 Special reserve mangalitsa ham, roasted peaches and thyme – works beautifully with the Rathfnny Rosé 2017, drawing out the bright red fruit flavours of the Pinot Noir and Pinot Meunier here – with a touch of earthiness, echoed in the flesh of the peach, and given depth of flavour from being aged on lees for 24months.
Grilled lamb fillets with rosemary, black garlic glace, apple and tarragon relish – brilliant with the Rathfinny Blanc de Noirs 2016 – a graceful, slightly more serious match to such a dish that highlights the darker fruit in this excellent English Sparkling.
For now I'll cheers to that, with happy memories of our 17km hike, and a chance to revisit these stunning surrounds, through the bubbles in our glasses.
The Rathfinny pop up on the terrace at The Soho Hotel runs until Thursday 26th August. For tickets and more information on the evenings as well as the tutored dinners, please visit www.firmdalehotels.com.