Outsize ants crawl over crazy paving at the Klinec homestead's terrace. The vista in their midst – Medana's vineyards a few miles from Friuli – may matter little aesthetically to the insect society (at least compared to the pleasure of eating the plants). But the gnarled, native varieties bring the rolling valley a profound depth of colour and texture, and are the lifeblood of winemakers such as cook and art collector Aleks Klinec.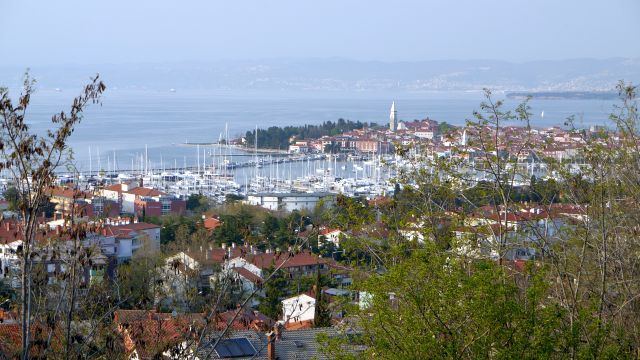 The Rayban-wearing, Vespa-riding, bearded fanatic of Che Guevara caught a flash of spring sun while picking bitter asparagus for tonight's feast of kid goat. This he cooks over embers on an antique stove for four hours. But now, his brother, who maintains remarkably sharp sideburns, slices positively fatty garlic and wine-spiked salami, patiently cured in darkness. Aleks uncorks hazily-unfiltered 'Jakot' to accompany. Spelling Tokaj backwards, the turnaround label couthly circumnavigates a divisive EU law which only allows Hungary to use that variety's moniker.
A short stroll up, down and up a curvy road which cyclists in Lycra swiftly sweep takes me to Aleks's donkeys, Tarzan and Barbie, who chew the cud. Despite their idle bearing, the pair are prime contributors to the partly desiccated embankment of vineyard-enriching manure, which also features grape and olive pomace. Along with anti-ant agent, algae, it helps keep tending of naturally-inclined vineyards chemical-free. While marketers might call the mass, "black gold", Klinec, sifting it with bare hands, prefers to refer to it as his "forest".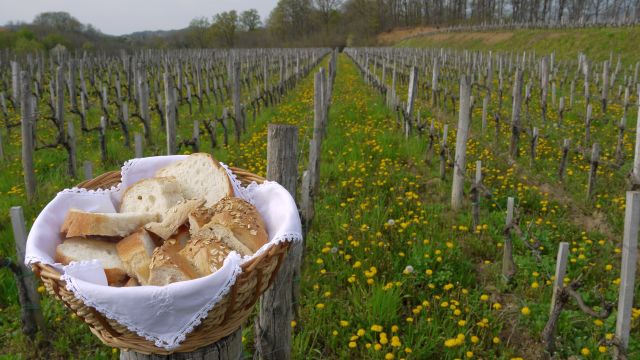 A rolling show of art which garners attention, but is most likely rarely seen by the public, coats Klinec's pinkish barrel room. This includes a wax clasp of hands delving escape through canvas. The most pulsating wines, matured in big-barrel acacia, are red, while whites (or often, orange wines) may polarise drinkers used to a more modern-seeming, clean taste and limpidity. Regardless, Aleks's intention to recapture a world before intervention of manufactured chemicals (fertilisers, insecticides and significant added sulphur) is a charming and reasoned attitude.
Before dinner, an odd excursion ensues, possibly included in the itinerary as a means of illustrating life's cycle. Beyond an electric fence in a shack in an open field, a four hour-old kid (not, for a while, destined for the pot) trembles as it exhales its first plaintive bleats. It is kept company by some 34 female goats that are in turn kept company by just one chap goat. The latter is deemed "lucky". Down a track beside a waterfall, more goats – teenagers – queue for milking at farm, Kovač. The smallholder's logo is a grazing goat gazing at the moon. The water here has become a babbling brook. Although not historically a cheese region, an assiette of six versions, washed down with two week-old full, fermented, pétillant 'White Champagne', 'Kumis', proves a fine effort, even enjoyable for a non-goat lover.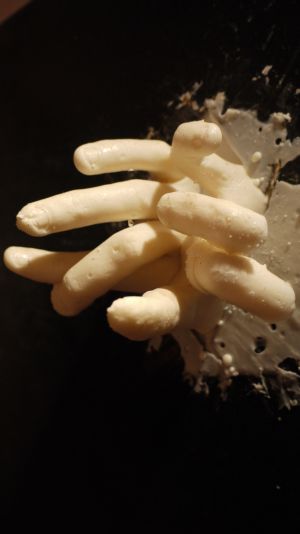 Luddite producers do not exchange business cards; instead they virtually lift their guests with iron handshakes, including Janko Štekar at Brda. Best seen from the balcony of his family's pretty guest house are his vines which sprout steep slopes. There is also a naturally-cleansed swimming pool on-site.
Half an hour's always exciting drive away, given the photographer-cum-chauffeur's spirited approach to steering his much-hated German hire vehicle, a tasting of lush grass-scented, peppery, near waxy Belica olive oil occurs. The setting is an enthusiastically restored village close to enthusiastically-restored 17th century castle, Dobrovo. On the palate, it ultimately explodes with healthy richness, and is well-chased by sweet cherry schnapps.
Klement, of wine producer Mlečnik, comes to life while showing a painfully wrought-looking bronze monument in Gonjače dedicated to the 315 people of Brda who died in WWII. Beside it, slapped with winds, is a winding, 23 metre sheer lookout tower which looks towards the Dolomites. "We live with that memory," says Klement of the region's stern history, although he notes that his generation (he was born in July 1989) is getting on better with the country's neighbours. A local guide sees not suffering, however, but challenge. He mentions the curious local sport of scaling the tower's 144 steps – outside of the safety railing. Due to the illegality of such a pastime, he is cagey when considering admitting to having done it too.
Despite the fact Klement and father Valter grow vines and spelt in the shadow of the lettering, 'TITO', still printed (and maintained by elders) on the Vipava Valley, their efforts, since reclaiming their land from the state in the mid 1980s, are hard made. Fringing their vines are cherry trees in blossom, while wild garlic and herbs add to the beautiful and aromatic poly-culture. In their small, rustic winery, Valter keenly demonstrates his much-loved, pre-1900 basket press, while wife Innes dispenses smoky stew "snack" of farro risotto ("farrotto").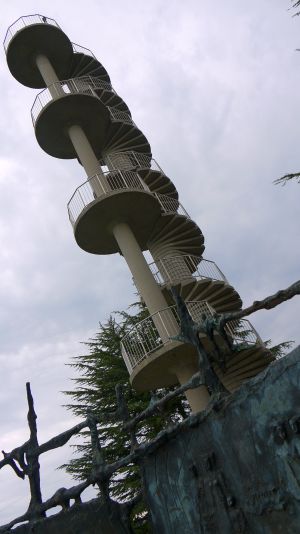 Despite having been on more wine-themed press trips than my doctor would wish me, the next stop provides my first taste of what vines can do, while clinking glasses amid them. 30-year-old winemaker Miha Batic cares about fashion – but only when it comes to his sharp, dark clothes. When it comes to wine, however, Miha mentions his father Ivan prevented him from wine's formal study because it could have messed-up his judgement. A philosopher of sorts, he regularly drops what might well be clichés, eg. "Wine is a gift from the sky."
Accessed, theme park-like via a pay-per-exit barrier, Piran, in Slovenian Istria is piled, decoratively, around a little of the country's 42kms of coast. The athletic introduction to the annual "Days of Salt" festival may be seen and heard from only hotel, Tartini's partly real-grass floored, roof-top terrace. At the calmer salt planes, an ornithologist guide explains their 9th century roots. He mentions how shallow plains flanked by sea lavender are visited by Kentish Plover and dragonflies – an eco-ethos echoed in the promotional film which celebrates how the combination of fauna, flora and fleurs du sel "demonstrates how man can co-exist with nature – in Saltina you are never alone…"
At crisply-decorated restaurant Rizibizi, excellent sea bass from a source which once supplied our Queen, is steamed in a clear bag. It is raised and harvested by glamorous molecular biologist-turned-fish farmer Irena Fonda and her Biology BA-holding brother Lean. Floating on a flat-bottomed craft beside one of four of their deep nets, where flashes of silver rise to the feed, Irena explains how it takes four to five years for such a "vicious predator" bass to grow to a satisfyingly edible size. "Are you a mermaid," another writer asks of her. "No, they're awful creatures," she responds, seemingly seriously.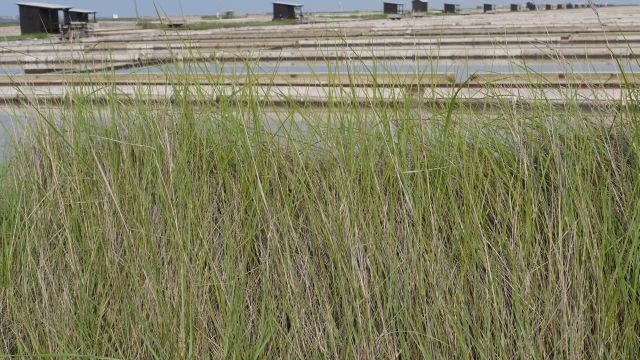 A tasting of smoked sea bass rillette on crostini, fat-free tense sashimi and whole roast bass ensues at a pine-shaded trestle table by the sea. Irena even effects a good degree of glamour while holding a fish so sparkling it is board-stiff with rigamortis. She also mentions the horrifying trick "some retailers use" of "adding eye drops" to fake freshness. Mussels in Malvasia wine by producer Klabjan ensue, their beards in-tact to prevent them "torture", says Irena.
For such a small part of a small country (similar in scale to Wales), Slovenia has proved home to a surprising swell of artisans. At 'RAW' London (19-20 May) you too can taste its wares, and that of many other wine producing countries. The independent fair is curated by France's only female Master of Wine, Isabelle Legeron. In her words, it is a celebration of over 1,000 "wines with emotion…"
£20 advance tickets. For more information, visit www.rawfair.com
[wzslider]