April 12th  – a day that will live in infamy, to coin a phrase, if it hasn't already been etched in our minds as well as our diaries, as we were told we are finally set free to drink and dine, albeit al fresco. Let joy be unconfined. So, in spite of the sudden onset of winter once more, and by virtue of the true meaning of 'alfresco'*, we've rounded-up some of the more sought after heated terraces in London, away from the West End crowds, from purveyors of fine hospitality Drake & Morgan…
The Happenstance, St Paul's
The Happenstance, in the heart of the City on Paternoster Square, is home to a beautiful all-weather terrace overlooking London's most iconic landmark. It's a sanctuary of a different kind to its ecclesiastical neighbour, however, but just as soul-satisfying as the perfect spot to catch up with friends, sip on signature cocktails and enjoy an array of moreish dishes from sharing boards, to fresh salads and fully-loaded burgers. Open Wednesday – Sunday, 11am-11pm. 10 Paternoster Square, EC4M 7DX. For bookings, call 020 7618 9520 or visit the website.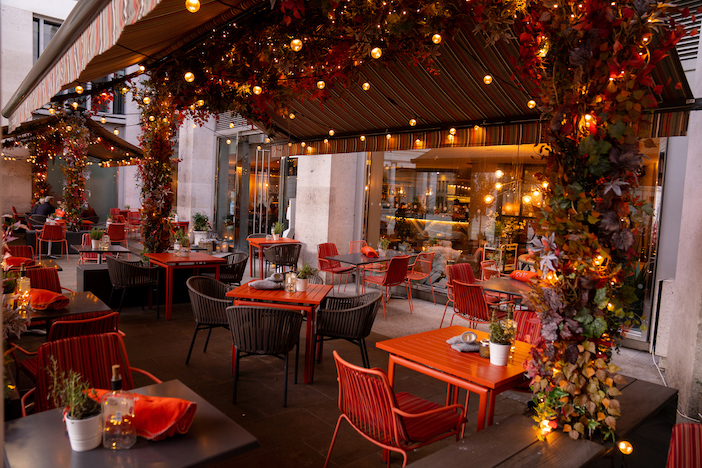 The Sipping Room, West India Quay
If you're inclined to remove yourself from the concrete jungle, and crave something riverside, you might venture east to The Sipping Room's expansive Thames-side terrace. Creative cocktails from the dedicated outdoor bar are synonymous with a good night out, such as the, err, Good Night Out; a refreshing mix of Tanqueray 10 gin, Crème de Mure, lemon, champagne and a gold shimmer. Or why not try the London Spritz, a refreshing burst of Tanqueray gin, cucumber, elderflower, apple, sprigs of mint and lashings of soda, perfect for a spring evening. Cosy blankets and hot water bottles are also available for those particularly chilly nights.  Open Wednesday – Sunday,11am-11pm. West India Quay, 16 Hertsmere Rd, Canary Wharf E14 4AX. To book, call 020 3907 0320 or visit www.thesippingroom.co.uk.
Drake & Morgan King's Cross
Perched on Pancras Square, a few moments from King's Cross and St. Pancras stations, this central London bar and restaurant boasts an extensive all-weather terrace alongside seasonal menus, tempting cocktails and fine wines. The perfect pit-stop after an afternoon of shopping at Coal Drops Yard or to grab a bite while you wait for your train. Open Tuesday – Sunday, 11am – 11pm. 6 Pancras Road, Kings Cross N1C 4AG. To book, call 020 3826 4870 or visit the website.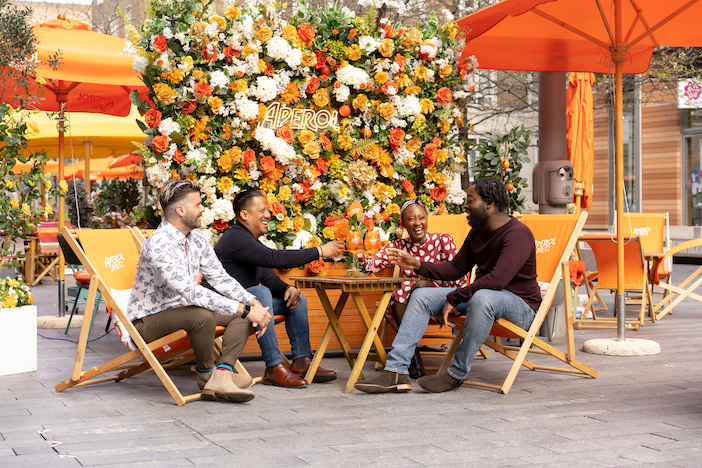 The Refinery Bankside
Located on Southwark Street, in the heart of London's Bankside, the capital's new media Bohemia, and just behind the Tate Modern, The Refinery's the spot if you've been tramping Borough Market of a morning, or taking a riverside stroll on the South Bank. Their terrace is usually spruced with foliage and offers deck chair seating for that park-in-the-concrete-jungle feel, where you can enjoy everything from an early morning coffee and breakfast through to dinner and late night cocktails. Open Wednesday – Sunday, 11am – 11pm. 110 Southwark St SE1 OTF. To book, call 020 7921 2920 or visit the website.
Devonshire Terrace
Moments from Liverpool Street Station, Devonshire Terrace is the perfect escape from the hustle and bustle of City life. Drink and dine alfresco on the sophisticated yet welcoming terrace, and no need to battle the elements here, Devonshire Terrace as a beautiful glass domed roof for cover. The perfect spot to enjoy a glass of wine, leisurely lunch or swift brunch. Open Wednesday – Saturday, 11am – 11pm. Devonshire Terrace, Spitalfields EC2M 4WY. Call 020 7256 3233 or visit the website to book.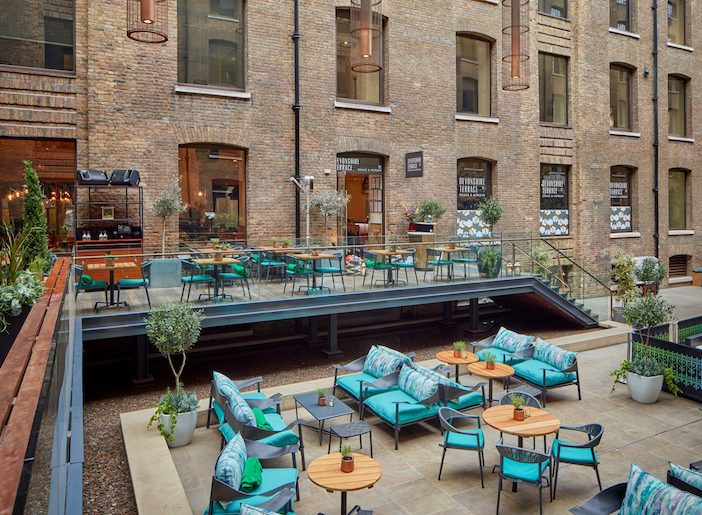 The Parlour
Located in the Park Pavilion on Canada Square, a stone's throw from Canary Wharf station, The Parlour is a gorgeous bar and restaurant perfect for all-day drinking, dining and unwinding. Its stunning alfresco terrace, complete with its own bar and overlooking Canada Square Park, is the ideal location to enjoy an afternoon with friends or people-watching, over good food, fine wine and creative cocktails. Open Tuesday – Sunday, 11am – 11pm. The Park Pavilion, 40 Canada Square Park E14 5FW. Call 020 7715 9551 to book, or visit the website.
*'Al fresco' translates literally to 'in the chill' – rather fitting for the time year, eh?