I'm standing in front of Roseate House and wondering why I've never heard of it before.
Less than two minutes from Paddington station, it sits on the majestic tree-lined avenue of Westbourne Terrace, that fashionable promenade of Victorian London at the top of Hyde Park. Then again, if you're not looking for it, you could easily miss it; one of a line of the four-storey stucco Italianate houses tucked behind its own private driveway from the main road.
It's this understated grandeur that makes it appealing, like something that only those 'in the know' might be familiar with, so I'm doubly surprised when I learn it's spread across three of these Grade-II listed townhouses and makes up a 48-room opulent auberge, its interior possessing beautiful classic Victorian furniture and original oils curated by none other than the Antiques Roadshow's Jonty Hearnden. This is not entering a hotel, this is a personal invite into a Victorian luminary's private residence. Indeed, Oscar Wilde is known to have frequented St James's Church, which it overlooks. And, as I cross the threshold, I'm in my element.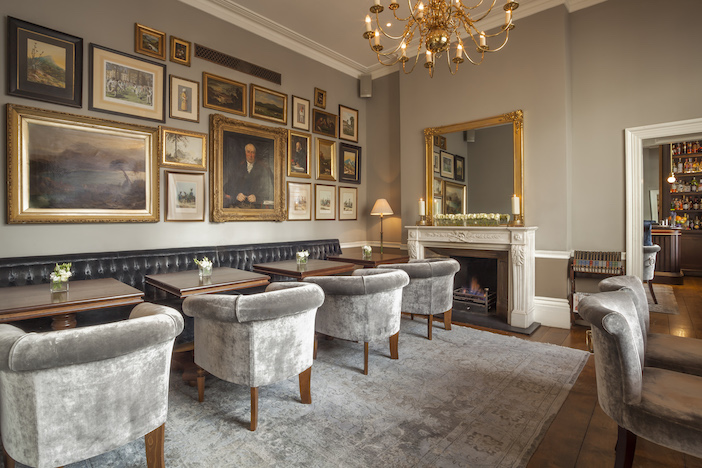 It's through its innocuous doors that I've come to experience a new Whisky Club at the hotel's Hyde Bar. Nestled in grey velvet lounge chairs, delicately muted decor, original wooden flooring and a range of salon-hung portraiture, it is, in a word, a sanctum; a small salon, seating no more than a score, and were I to stop breathing all I'd hear is the clock ticking on the mantle. I could happily spend an hour here, time away from the bustle beyond its doors, read the paper cover-to-cover and enjoy one of its pre-prohibition era whiskies.
In fact, so avid a collector is this bar of rare and sought-after liquors, tracked down through private collections and exclusive auctions – with many a story to tell for each bottle, I'm sure – that it's something of wonder they've decided to offer them up in the shape of a Whisky Club, but one that is neither exclusive, requires no membership, nor indeed, is club-like. It is, simply, an opportunity for the enthusiast to sample something they might otherwise never have the chance to, through events, classes, and private tastings.
For my part, I had the pleasure of enjoying a flight through Dalmore, hosted by the distillery's Global Brand Ambassador, Daryl Haldane. With a captivating blend of humour and insight, I and my small band of single malt aficionados were guided through the processes and often unusual distillation regimes behind this peerless distillery and its collection.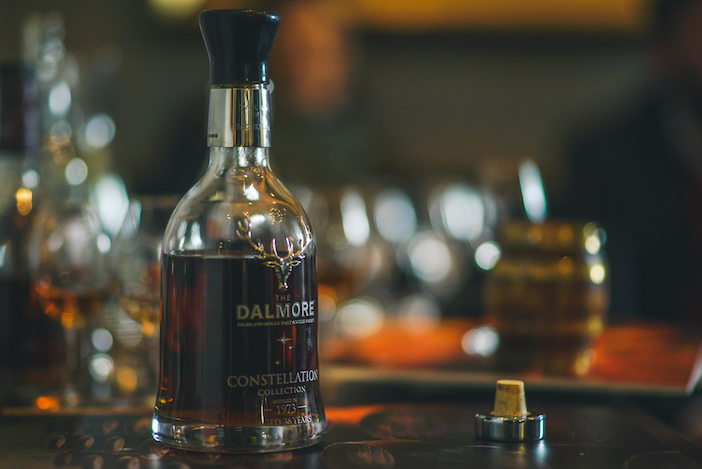 It was a rare opportunity to sample Dalmore's exceptional drams, paired with canapes and charcuterie that complimented the whiskies' taste profiles. A warm-up through the 15 and 25 year-olds, we nurtured the exceptional 'Quintessence', the bourbon and wine-cask matured opus of master distiller Richard Paterson's 50thyear in the industry, sipped the punchy £3600-a-bottle 'Constellation' expression, and even tried a surprise, yet-to-be-bottled new release from the Alness distillery.
The club's inaugural experience, if this was a taste of what's on offer, then this could well become a go-to for exceptional evenings to come. With promise of gin dinners and masterclasses with afternoon tea, cognac and cigar pairings, not to mention more exclusive tastings. But, here, 'exclusive' doesn't mean exclusivity. Sure, if you're a primed connoisseur, there are the £2000-a-head events, but there are, too, introductory offerings for £30.
This enclave in Paddington, then, manages that rare thing often lacking from clubs; it's a club that's not a club – it manages to be all things to all.
The Hyde Bar Club (available to guests and non-guests) will be offering a series of events through to November 2019.
These will be for between 12 and 24 guests and promise to be incredibly informative and fascinating. The cost per person to attend these events will range from between £30 to £2000, so there really is something for everyone.
For more information, and for bookings, visit www.roseatehotels.com.