In the absence of inspiration – or perhaps too much – filmmaker Simon Rumley simply seeks a good bar for a decent drink, done well; no latest, hottest or must sees, no pretensions, trends or gimmicks. Sounds like a long shot…
London's been very active over the years; it's swung, it's pogoed, it's raved, it's rocked, it's rolled, it's yawned, it's masked up and it's fled but as the times continue to change, it's hard to say what it's doing these days. Pouting in the mirror? Taking a selfie? Cleaning spinach from its teeth before pouting in the mirror and taking a selfie?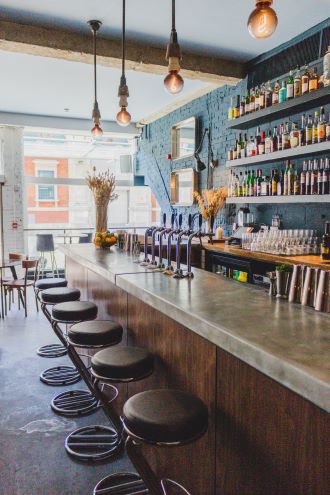 In spite of the pandemic, global warming and the increasing cost of living crisis, the London restaurant scene seems intent on constantly out-blinging itself to the point that much one-upmanship seems crass and outdated, the concept of luxury trimmings, tone-deaf, the often exorbitant prices for average food is just not really worth the effort of stepping out on an evening. Until now. 
Immediately in The Long Lane's favour is its location, therefore. Neither Mayfair nor Soho, neither the West End nor the East End, but somewhere in between. A space which isn't over-run by suits, tourists, media, Love Island or hipster types. One of the few spaces in London that isn't over-run by anyone, in fact; Smithfield. The width of the streets, the lack of polluting traffic, the oblique charm of the nearby meat market all suggest an experience which takes the best of what London's become but leaves the worst behind. 
This is evident as soon as you step through The Long Lane's impersonal entrance; the industrial chic of a poured concrete floor, the darkly painted exposed brick walls, the succinct bar which possesses sufficient confidence not to over-stock with bottles, the open kitchen which isn't afraid to show where the magic happens. With its hotchpotch of styles, the mixing and matching has probably been designed to feel under-designed but the space feels more authentic for it, more back to basics, more casual, more Berlin.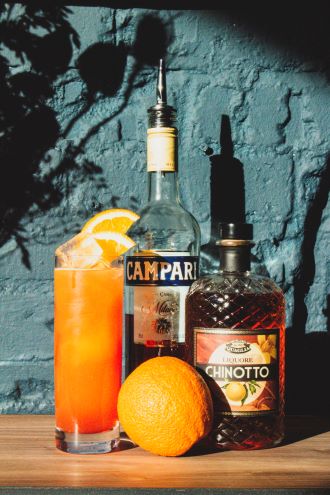 Neither quite a restaurant, nor 'just' a cocktail bar, the ludicrously simple but close to genius hybrid concept comes from the team behind King's Cross's favourite, The Racketeer, which has also designed the exclusive drinks menu. Adonis is perhaps the most intriguing. Consisting of Manzanilla sherry, sweet vermouth and orange bitters, it inhabits the same space as a Negroni but feels more mature, more comforting, with more depth. Black Velvet is a tried and tested novelty drink made up of Guinness and champagne but here is served with crémant and London Porter. It's a curious mix which is served in a petite silver tankard and at about a third of a pint in volume plays its hand well but doesn't out stay its welcome. 
The food – delivered as more casual bar bites rather than full-on restaurant – has been out-sourced to Babel, the same team behind Yeah! Burger. The most obvious item on the menu was the mini Chicken Kiev but this didn't render it any the less delicious. Swimming in garlic butter, with a brandy mayonnaise dip on its underside, it was messy but marvellous.
The Roast pork belly with spiced peanuts, salsa and coriander served in a lettuce cup was one of the standouts with both flavours and textures vying successfully for attention but it was the Toor Dahl naan bread cheddar toastie which really took the, err, biscuit. A witty but delicious fusion of English and Indian cuisine; irresistible, upmarket comfort food. For those in the mood, the desserts were equally extravagant.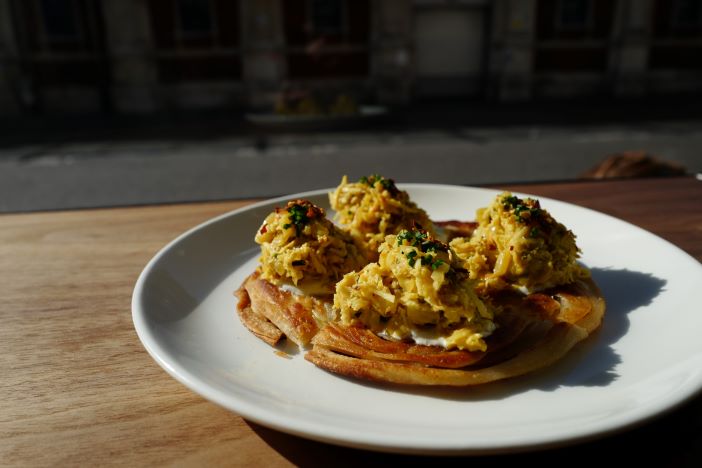 Does London really need a new cocktail bar? Arguably not. Does it need this new cocktail bar cum eatery which eschews much of the stuffier aspects of London's dining scene whilst offering a seemingly effortless epicurean experience? Quite possibly, yes. The Long Lane is the ideal destination venue for open-minded adventurers who want to have their Burnt Basque cheesecake and eat it. 
The Long Lane, 50-52 Long Lane, London EC1A 9EJ. For more information, and reservations, please visit www.thelonglane.co.uk.