If you love a bit of history with some cocktails thrown in, then The Churchill Hotel, just off Portman Square, is the place to be. Having transformed its terrace into a winter wonderland, complete with luxe fur rugs, vintage sleighs to put your drinks on, and warming heaters overhead, the terrace is the perfect spot for transporting yourself from the hustle and bustle of London's streets to a calming place reminiscent of a chic mountain-top resort.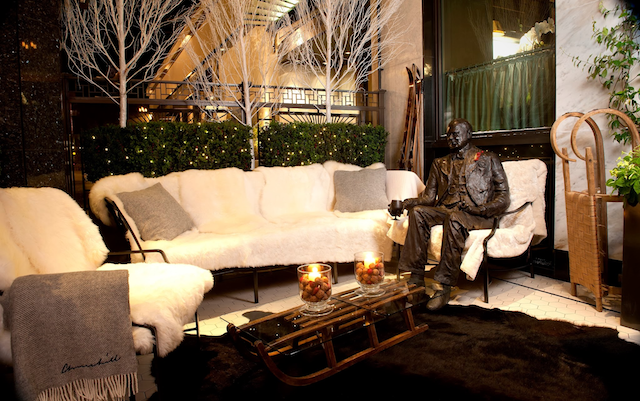 While you sit among snow-decorated trees and twinkling lights, hot cocktails tempt you, created especially to mark the terrace's launch, made with seasonal ingredients and the finest spirits. The special menu includes The Cherry Flip, Speyside Snood, Churchillian Chestnut and my chosen tipple for the evening – Winston's Nightcap – a hot buttered rum and vanilla concoction garnished with a pinstriped gingerbread man.
For those tee-totallers, there is also a tasty 'hot chocolate three-ways' with edible snowballs, so you can still enjoy the outdoorsy experience.
Gingerbread men and snowballs however aren't the only nibbles on offer, the terrace also boasts a light menu to accompany your cocktails, including scotch eggs and mini steak tartare, and of course, Christmas mince pies.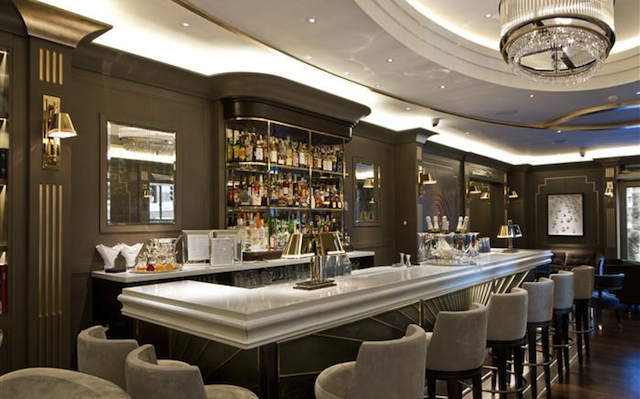 Now for the history bit – the overall design of the Churchill Bar & Terrace was of course inspired by the late statesman, writer, orator and former British Prime Minister, Sir Winston Churchill, and its aesthetic references many aspects of his life and loves, from his wife Clementine to his passion for painting.
The bar's terrace also features a specially commissioned life-size bronze of a young Churchill entitled 'In Conversation', cast by renowned sculptor Lawrence Holofcener – the bronze is decorated with a sprig of holly in his lapel, especially for the Winter Terrace.
The Churchill Bar & Terrace at the Hyatt Regency London, 30 Portman Square, W1, until Feb 2014. For more information, visit the website.
And for a real insight into the bar and it's inspiration from the great man, watch our little film on Arb-TV…
httpv://www.youtube.com/watch?v=FM3ccODFC_I