There has been a welcome trend for luxury London hotels opening patisserie shops in recent years, with Hotel Café Royal's Cake and Bubbles led by three Michelin-starred chef Albert Adrià, The Connaught Patisserie and Claridge's ArtSpace Café last month, so I was eager to experience The Dorchester's new concept boutique celebrating life's greatest pleasures and offering guests the opportunity to pick up a souvenir handcrafted by masters in their field.
Small but perfectly formed, the impossibly glamorous Cake & Flowers is more than your wildest dreams could conjure up. Located on Deanery Street, adjacent to The Dorchester's historic main entrance which first welcomed the great and the good in 1931 and has recently reopened following the first major refurbishment of the hotel in thirty years, including the dazzlingly redesigned Promenade and the new concept Vesper Bar, the unveiling of Cake & Flowers could be said to be the icing on the cake (it is if you're a dessert and flower lover like me), showcasing two of The Dorchester's leading creative talents, in-house designer florist Philip Hammond and Executive Pastry Chef Michael Kwan and offering guests a slice of magic to take away.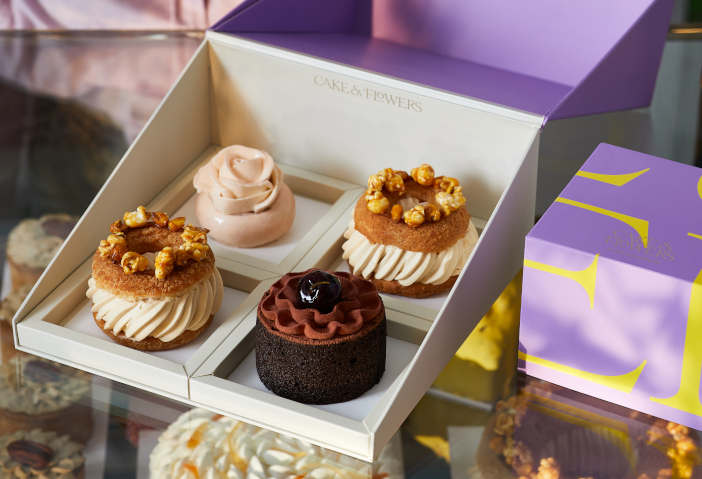 With gilded interiors by Paris-based designer Pierre-Yves Rochon the light-filled boutique conjures up an atmosphere as enchanting as a haute couture house in Paris, where mirrors, mosaic floors, marble counters and sparkling glass cases set-off the most exquisite patisserie, chocolate, Champagne and blooms, including the signature 'Dorchester Rose'. I felt like a child in a candy store. A very grown-up and sophisticated candy store. Philip Hammond's floral masterpieces have graced and accentuated The Dorchester's interiors since 2010 but have never been available for the public to purchase before now and will have the most discerning floristry lovers queuing around the block for the ultimate hand-tied bouquet.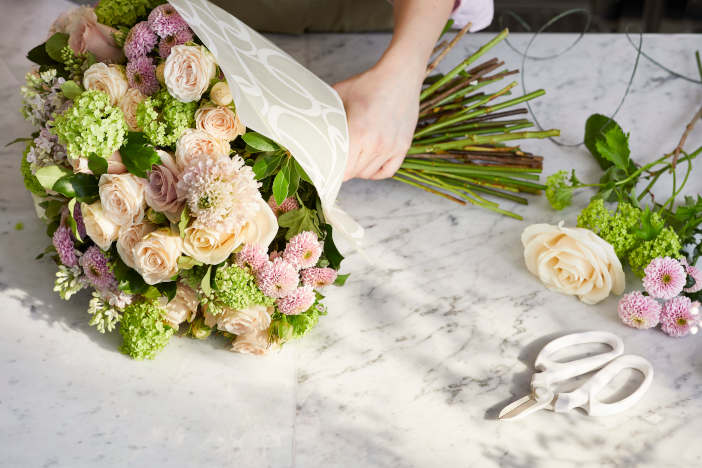 The same goes for the patisserie and luxury chocolate counter, filled with mouth-watering treats by genius Executive Pastry Chef Michael Kwan, who joined The Dorchester in 2022 and leads the 25-strong brigade of chefs and bakers responsible for creating the cakes and patisserie at the hotel, as well as pastries and desserts for weddings, parties and events. Patisserie highlights include the 'Dorchester Rose' cake with rose and jasmine cream, compressed pear and coconut crunch; a 'Blossom Pavlova' with yuzu and bergamot meringue, citrus compote, orange blossom cream and confit citrus, and Michael's signature Tree Cake which will change seasonally but currently features flavours of cherry blossom tea mousse and sour cherry to coincide with spring.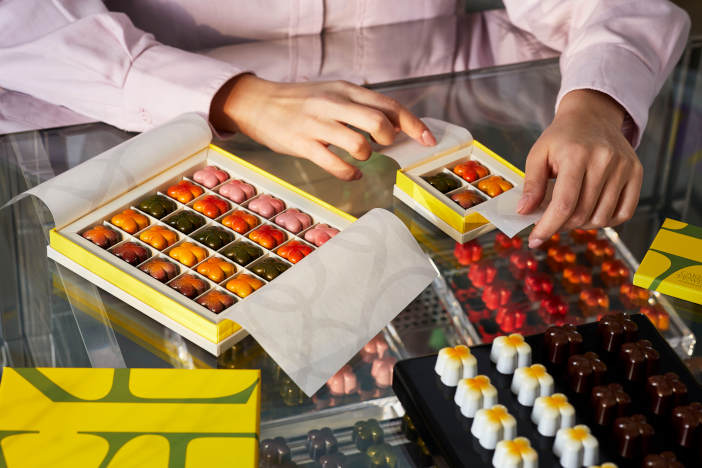 I opted for the extraordinary 'Popcorn Paris-Brest' and could hardly contain my excitement at finding an opportunity to open the chic little box and devour it. With a crisp, light choux and the ideal sweet/salty balance, it was so delicious and satisfying I can't think of choosing anything else, although on a beautiful day I fully intend to expand my selection and enjoy a picnic with a friend in nearby Hyde Park where we shall recline in the sunshine for a moment of sheer indulgence, complete with a chilled bottle of fizz.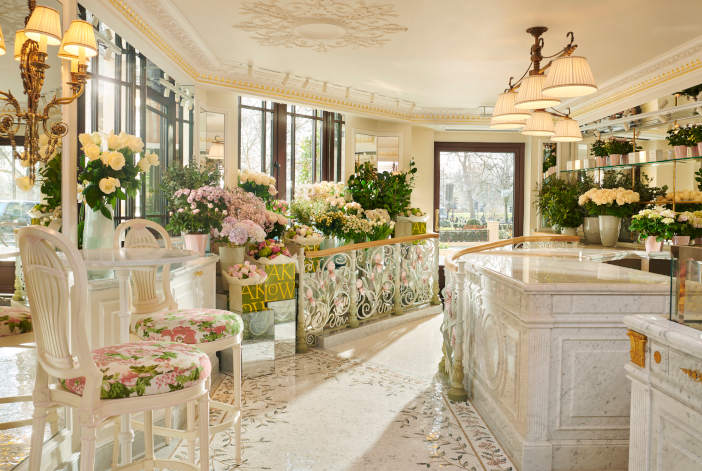 Any customer is bound to frustrate the next in line while they deliberate, but fortunately flowers and patisserie can be pre-ordered for collection if you're in a hurry, while the boutique's products can also be ordered via the website for central London delivery. I was thrilled to find that they also serve premium alcohol free Champagne-alternative, Wild Idol, and that birthday cake candles can be found, along with greeting cards and luxury scented candles. They really have thought of everything and as concept stores go this is one of the most joyful you're ever likely to come across. The only thing you'd like to take away but can't is the store itself.
Cake and Flowers at The Dorchester, 53 Park Ln, London W1K 1QA. Open daily from 10am – 7pm. For more information please visit the website.