After two years and supported by a crew of 60 trained specialists, Cartier have created their first ever short film which pays homage to the legendary jeweller's 165 year history. Directed by Bruno Aveillan and with a musical score by Pierre Adenot, "L'Odyssée de Cartier" beautifully chronicles many of the brand's iconic designs, including the Indian-inspired Tutti Frutti collection and La Panthére, the iconic panther muse which has been the symbol of Cartier since the 1930s under its creative director, Jeanne Toussaint.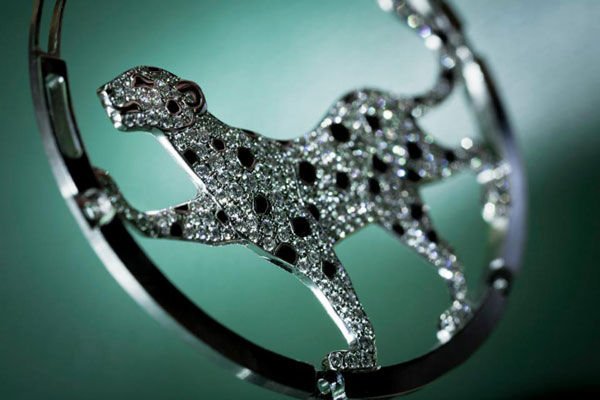 "It's a small leap for film, but a large leap for Cartier," said CEO Emmanuel Perrin. "The panther in the film is the ultimate emblem of Cartier's jewellery expertise and a symbol of strength and freedom. Regal and charming, she is aware of the world around her and follows her instinct with a sharp emerald eye, ready to pounce and enjoy life to the fullest."
The CGI film journeys across Paris, St. Petersburg and Beijing, cleverly fusing visual metaphors such as the panther running through hoops of Trinity rings and the wheels of a horse-drawn carriage transforming into rolling Love bangles. The panther eventually returns to Paris with the help of Alberto Santos-Dumont, the aviation pioneer whom the Cartier Santos wrist watch was named after. As two doors open inside an opulent palace, supermodel Shalom Harlow is revealed, clad in a custom red bustier gown designed by Ecole Nationale des Arts Decoratifs graduate, Yiqing Yin. She's also dripping in Cartier bling, including a 13.4-carat pear-cut solitaire diamond ring, and a one-of-a-kind platinum Panther bracelet with spots and a nose made from onyx and emeralds for eyes.
Watch "L'Odyssée de Cartier" below – it's a beautiful, enchanting and magical tale – a visual feast for the eyes that will leave you dreaming of Caaartieeer…
httpv://www.youtube.com/watch?v=yaBNjTtCxd4