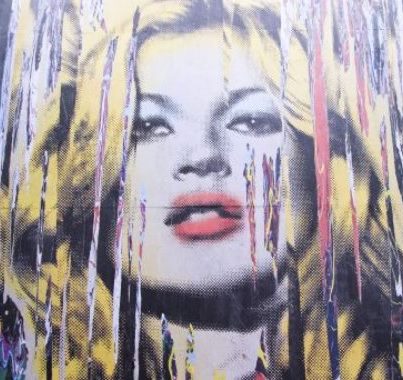 If I say the name Thierry Guetta, you'll probably think one of two things: 1) He's a French footballer or 2) He's related to David Guetta the DJ – and you would be wrong on both counts (although he might be distantly related to David the DJ somewhere down the line, who knows?).
Thierry Guetta is actually better known as Mr Brainwash, the critically acclaimed pop artist and filmmaker hailed as urban artist Banksy's protégé, who first came to our attention following the debut of the controversial documentary 'Exit Through the Giftshop' at the Sundance Film Festival in 2010. The film (by Banksy) tells the story of Guetta's obsession with street art and was nominated for the Best Documentary Feature at the 83rd Academy Awards. To this day there is still debate over where it was more of a 'mockumentary' than being a genuine tale of Guetta's rise to fame as a street artist.
There is no question of his talent being genuine though as the charismatic artist has painted a birthday portrait for LVMH boss Bernard Arnault, created the album artwork for Madonna's 2009 release 'Celebration' and in 2010 he launched the much hyped ICONS exhibition in New York.  The show (his second) was held in an abandoned warehouse in the Meat Packing District and featured a portrait of Jim Morrison made from broken vinyl records  – the piece later sold for $100,000.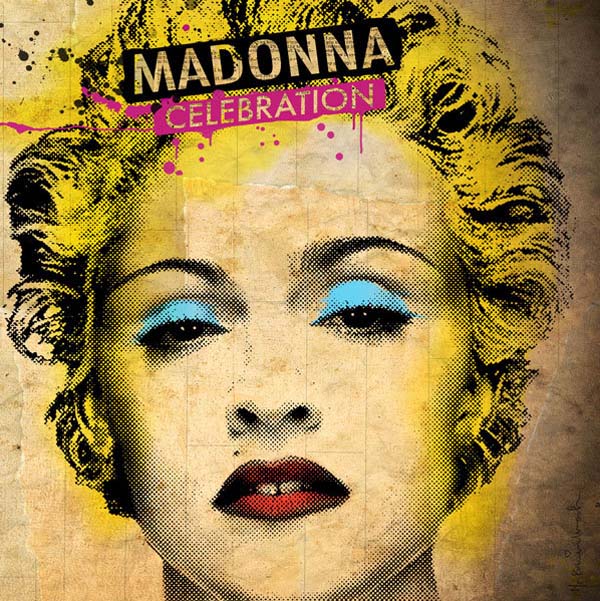 Now in a unique two-part Summer show, the artist has launched an exhibition with the help of curator Jean-David Malat at Opera Gallery in London, featuring unseen works including canvases, stencils and for the first time, sculptures.
I attended the preview on one of our recent rainy Summer nights, which the artist himself was also in attendance at, along with a gallery space full of beautiful people, art collectors, journalists and non-cynics who totally buy into the Mr Brainwash way of life – all admiring (and Instagramming) Einstein with a sign proclaiming "Love Is The Answer", Mickey and Minnie reminding us to "Never, Never Give Up" and the steel cut "Je t'aime"and "Life Is Beautiful" scultpures (my favs). Life is Beautiful was also the name of the artist's debut art show in Los Angeles in 2008.
It's a highly stylised show which features some of his most famous paintings including supermodel Kate Moss, Charlie Chaplin (with paint can and roller in hand), The Beatles (wearing gang-style bandanas over their faces) and Campbell's soup spray paint cans – much like Andy Warhol's pop-art twist on classic American images, Mr. Brainwash reworked the iconic piece to resemble his own signature spray can. I couldn't help but walk away from the show feeling his unique way of immortalising popular culture is also a celebration of positivity – it makes you look, then smile.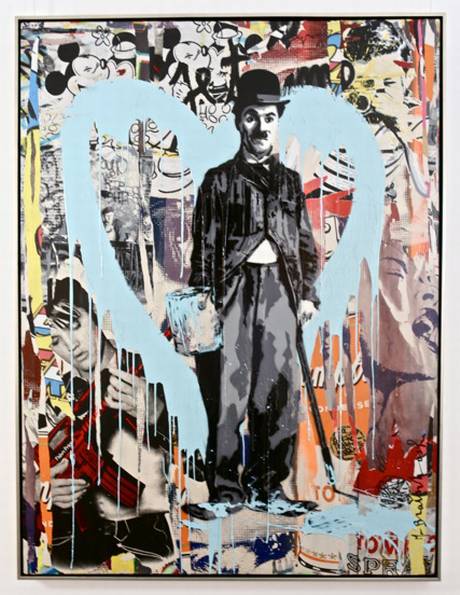 The second-part of the show sees the artist's work turn into one of the biggest warehouse pop-up art events to hit our Capital. Taking over The Old Sorting Office on Oxford Street, three floors will feature a fusion of stencil, sculpture and installation on a massive scale. If you're in London at the moment you can't help but notice the giant brightly coloured mural of his Kate Moss artwork painted on the side of the wall that connects Museum Street and New Oxford Street…. a very subtle message from Mr. Brainwash marking his territory and reminding us about his first European show!
Just like his previous art shows, this two-part exhibition is free to attend and viewers will also be given complimentary postcards and posters – perfect for those minimalist white walls at home that need some colourful statement artwork (and they make great dinner party conversation).
The Mr. Brainwash Summer Show Part One is now open at Opera Gallery London until 10th August. Part two opens on 5th August at The Old Sorting Office. For more info, head HERE.