Stylist Alexa Taylor meets New York's hottest up and coming luxury shoe designer, Obi Cymatica, and has a sneak peek of his latest designs…
A lover of the outlandishly fabulous, eclectic yet classic, contemporary architecture, ultimate sophistication, a studded leopard print pump or a stiletto aficionado – whatever the shoe fascination or fetish, we all love shoes. As Marilyn Monroe eloquently said, ''Give a girl the right shoes and she can conquer the world".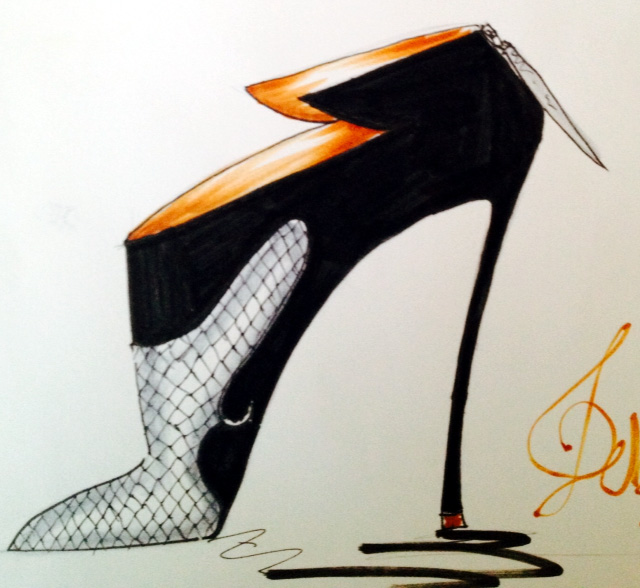 So, I'm in New York, twenty something floors up in an emerging designer's HQ in Times Square, sitting next to the city's 'one to watch' shoe designer – Obi Cymatica – and with my undying love for beautiful shoes, today is going to be a very good day.
Obi Cymatica's enchanting illustrations have presented him with opportunities to work for renowned brands such as BCBG, Oscar de Le Renta and Jimmy Choo. It was whilst working for these industry greats that his inspiration grew, enhancing his passion to pursue his own shoe design fantasies and in early 2012, he launched his own line.
Crafting sophisticated, sexy and elegant footwear for the chic empowered woman, he notes, ''I design with comfort, fit, shape and style in mind". Cymatica's SS14 collection embodies vibrant exciting colours with a mix of materials including snake print, lizard, suede, and patent leather. ''I like to dictate away from fashion cliché's and instead design by style".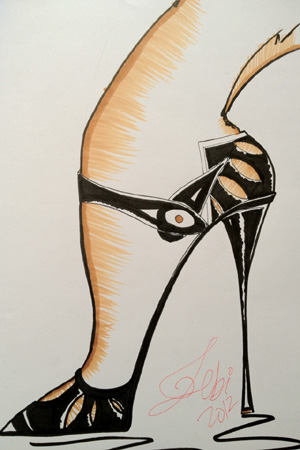 While in the midst of winter deciding on what to dress oneself in this season, designers are already in "future thinking" mode and preparing collections ready for Autumn/Winter 2014.
I get to preview detailed sketches of Cymatica's A/W shoe collection that he is currently working on, which soon, shall be transformed from his art pad into elegant silhouetted shoes and shown at New York Fashion Week in February 2014.
Busy creating a future shoe empire and aspiring for global recognition, Obi is also working on a collaboration with one of his favourite artists, Joseph Aloi aka JK5, an incredible tattoo artist whose client list includes Marc Jacobs, Penelope Cruz and many other high profiles, so for those of you wanting a tat, Joseph Aloi is most definitely your chap.
Before heading into China Town for some dim sum dining with Obi, I ask him some quick fire questions:
Q: Who is your shoe style icon?
A: "I love Manolo Blahnik."
Q: Who would you most like to see wearing an Obi Cymatica shoe?
A: "Angelina Jolie and Dita Von Teese – it would be a dream come true for me if they chose to wear my shoes."
Q: Whose shoe cupboard would you most like to have a look inside?
A: "Angelina Jolie's."
Q: What should one have on a New York to do list?
A: "FiveStory on Park Avenue, Inakaya for sushi and a cocktail at The Boom Boom Room at the Standard Hotel."
For more information about Obi and his shoes, visit the website.