Leave any pretensions of good taste at the door. In The Fashion World of Jean-Paul Gaultier you'll find gimp masks and Eurotrash puppets (Gaultier co-curated the show), a catsuit imitating flayed flesh and Union Jack emblazoned Mohawks, as well as what might just be the earliest incarnation of the vajazzle – a nude body-stocking with sequinned pubic hair and nipples, modelled by Naomi Campbell in 1994.
There is also, of course, a wealth of conical-breasted corsetry and Breton stripes in the exhibition, which has arrived at the Barbican as part of an international tour. "You are a true designer when people recognise your work without even looking at the label," the couturier Pierre Cardin once said. Well, his former apprentice certainly passes the test.
Yet, as familiar as we are with Gaultier's iconic brand of camp couture, this rare opportunity to see 165 garments up-close reminds that fashion's favourite enfant terrible is so much more than a showman. Chiefly, the pieces demonstrate exquisite detailing and craftsmanship; it's through this skill that he elevates typically 'low' materials and cultural references to the sublime.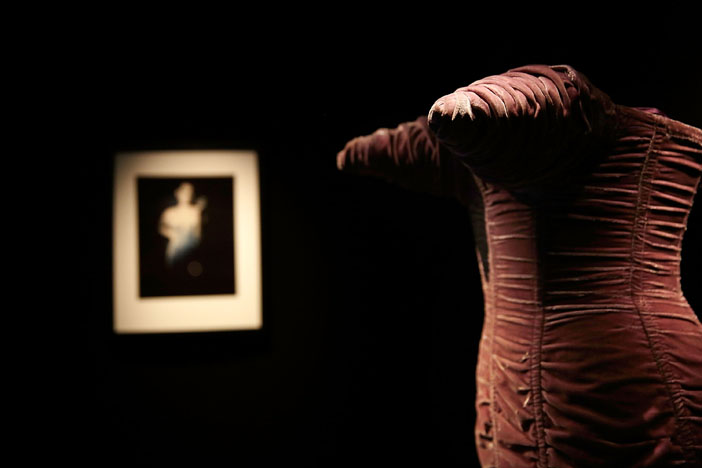 Take the use of camouflage print, for example, extracted from army fatigues and rendered in tulle across sweeping evening gowns – one of which, worn by Sarah Jessica Parker to the 2000 MTV Awards, apparently took over 300 hours to complete. Denim is treated with lace appliqué across a ladies' fan or painstakingly stitched with thousands of tiny feathers to form a fishtail skirt.
Everywhere there are surprises, subversions of the norm: a sensible looking overcoat descends into emerald green frou-frou petticoats and fishnets worthy of a Moulin Rouge can-can girl, what appears to be a staid business suit is in fact a backless halterneck dress, luxury fragrances come packaged in tin cans, the uniform of the macho sailor is re-made as a sparkly, skin-tight cut-out number.
No surprise, then, that it was the seedy, nocturnal side of Paris that captured Gaultier's imagination – the Paris of the Folies Bergère and Belle Époque, or of  Andre Brassaï and the Surrealists, all eerie streetscapes, deserted arcades and encounters with the Uncanny. But another capital has long vied for his affections: London. Among sartorial homages to Punks, Ziggy Stardust and Pearly Kings and Queens, there are quotes from the designer on the revelation it was to visit the city in the 1970s. He went to Sex Pistols and The Clash gigs, watched the Rocky Horror Show and roamed Carnaby Street and Camden. The anarchic street culture was a breath of fresh air from the smug, staid dominion of Parisian haute couture. "There is a lot of London in my work," he said. "I was more at home than in Paris at one point."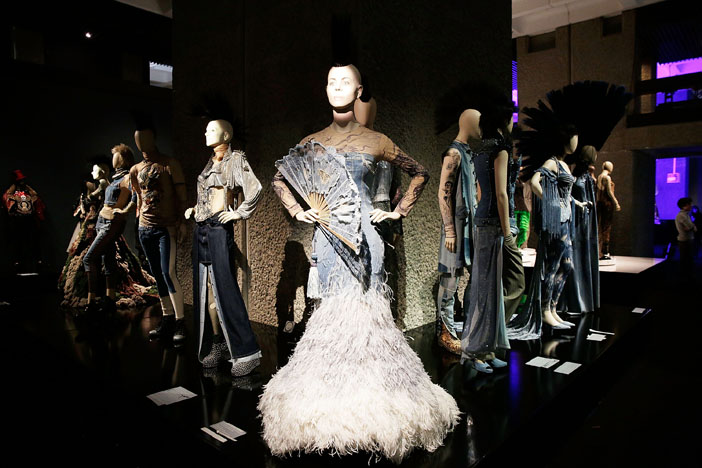 In keeping with the cheeky, avant-garde nature of Gaultier's genius, the garments are displayed upon animated mannequins that appear to wink, whistle and sing at gallery-goers. Despite knowing it's all an allusion, it's hard not to feel self-conscious and a little rude peering in to study details of their outfits or snapping at them with a smartphone while the mannequins eyeball you. Never one for passive clothes-horses and conventional beauties, Gaultier likes strong, quirky characters to wear his clothes, which has seen him select muses as diverse as androgynous model Andrej Pejic, singer Beth Ditto and burlesque dancer Dita Von Teese. The attitude is perfectly summed up in an advert he placed in Parisian newspaper Liberation at the start of his career: "Non-conformist designer seeks unusual models – the conventional pretty need not apply."
A similar urge lies behind his obsession with corsetry and is highlighted within the exhibition as a dedicated 'Boudoir' section (the space is organised into eight themed zones rather than running chronologically). Although these restrictive garments may seem something of an anathema to feminism, by turning underwear into outerwear he exposed the conspiracy, showing just what had been hidden beneath clothing for centuries to give the illusion an unrealistic, idealized body shape. He put the scaffolding out there for all to see, exaggerating its proportions to comical extremes. There are also corsets for men on display, and another delineating a heavily pregnant stomach alongside Madonna's iconic number (tiny and delicate-looking in ballet slipper pink). You can just imagine Gaultier saying with a wink: Why be secretive? Love yourself.
This humanising message, so striking in an industry usually associated with exclusivity and unattainable ideals, pervades the Barbican exhibition. There are many rooms in Jean Paul Gaultier's fashion house, it turns out, and everyone can find one in which they feel just fabulous, sweetie. Punk, showgirl, trans-gender, cross-dresser, whatever.
The Fashion World of Jean Paul Gaultier: From the Sidewalk to the Catwalk at the Barbican Centre until 25th August 2014. For more information and tickets visit the website.