I felt a pang of nostalgia as I tottered down Sloane Street. This exclusive slither of west London was where I whiled away my twenties, albeit not entirely – unfortunately, having been born in to a family of teachers and not oligarchs, my abode was across the Thames, near leafy Battersea Park. But I didn't let that stop me. As soon as the morning sun began tickling the treetops, I would hot foot it across Albert Bridge, to my beloved Kings Road.
Mornings in the royal borough were spent with my flatmate, Annika, people watching from chi chi pavement cafes, as the locals sauntered past, dripping in diamonds and pearls, leaving only a trail of pungent perfume in their wake. Tired of window shopping and celebrity spotting, we would amble our way home, reluctantly. Wired from our café hopping we would make our way back across the prettiest bridge in town, watching its blush pink façade fade in to a string of twinkling lights for the night ahead. Battersea's cosy pubs would loyally welcome us in for the evening, knowing full well we would rather be across the river, with the Chelsea Set.
Life has changed since then. We have both fled London for the leafy suburbs, to bring up children of our own. Today, we know more cartoon characters than celebrities and care more about teething rings than diamond rings. Yet we couldn't contain our excitement as we headed back to the capital, bound for glitzy Knightsbridge, brandishing a key for our very own west London pied-à-terre. Our new pad meant that we considered Hyde Park our garden, Zuma our local, Harrods our corner shop and the Queen, our neighbour. We had finally made it… well, for one night.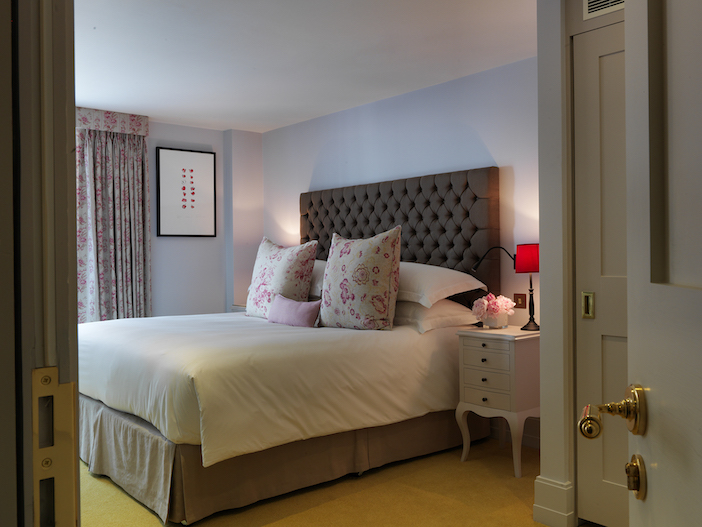 Tucked down a bafflingly peaceful mews, just off buzzy Brompton Road, Cheval Residence's Knightsbridge offering is home to an impressive collection of serviced apartments. Ranging from one to three-bedrooms, the flexible properties are available to book for as little as one night… or for an entire year, should you wish.
Accessed via a non-descript manned reception area, which gives nothing away, the convenient residences aim to offer the space and privacy of a private home with the services of a 5* hotel (think 24-hour concierge, room service, a pillow menu and access to local wellness facilities).
The first thing that stuck me when entering our open-plan 2-bedroom apartment, was just how spotlessly clean it was, free of the usual scuffs and scratches that one often finds in rentals. It came with an impressively well-equipped kitchen – fancy salmon from a London smokehouse and Clarence Court eggs were waiting in the fridge and the gleaming granite worktops displayed a complementary hamper of proudly British fare (including locally baked pastries, Tiptree jams, Shropshire granola and Lincolnshire crisps).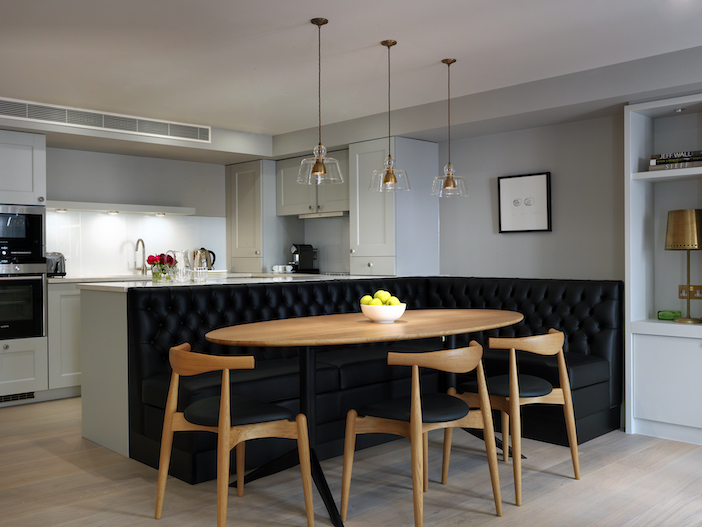 The dining area consisted of an elegant oak table, cocooned by a slick black leather banquette, where an enormous complementary fruit platter and a welcome bottle of tempranillo awaited, illuminated beneath trendy pendulum lighting. A smart tweed sofa and comfy armchairs created a cosy lounge area, bordered by floor-to-ceiling velvet curtains in a punchy shade of tangerine, which concealed a small balcony. There was also speedy Wi-Fi and large leather-topped work des, for early morning writing sessions.
Despite the assured start, the décor to a decidedly strange turn in the master bedroom, which had a green carpet so bright that I initially mistook it for a child's playroom with faux grass flooring. Despite this, by the end of our stay, it seemed perfectly at home in the room… as did I. The room had a decadent white marble en suite with an enormous soaking tub, generously stocked with toiletries from The White Company. Yes, this west London abode was worth the ten year wait.
A short stroll through Hyde Park gently eased us back in to London life, before a trip to The Peak Health Club & Spa – well, you have to look the part round here, darlings – particularly when you have eye bags the size of the local's Louis Vuittons and still no pearls to speak of.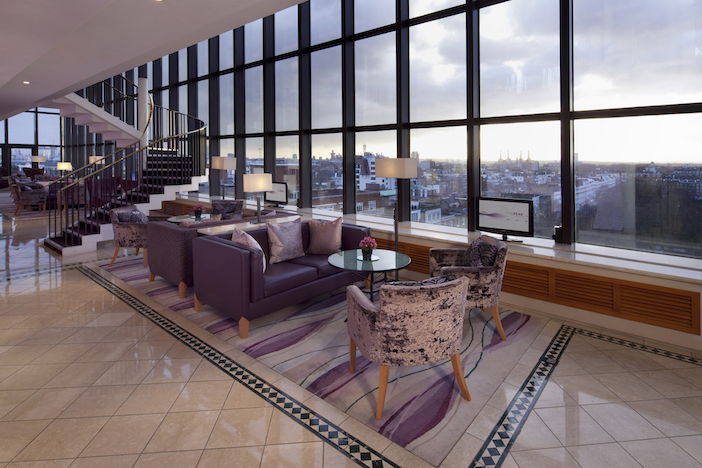 Situated on the 9thfloor of the Jumeirah Carlton Tower, it boasts super views of the capital – with the London eye spinning to the left and Battersea Power Station reminding us of our roots on the right. Less of a destination spa and more of a swanky local health club, it's ideal when you are trying to masquerade as a local! Surrounded by designer boutiques, the club is full of perfectly preened Sloane Rangers, limbering up in the latest yoga getup and theatrically air kissing before a spot of panoramic brunching. I was road-testing the exclusive new 'Jumeirah X Pevonia'; a top-to-toe treatment created in partnership with Pevonia – the natural skincare brand which counts Angelina Jolie and Cameron Diaz as fans.
Having selected my chosen scent (jasmine and lavender), it kicked off with a full body scrub and a short but sweet moisturising massage. A through 'mini' facial followed, with a hydrating face mask providing just enough time for a relaxing hand massage -which I enjoyed whilst staring at the room's dreamy star-effect lighting. 75-minutes later, I exited the paparazzi-strewn hotel, with skin that hasn't felt that smooth since my twenties – now that's a result.
After an enjoyable lunch at Gallery Mess, sipping a cheeky daytime champers whilst staring at a woman on all fours, farting neon stars (thanks, Ms Emin – sorry, Mrs – I forgot that she married a French rock), Annika and I reclined to our Knightsbridge digs – we had never been so eager to leave Kings Road before! Having made ourselves at home, with long leisurely baths and an excitable bounce on the ridiculously buoyant beds, we donned our glad rags and grabbed an uber to The Baglioni, for dinner (well, the Bentley was busy that night).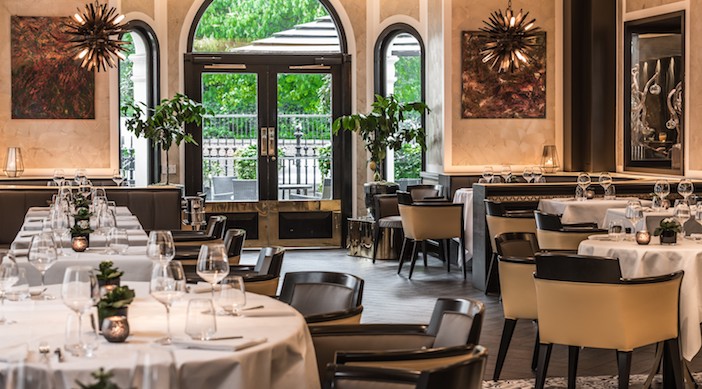 With an iconic location overlooking Hyde Park, The Baglioni is quintessentially Italian, boasting a contemporary baroque interior, with elaborate Murano glass chandeliers and lashings of gold. Facing Kensington Gardens, Brunello Bar & Restaurant is just as embellished. Upon entering it feels like a decidedly showy affair – in fact, we were briefly greeted by a live pianist (some sort of local salute, perhaps). While Annika opted for a burly burrata starter, I ordered the tartar of Norwegian salmon and tuna, after eyeing it up on a neighbouring diner's plate. Beautifully presented with a celery and fennel vinaigrette and decorated with edible flowers, it certainly looked the part. The fish was perfectly fresh and satisfyingly tender – although, if I am being pedantic, a little extra acidity would have cut through the dish nicely.
With the menu inspired by Milanese trattorias of the 50s, our main course was an easy call: veal Milanese. Often referred to as 'elephant's ear', the enormous breaded veal dominated the plate and had a pleasingly crispy edge, which we both devoured. Nowadays, this popular dish is often served boneless, but staying true to tradition, ours came on the bone – a nice touch. Despite my jeans tugging at the seams, I couldn't leave without trying the tiramisu – it was superb.
A decade on we may still be lacking the string of pearls and the trail of pungent perfume, but we had certainly had a west London weekend to remember. Until next time, sweetie.
Two-bedroom Deluxe Apartment at Cheval Knightsbridge start from £700 per night, inclusive of taxes. For more information, please visit www.chevalresidences.com.